Tesla Investors Anxiously Await Meeting Amid Muted Expectations
(Bloomberg) -- Investors are bracing for a tough show at Tesla Inc.'s annual meeting later Tuesday, with bearish bets in the electric car company hovering near a two-year high, and shares sliding about 17 percent since the last meeting a year ago.
Shares were stable then, by Tesla standards, but deteriorated with numerous production delays for the Model 3 sedan, multiple fatal crashes involving Tesla's much-hyped Autopilot driver-assistance system and a bizarre and combative earnings call with equity analysts -- all of which have weighed on the stock since early March. And as the share price moved lower, short interest in the stock soared.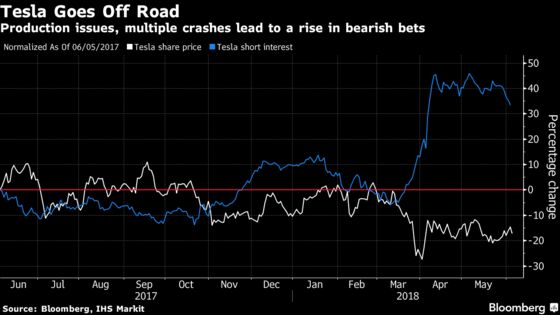 Earlier Tuesday, the Daily Beast published an insiders' report on persistent problems at Tesla's manufacturing plant, including fires and safety issues. Tesla shares are down as much as 3.4 percent for the session.
That is not to say the company and its charismatic CEO Elon Musk have any dearth of believers who say that, despite missing several short-term hurdles, Tesla is well on its way to achieving an "exponential" production rate. Caution, too, is an oft-repeated mantra.
"Our view is that Model 3 production won't happen on a profitable basis until later in 2019; however, as we stated in the past, if the Model 3 hits its targets, the leverage is significant," Needham analyst Rajvindra Gill wrote in a note to clients on Tuesday.
It is safe to say that updates on the Model 3's production will be top of mind for anyone listening to the shareholder meeting. Tesla will also be up against an activist investor group pushing for the removal of three directors who are up for re-election - Antonio Gracias, a private equity investor; Kimbal Musk, a food entrepreneur and Elon's brother; and James Murdoch, CEO of Twenty-First Century Fox Inc. The meeting begins at 5:30 p.m. New York Time.