Micron Bull Issues Warning on Stock Most Analysts Say to Buy
(Bloomberg) -- Micron Technology Inc. investors could be forgiven for being shocked by Morgan Stanley's rating downgrade.
Analyst Joseph Moore, who unexpectedly warned Thursday that Micron's stock price may reflect too much optimism, has been bullish on the memory-chip maker since the end of 2015. It was a rare event for Micron, a widely loved stock that's the third-best performer in the S&P 500 over the past two years.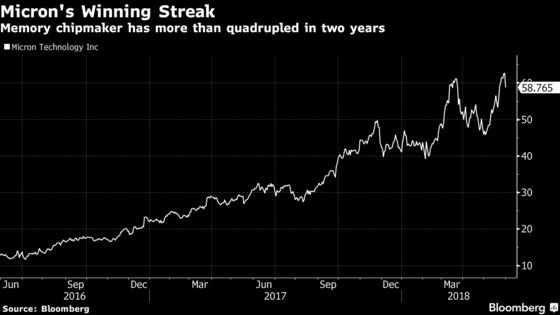 Before Thursday, Micron had been downgraded just three times in the past year. Among the 28 analysts whose ratings have been disclosed to Bloomberg, only five have a hold rating on the stock and none say sell.
The stock has more than quadrupled in the past two years, creating about $55 billion in market value.
Moore's concerns resonated with investors, whose skittishness was apparent Wednesday when a lesser known research firm helped fuel a nearly 6 percent reversal in Micron shares with a note raising concerns about DRAM demand in the second half of the year. Micron fell 8.6 percent Thursday, dragging down rival Western Digital, which lost 3.5 percent.
Moore said DRAM strength is already priced into Micron's shares, leaving little room for appreciation and creating the potential for the stock to be "punished" if the memory market deteriorates.
"We would rather err on the side of caution in an environment where we can see storm clouds on the horizon," Moore wrote.
In comments at the Bernstein Strategic Decisions Conference in New York on Thursday afternoon, Mircron Chief Executive Officer Sanjay Mehrotra said memory market demand remains "strong" amid surging data usage.