Zynga's `Perpetual Turnaround' May Be Reaching a Turning Point
(Bloomberg) -- Zynga Inc., the company behind Words with Friends, is closing in on a high score that has been carefully tracked on Wall Street.
The magic number is 20 percent, and it's management's margin target for adjusted earnings before interest, tax, depreciation and amortization. Zynga is at 17.2 percent currently, up from 6 percent two years ago, according to calculations by Bloomberg. The shares have surged this month since the company said May 2 that it was on course to meet its near-term goal.
The stock got another boost Wednesday after Zynga acquired Gram Games for $250 million, its largest acquisition since Chief Executive Officer Frank Gibeau took the helm in 2016. Gram Games should deliver margins in the second quarter that meet near-term goals, Zynga said in a statement. Wedbush analyst Michael Pachter expects an Ebitda contribution of around $12 million this year and $20 million next year, assuming the business is stable.
"Better to have their cash invested and generating $20 million (on $250 million in spend) compared to $1–2 million in interest income annually," Pachter wrote in an email.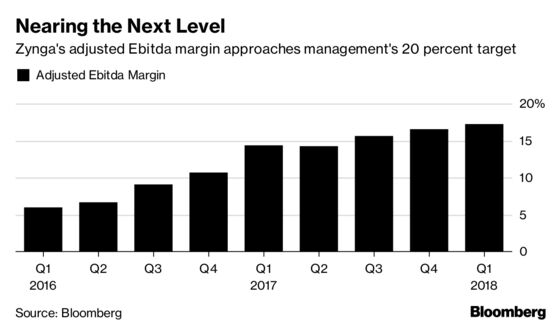 Baird analyst Colin Sebastian sees the 20 percent target as an important milestone for investors looking to evaluate the San Francisco-based company's turnaround efforts. While the stock is up 9 percent so far this year, it's still trading about 25 percent below its highs from 2014.
The progress has been in part due to Zynga's focus on live services, a strategy that involves encouraging players to spend on in-game content. The company has emphasized this in what it refers to as "forever franchises," which include Words with Friends, CSR Racing 2 and Zynga Poker. The company said Gram Games' Merge Dragons! title has the potential to become a forever franchise.
"They've fully pivoted to mobile and they're really capitalizing on that live services strategy," Bloomberg Intelligence analyst Matthew Kanterman said, noting investors are starting to value the recurring nature of the business. "That's why you've seen the stock come back."
It has been a long road for Zynga, whose name and logo were inspired by founder Mark Pincus's American bulldog. The stock peaked shortly after a 2011 initial public offering and has since been what Jefferies analyst Timothy O'Shea called a "perpetual turnaround story." He sees the recent momentum as positive and is confident in the company's trajectory. The next hurdle is hitting that 20 percent margin goal, he said.
"We think they're making very good progress on that objective," O'Shea said in an interview. "Once you get to 20 percent, I think then the business just starts to look a lot more attractive."