French Hailstorms Follow Beetles to Threaten Rapeseed Crop
(Bloomberg) -- French rapeseed crops, already under attack by beetles and struggling after poor flowering, now also have hailstorms to contend with.
France, which vies with Germany for the position of Europe's top rapeseed producer, had its second-stormiest day since 2000 on Monday, according to Meteo France. Unsettled weather is set to continue, with risk of thunderstorms and hail across central and eastern France Wednesday, thunderstorms over most of the country on Thursday and in western France over the weekend.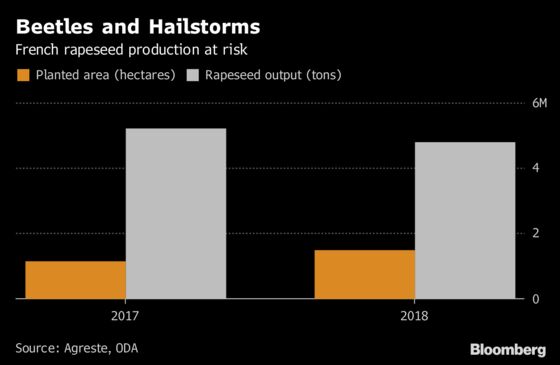 Rapeseed production was already forecast to drop more than 7 percent this year due to poor flowering, freezing weather in early winter and insect infestations, said Antoine Gautier, an analyst at consultant Offre et Demande Agricole. The biggest risk from spring hail is that it may rip off seed pods, according to Terres Inovia.
"The rapeseed crop hasn't looked good in France for some time," Alexandre Boy, an analyst at Agritel in Paris, said by phone Tuesday. While he doesn't expect a huge impact from Monday's storms, rapeseed yields are "very hard" to forecast until the harvest gets underway.
France registered 33,841 lightning strikes reaching the ground Monday, Meteo France said. Esternay, in the Champagne-Ardenne region that accounts for about 13 percent of French rapeseed production, recorded hailstorms and particularly heavy rain and gusty winds.
Production of the crop used to make cooking oil and animal feed will probably drop to 4.8 million metric tons this year, down from 5.2 million tons a year earlier, ODA's Gautier said last week, before the weekend's hailstorms. Output is seen falling even as the Agriculture Ministry estimates that the planted area expanded by 6.3 percent from last year.
"The surge of spring insects have delayed the growth of rapeseed in a context of severe freezing at the end of winter," the ministry said earlier this month. "This could have an impact on the future yields."