Telkom Cuts Dividend as Earnings Slump Amid Push Into Mobile
(Bloomberg) -- Telkom SA SOC Ltd. cut its dividend and reported a decline in full-year earnings as South Africa's biggest provider of fixed phone lines struggles with a decline in its traditional voice services.
The Pretoria-based company reduced the annual payout to shareholders by 16 percent to 3.55 rand a share, it said in a statement Monday. Earnings before interest, taxes, depreciation and amortization for the year ended March 31 fell 3.6 percent to 10.5 billion rand ($843 million).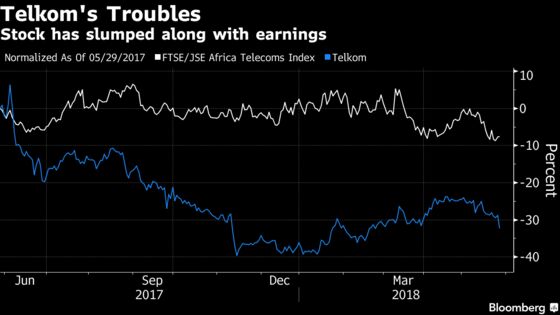 The phone carrier plans further cutbacks in its BCX business, which provides Internet and voice services to public and private customers, this year as Chief Executive Officer Sipho Maseko seeks new sources of earnings. Telkom, 40 percent owned by South Africa, had lost almost one-third of its value over the past year amid political uncertainty and speculation that the government will reduce its stake.
"Telkom is shifting towards new revenue streams, such as mobile, data and the Internet of things," Maseko said in an interview.
Telkom fell 5 percent to 50.97 rand a share at 4:25 p.m. in Johannesburg.
While BCX employs 9,000 people, Maseko said the company will reassess the numbers in September, when conditions not to cut more than 20 jobs set by the Competition Commission come to an end.
The carrier reported a 47 percent increase in service revenue from mobile customers to 5.15 billion rand. Telkom started its mobile unit, the country's fourth-biggest with just over 5 million subscribers, to bolster its service offering to consumers.
Intentions from the government to sell its stake in Telkom first came to light late last year when the country was trying to side-step a ratings downgrade.
"I don't think we are high up on their chopping board anymore, although government would have to speak for itself," said Maseko. "We had a meeting with the president yesterday morning, and that's what we can deduce so far."