iPhone Czar Seeks $4.3 Billion IPO to Emerge From Apple's Shadow
(Bloomberg) -- Terry Gou's Foxconn has ridden Apple Inc.'s ascendancy for a decade as its most important production partner. Now, Taiwan's second-richest man is prepping a $4.3 billion coming-out party for a division that best embodies his hope of becoming a major player beyond just cranking out iPhones as the smartphone boom winds down.
Foxconn Industrial Internet Co. is raising 27.1 billion yuan ($4.3 billion) in a mainland Chinese initial public offering to bankroll investments in capacity and technology. One of the most anticipated Chinese debuts of 2018, the Hon Hai Precision Industry Co. unit is tasked with leading a drive into the "smart" manufacturing of higher-margin widgets from servers to Internet of Things devices.
Investors are cautious. While the 3-year-old business has generated an unusual amount of hype for what's essentially a factory writ large, Hon Hai's past efforts to shift from electronics assembly toward more lucrative opportunities have proven uneven. While it makes sense for Gou to reduce Foxconn's reliance on Cupertino for more than half its revenue, previous attempts have borne little fruit.
"The more Apple orders they take on, the fewer resources the company can spare for its own innovative, brand business," said Tsai Ming-fang, an economist at Taipei-based Tamkang University. "It has become a challenge for Hon Hai to strike a balance between manufacturing for Apple and developing its own business."
Gou, who rarely bad-mouths his customers in public, has shown impatience with his top client since the iPhone X -- exclusively assembled by Hon Hai -- missed lofty expectations. At a Jan. 31 shareholders' meeting, Gou revealed his ambition of balancing Apple's impact on its P&L -- a symbiotic relationship that, given a shrinking smartphone market, has helped wipe more than $20 billion off the Taiwanese company's market value since a June 2017 peak.
"Foreign institutional investors have linked the performance of our shares to that of Apple's," an exasperated Gou said. Apple "didn't do well in December, but we still have other businesses such as networking equipment. It is just those businesses have yet to become a bigger part of our sales."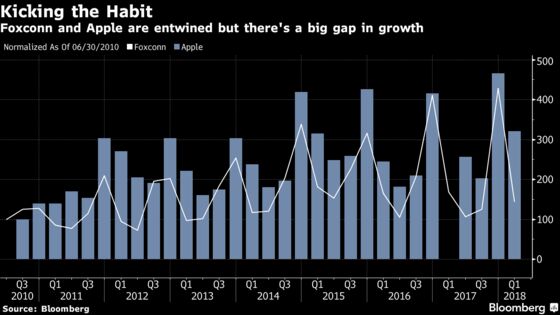 Foxconn remains one of the best at assembling electronics cheaply and quickly. Its client roster encompasses many of the most recognizable names from Amazon.com Inc. to HP Inc. FII's own prospectus revealed net margins more than 50 percent higher than its parent's. The division makes servers and storage for cloud services, precision tools and industrial robots, including the turquoise-colored "Foxbot" arms it deploys across its factories.
While it furthers Gou's goal of whittling down Apple's outsized footprint, FII has its own challenges. FII is expecting net income to rise just 0.9 percent to 5.1 percent in the January to June period, after growth of 4.5 percent in the first quarter and more than 10 percent across 2017. Margins in electronics in general are getting stretched, particularly as the smartphone boom winds down.
And it's not just FII: rivals such as Quanta Computer Inc. are also maneuvering to grab a bigger slice of an AI and cloud computing boom that's driving demand for servers and devices.
"Hon Hai could advance its smart-manufacturing ambitions with the A-share listing" of FII, Simon Chan, an analyst with Bloomberg Intelligence, wrote Tuesday. "These investments suggest Hon Hai's near-term priority will be to focus on integrating new technologies -- such as big data and automation -- in its manufacturing operation as opposed to diversifying into new product categories."
To others however, the IPO may amount to little more than a short-sighted money grab.
"The benefits from such a financial maneuver will only be short-lived and they will not last long, so they are unlikely to offset headwinds from a slowdown in the smartphone market," said Jung-Chin Shen, an associate professor in corporate strategy and management at Toronto-based York University.
It's not the first time Gou's tried to branch out. In 2012, he spoke enthusiastically about getting into retail in China. When that failed to take off, Gou began touting cloud services, then displays from recently acquired Sharp Corp., the Internet of Things, even robots. In fact, Foxconn has only grown more reliant on Apple in the intervening years.
Another reason to be cautious on FII: its exposure to Huawei Technologies Co. and Chinese manufacturing in general. It's navigating uncharted territory as tensions between Washington and Beijing threaten to raise tariffs on billions of dollars worth of the Asian country's goods.
"The U.S. government is putting more and more pressure on Beijing to pull back on the Made in China 2025 initiative," said Tamkang University's Tsai. That "may further curtail the development of China's 5G technology. Under that context, the potential profits for FII may shrink."