(Almost) Everything British Is Rallying Because of Brexit News
(Bloomberg) -- The trading screens of U.K. equity investors were awash with green on Thursday after a double dose of positive Brexit news spurred a rally in almost every sector.
The U.K.'s prediction of an agreement in just three weeks, combined with a newspaper report of a deal on U.K. banks' access to European financial markets after the divorce left 11 out of 13 sectors defined by Bloomberg trading higher as of midday in London. The gains were maintained even after British and EU officials played down the report.
The only sectors falling were energy, weighed down by lower oil prices and an underwhelming earnings report from Royal Dutch Shell Plc, and health care, as sterling's jump following the Brexit news hurt the sector's biggest exporters such as AstraZeneca Plc.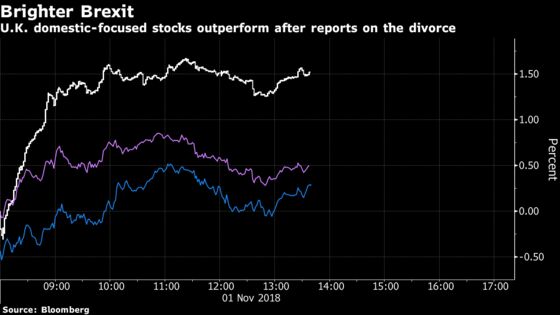 Among Thursday's top-performing U.K. sectors were:
Banks: Challenger banks like Metro Bank Plc -- which are looking to grab market share from high street incumbents -- were the biggest beneficiaries, suggesting investors were paying more attention to news on a potential overall deal date than the newspaper report on access to financial markets.

"Rather than the investment banks and cross-border wholesale banks, we still believe the greatest risks from a no deal Brexit outcome would be to the U.K. domestic banks," Citi analyst Andrew Coombs wrote in a note.
A possible contraction in U.K. GDP, lower-for-longer rates and a potential turn in the credit cycle could drag on earnings in the event of a no-deal Brexit, he said.

Insurance: Just like the banks, insurers' earnings are heavily dependent on economic strength, and they also need access to financial markets in order to operate.

The sector rose on Thursday, but note there were also positive earnings reports from non-life firms like U.S. provider American International Group Inc., the U.K.'s Lancashire Holdings Ltd. and Zurich-based Swiss Re.

Homebuilders: Concerns over Brexit's impact on the economy have weighed on U.K. house prices since the 2016 referendum, and Nationwide Building Society said on Thursday that house-price growth dropped below 2 percent for the first time in 5 years.

Reduced immigration after Brexit could potentially cut the sector's labor supply, and a weaker sterling increases the cost of imported materials.
The FTSE 350 Household Goods & Home Construction Index had its biggest gain since late July, rising by as much as 2.7 percent.

Pubs: Many U.K. pubs and restaurants have had to give their head chefs a pay rise in order to boost retention rates following the EU referendum, analysts at Liberum wrote in a note published Thursday.

But it's not just staffing costs hurting the sector. Brexit uncertainty has raised questions about balance sheet and cash flow flexibility within the sector, analysts led by Joe Brent wrote. Weaker consumer confidence since the vote has also impacted footfall.