Driverless? No, But How About the Car as Co-Pilot?
(Bloomberg) -- Some 17 years ago, the U.S. military kicked off the race to build a self-driving car by sending a fleet of fledgling robot vehicles across the Mojave Desert in its seminal 2004 Darpa challenge. The industry has made significant progress since, putting features like hands-free driving and crash-avoidance systems into mass-produced models. Such systems are making driving safer and easier than ever, although some notable crashes have led regulators to subject them to greater scrutiny. Meanwhile, the transition to completely autonomous, go-anywhere cars remains a distant goal.
1. What's been developed?
Advanced driver-assistance systems -- known as ADAS -- help drivers park, stay in their lane or avoid objects using cameras, radar and other electronic sensors. They alert drivers or briefly take control of the car to avoid collisions. One of the first such tools was the ABS anti-skid braking system introduced more than four decades ago that's now standard. More recent systems include features like emergency braking and automated parking.
The systems are categorized from Level 0 to 5, based on how much the machine takes over. Level 0 features simply pass on information to the driver -- think sounding an alarm when you're speeding. Tesla Inc.'s Autopilot is classified as Level 2 because it requires driver supervision, sort of like on an airplane. Robotaxis that are being tested in confined areas in China could be categorized as high as Level 4 because their autonomous systems are advanced but the vehicles are limited in terms of where they can go. The pinnacle -- yet to be achieved -- would be the fully autonomous car that can drive everywhere, under all conditions.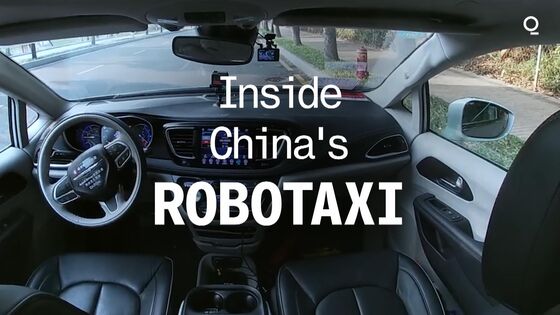 Virtually every major automaker, with the fancier systems reserved for higher-priced vehicles. General Motors Co. introduced Super Cruise, which allows drivers to take their hands off the wheel for brief periods, on the Cadillac CT6 in 2017. Mercedes-Benz's flagship electric sedan, the EQS, comes with a feature that stops the car and makes an emergency call if the driver becomes incapacitated. Volvo Car AB is making laser-based sensors known as lidar standard on its flagship electric XC90 SUV starting in 2022. The costly hardware -- using technology the Apollo 15 astronauts employed to map the surface of the moon -- can see better than cameras in bad weather.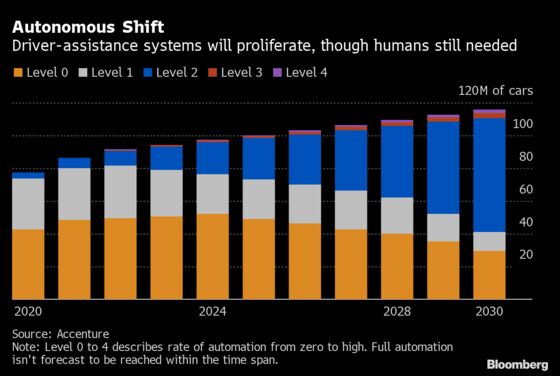 4. What's the advantage over driverless?
Keeping humans involved isn't necessarily a bad thing. Sure, people tend to make more mistakes than a computer, but it's good to have an actual person ready to intervene if technology fails.
Driverless ethics are a tricky subject, given that robot cars would have to make life-or-death decisions in some scenarios -- like choosing which person to crash into if a collision can't be avoided.
Autonomous driving is far more difficult and expensive to commercialize at scale, requiring billions of dollars in capital. Waymo, the self-driving car unit of Google parent Alphabet Inc., began in 2009. It raised another $2.5 billion this year after pulling in $3.25 billion last year in its first external funding round. Its ride-sharing service is still only in one location, just outside Phoenix.
5. What are some of the issues with ADAS?
Fatal crashes involving ADAS garner a lot of attention, especially if Tesla is involved. Elon Musk, Tesla's chief executive officer, argues that Autopilot saves lives but has used questionable math to make his case. The U.S. National Highway Traffic Safety Administration has opened dozens of investigations into crashes involving ADAS since 2016, most of them involving Teslas. It also opened a probe in August after almost a dozen cars using Autopilot collided with fire trucks or police cars parked at crash scenes. To get more data, the regulator has ordered all carmakers to report crashes where automated driving technology was activated. Another issue: with humans still making most of the decisions, bad behavior often follows. Drivers misuse adaptive cruise control for speeding, possibly undermining the feature's safety benefits, the Insurance Institute for Highway Safety said in a study released in March. Automakers' own engineers have dozed off during testing.
6. Is it one or the other?
No. Most companies are pursuing these technologies on dual tracks. Intel Corp.'s Mobileye, which has been testing robot cars in New York and Tokyo, is also supplying technology for ADAS features like blind-spot detection. Major carmakers also have teamed up with artificial intelligence and software companies. Ford Motor Co. and its partner Argo AI plan to start a self-driving ride-hailing service with Lyft Inc. in Miami and Austin, Texas, this year. GM's Cruise unit is testing an autonomous ride-hailing business in San Francisco but hasn't said when it will deploy a commercial service. Microsoft Corp. is partnering with Volkswagen AG on self-driving car software.
In 2015, Ford's then-CEO Mark Fields predicted that self-driving cars would be on the road in five years. A year later, Musk said that Tesla would demonstrate a fully autonomous Los Angeles-to-New York trip by the end of 2017, another goalpost that came and went. In the meantime, ADAS features have boomed as automakers seek to boost prices, best rivals and give drivers high-tech bragging rights. The systems are also seen as a gateway to getting consumers comfortable with automated driving, a technology that they're coming around to faster in some countries (China, Japan) than others (the U.S., France), according to one survey. Ultimately, carmakers are all trying to achieve the same goal: preventing crashes that kill some 1.3 million people each year.
ADAS standards and definitions from SAE International.
A Bloomberg story on how Toyota is building an entire city in Japan to test its self-driving cars.
QuickTakes on electric cars and why building them is so expensive.
The European Commission's overview on autonomous cars.
A World Health Organization report on road traffic accidents.
BloombergNEF's latest outlook on advanced-driver assistance systems.