Why Xi Leads a Chorus Backing China's Private Sector
(Bloomberg) -- China's crackdown on the risks in its financial system is inflicting great pain on private businesses. Their problem? Getting loans since the authorities began squeezing the practice of shadow banking, or unregulated lending. Help is potentially at hand, though, in the form of another government drive: an unprecedented push to cajole banks into lending more to private companies. President Xi Jinping has put his personal stamp on the campaign, proclaiming "unwavering" support for the private sector. That serves to underline the significance of private business in the nominally Communist country at a time when the economy is under pressure.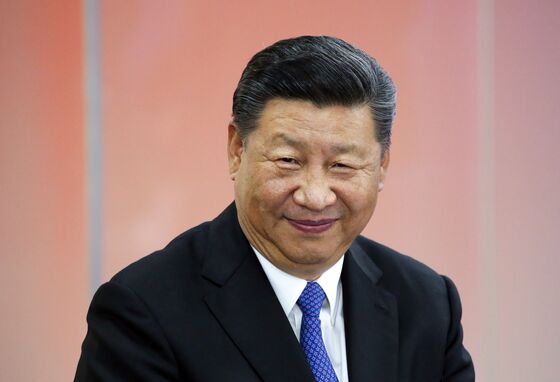 1. How important is China's private sector?
Bigger than many might expect. It accounts for 60 percent of gross domestic product, 90 percent of new jobs and companies, 80 percent of employment and 70 percent of technological innovation. It also delivers 50 percent of tax revenue, according to Vice President Liu He, Xi's top economic adviser. The intensity of the policy response reflects the urgency to squeeze out more efficiency from an economy on track to expand this year at the slowest pace in almost three decades. Private companies are considered nimbler and more productive than their state-owned counterparts.
2. What exactly happened?
Xi's deleveraging campaign began in 2016, part of the push to curb financial industry risks. That dried up lending from the unofficial banking industry upon which the private sector is heavily reliant, from entrusted loans to bank acceptances. Shadow financing shrank for an eighth straight month in October to the lowest since December 2016. At the same time, the economy is slowing, making banks more reluctant to lend to smaller, often riskier companies. With funding drying up, corporate borrowers (almost all privately owned) defaulted on a record $6.6 billion of debt in the third quarter. That in turn caused investors to demand higher interest rates on private company bonds, exacerbating the squeeze. Capping it all are the higher tariffs, and greater uncertainty, caused by the trade war with the U.S. That's hitting private, export-dependent companies harder than state enterprises.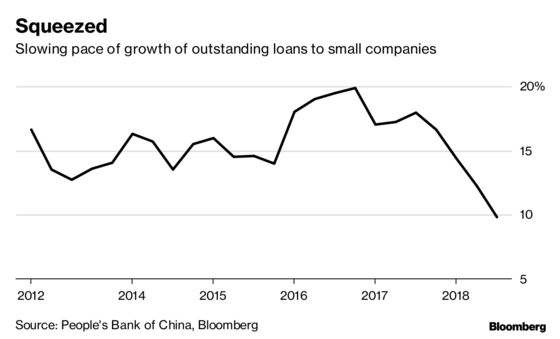 3. How are policy makers responding?
With a blizzard of policies to help reduce private sector costs -- and to get banks to lend more. Measures to cut costs include pledges for a substantial reduction in value-added tax, tax exemptions for small- and middle-sized companies and lower social security premiums. Among moves to direct more credit to private companies, the People's Bank of China doubled its re-lending quota to banks and introduced a credit enhancement tool to help private firms issue bonds. Perhaps the most notable action has been the deluge of proclamations by top officials, from Xi to the head of the central bank.
4. Why the chorus from officialdom?
As well as Xi's pledge, Premier Li Keqiang and central bank Governor Yi Gang have emphasized the urgency of helping private companies, as have banking and insurance chief Guo Shuqing and Vice Premier Liu. One theory: They want managers at banks to feel the risk of lending to smaller private borrowers is outweighed by the risk of "being judged uncooperative," wrote Thomas Gatley, an analyst at research firm Gavekal Dragonomics. It's politically correct "to give private companies a break," he added.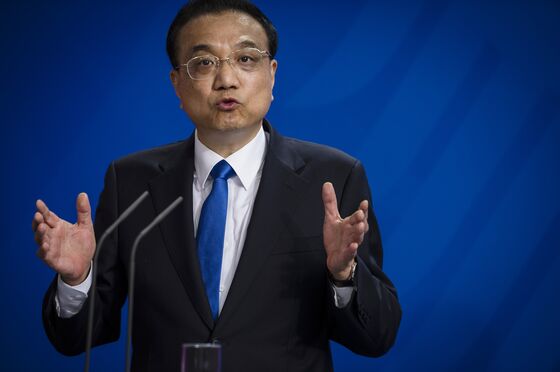 5. Is this just a 2018 thing?
No. China has been trying to persuade banks to lend more to small- and medium-sized companies for decades. For rational business reasons, banks prioritize lower-risk lending to state-owned companies backed by the government and with security of collateral that private companies often lack.
6. What are the campaign's prospects?
Xi faces a huge challenge. Fixing things means overcoming the structure of China's banking system, according to Andrew Polk, co-founder of research firm Trivium China in Beijing. "It will take years, if they can do it at all," he says. Still, he adds, authorities are making a "more concerted effort to get funding to the right places" than in the past.
QuickTakes on how China's getting serious about financial risk, the record defaults and moves to make hedging risk easier.
Andrew Polk, writing for Bloomberg Opinion, says policy incoherence risks deepening the economic slowdown.
China's private companies face more funding pain.
China's support is having limited effect.
A QuickTake on China's shadow-banking maze.
China's credit growth slump suggests more stimulus is coming.
Citibank says investors are convinced China's policy is "turning left."