Why Unitranche Loans Grew From Niche to Billions
(Bloomberg) -- Who needs banks? Sure, they've long dominated the market for big corporate loans, with their access to large sums of money and expertise in complex tasks like splitting loans up via syndication. But what if borrowing billions didn't have to be so complicated -- if there were other lenders with deep pockets and a simpler, faster approach? That's the appeal of so-called unitranche loans, one of the hottest parts of the very hot market known as direct lending.
1. What are unitranche loans?
Normally, corporate debt comes in different layers known as tranches that have different borrowing costs depending on how risky the slice of debt is considered. Holders of senior debt are first in the pecking order to be repaid if a company runs into financial difficulty, while subordinated debt owners are the ones more likely to get stuck with a loss if payment falters; in return, they get paid a higher interest rate. The mechanics of a multi-tranche debt offering can be staggeringly complex. A unitranche loan? It skips all that.
As the name implies, all debt is created equal in a unitranche loan. For larger deals, which are becoming increasingly common, lenders are typically ranked equally, though they may have different amounts of the loan. For deals that are smaller, lenders sometimes carve up the risk in sophisticated side contracts known as agreement among lenders. As far as a borrower is concerned, it's agreeing to one loan with one (or with what amounts to one) lender, or a group of lenders in a so-called club deal, with a single set of agreed terms. And whatever the size, unitranches are typically held by the lenders for the life of the loan, which means they're not exposed to the same kind of price volatility that bonds and leveraged loans may experience in secondary trading.
3. How big is this market?
Unitranche deal volume has surged over the past five years to $21.6 billion in the second quarter of 2021, compared with roughly $3 billion during the second quarter of 2016, according to data from Refinitiv LPC. Among direct lending deals, unitranche and first-lien loans represented 87% of all private credit deals in 2020, while lower-ranked mezzanine debt declined from 21% in 2013 to 1%, according to law firm Proskauer's annual Private Credit Insights.
4. How big are the deals?
Big and getting bigger. As recently as 2019, a $1 billion unitranche loan would have been a blockbuster deal in the direct lending world. Last month, the largest unitranche on record hit the market -- $2.6 billion of debt financing to help fund private equity firm Thoma Bravo's buyout of Stamps.com. Blackstone Group Inc., Ares Management Corp., PSP Investments and the lending unit of Thoma Bravo provided the loan. One direct lender has even said the market could support a $5 billion unitranche loan.
5. Who are the borrowers?
Mainly middle-market companies owned by private equity firms. But as the amount of capital private lenders have available to deploy for loans has grown, unitranche deals are being struck that until recently could only have been financed in the broadly syndicated loan market or in the high-yield bond market. Private equity firms in particular have turned to unitranche loans to finance an increasing number of buyouts.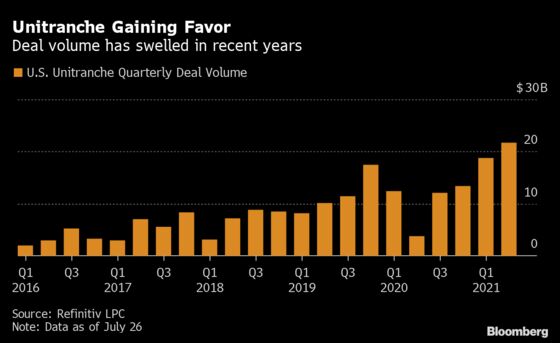 6. What's driving this trend?
The initial opening for unitranche lending was the same for the private credit market: banks stepping back from lending to mid-size companies in the wake of the global financial crisis. Yield-starved investors, meanwhile, have been plowing money into the asset class, leaving lenders with a record $364 billion of cash on hand, so-called dry powder, ready to deploy, according to industry research firm Preqin Ltd. Overall, the private credit market has ballooned to more than $1 trillion, almost tripling in size in the last decade. Approaches that once looked too risky for institutional investors, like direct lending -- in which money is pooled to make loans without bank intermediation -- have won greater acceptance. As of the second quarter, 68% of investors said they would commit to a direct lending fund compared to just 39% a year ago, according to Preqin. Investors are also now looking to consolidate their funds within the field, helping boost the size of the biggest loans.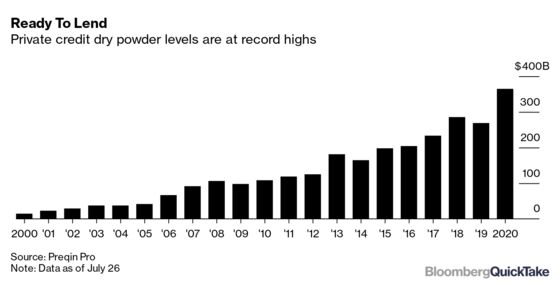 Investors typically get higher returns compared with syndicated loans, to compensate for the lack of liquidity that comes with unitranches along with the risk of lending to smaller, mid-sized companies. The pitch from lenders to potential borrowers is simple: speed, certainty and privacy. Unlike with the syndicated loan or high-yield bond market, there are no road shows and no ratings and the debt is held by only a handful of lenders versus being chopped up and divvied out to multiple investors. Borrowers only need to worry about managing one piece of debt with one set of terms and funding costs.
8. What are the pitfalls?
Before the pandemic, there was a certain amount of worrying about unitranche lending and the direct lending market as a whole -- critics said these arrangements had never been tested by a major economic downturn. Fitch Ratings projected a year ago that lower middle-market debt could hit a 7% to 8% default rate by the end of 2020. But given the wall of money the U.S. Federal Reserve and Congress threw at the economy in the wake of the pandemic-induced recession, the asset class held up better than expected. How a wave of unitranche loans with complex side agreements would be restructured or handled in a bankruptcy situation has been largely untested. The potential for trouble, however, has added to the appeal of the jumbo unitranche loans that are generally made without such side deals.