Why the Russia-Ukraine Conflict Is Now Flaring at Sea
(Bloomberg) -- Almost five years into a conflict between Russia and Ukraine, tensions have flared again. The latest clash was at sea, where Russian forces fired on Ukrainian warships in the strategic Kerch Strait, injuring servicemen and capturing three vessels with their crews. The incident threatened to disrupt a key shipping chokepoint and reignite a simmering conflict that has claimed more than 10,000 lives. Citing the unresolved standoff, U.S. President Donald Trump canceled a planned meeting with Russian President Vladimir Putin.
1. Are Russia and Ukraine at war?

No. Even as Ukraine President Petro Poroshenko vowed to punish Russia and introduced martial law, he made it clear that this doesn't mean war and promised that Ukraine wouldn't go on a military offensive. The fear of a full-blown war between Ukraine and Russia has been ever-present since the conflict started in 2014.
2. What's the conflict about?
Throughout recent history, Ukrainians have been influenced by Western civilization and shaped by authoritarian Moscow rule. Today, public opinion spans the spectrum from pro-Russian sentiment and Soviet nostalgia to ardent nationalism. The country's heavily industrialized east is largely Russian-speaking, while the Ukrainian language becomes increasingly dominant as one moves westward. In 2013, pro-European Ukrainians sparked a rebellion in hopes of a decisive break from the nation's Soviet past. A few months later, Putin annexed Ukraine's Crimean peninsula, proclaiming a duty to defend the ethnic Russians who dominate its population. Both sides blamed each other for reneging on a 2015 peace accord.
3. Why is the conflict flaring up now?
Tensions had been building since May, when Russia finished construction of a bridge across the Kerch Strait that created the first direct link between its mainland and Crimea. Other forces that may be at play include the sagging approval ratings of both nations' leaders. Putin's popularity is now the lowest since the widely popular Crimea takeover. Poroshenko is heading into next year's presidential elections facing a substantially more popular challenger, former Prime Minister Yulia Tymoshenko. In fact, Poroshenko's opponents accused him of imposing martial law in a bid to delay next year's ballot. (As a result, Poroshenko was forced to limit the martial law to 30 days.) It's also worth noting that the confrontation occurred less than a week before Group of 20 leaders convened for a summit in Buenos Aires. Past flare-ups in the Ukrainian conflict have preceded peace negotiations or international summits, possibly allowing Putin to capitalize on a crisis and get more leverage in talks.
4. What's so important about the Kerch Strait?

The narrow waterway links the Sea of Azov, where Ukraine also has several ports, to the Black Sea and on to European and global markets. Ukraine complained in July that Russia was using its new $3.7-billion, 19-kilometer (12-mile) bridge to limit maritime activity. As a major export channel for grains, oil, minerals and timber, the strait has become a chokepoint of regional significance in the global food trade.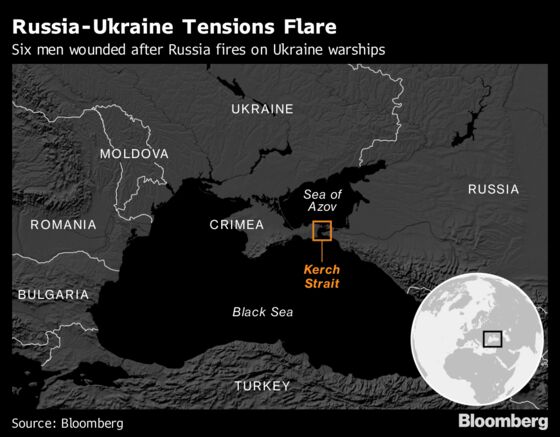 5. Is this the first conflict in the strait?
No. In 2003, Ukraine and Russia wrangled about a small island in the strait, situated just on the maritime border between the two post-Soviet nations. In annexing Crimea, Russia occupied the whole of the strait. On Sept. 23, a small group of Ukrainian military vessels passed under the bridge unhindered, to the surprise of many. In the latest episode, Russia chose to stop the Ukrainian Navy by force as both sides pointed the finger at each other for orchestrating the confrontation for political reasons. 
6. Why the call for martial law and what will that mean?
Ukraine's parliament, backing Poroshenko's watered-down proposal, imposed martial law for 30 days, effective from Nov. 28. It applies only to Ukrainian regions that border Russia, the breakaway area of Moldova known as Transnistria and coastal areas. Ukraine stepped up air defenses and tightened control over its borders, even banning entry of Russian men ages 16 to 60. Poroshenko promised that political freedoms wouldn't be curtailed. Mobilization will only be announced in case Russia starts a military offensive on land.
Chatham House, a London-based think tank, called the Kerch Strait a "chokepoint of regional significance" in this June 2017 study.
A QuickTake on the historical and political forces fuel the standoff in Ukraine.
In May, Putin opened the 19 kilometer (12 mile) road bridge connecting Russia and the Crimea peninsula by driving a Kamaz truck at the head of column of vehicles.