Why the Beijing Winter Olympics Are Facing Boycotts and Political Pressure
(Bloomberg) -- When China hosted its first Olympics in 2008, U.S. President George W. Bush was among more than 80 heads of state in attendance in Beijing. Fourteen years later, the 2022 Winter Games are set to open in the same city but a different world, one wracked by a pandemic and one where a more-powerful China finds itself increasingly at odds with the U.S. and other democracies. Chinese President Xi Jinping has called for the games to be "simple, safe and splendid," a challenge as Covid-19 cases mount globally along with international criticism of China's record on human rights and other issues.
1. When are the games and where?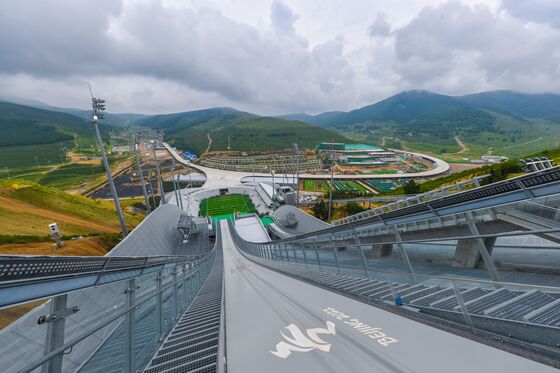 The games will run from Feb. 4-20, with the opening ceremony scheduled Feb. 4 at Beijing National Stadium, also known as the Bird's Nest. Beijing -- the first city to host both a summer and winter games -- will reuse some of the 2008 venues for ice events. The suburb of Yanqing, home to part of the Great Wall, and the city of Zhangjiakou in neighboring Hebei province, will host events such as alpine skiing, snowboarding, cross country and ski jumping. Built for the games, a new high-speed rail line cuts travel time from the ski areas to Beijing to about 45 minutes.
China has relentlessly pursued a Covid-zero strategy, requiring quarantines of up to 21 days for international arrivals and clamping down ferociously on any local flare-ups. Such measures would obviously create obstacles if carried over to the games. Some 32,000 people, including athletes, team officials, members of the media and sponsors and their guests, would be expected to travel for the events under normal circumstances. It's unclear whether the world's best athletes, with their demanding training regimens, would accept such lengthy confinement ahead of a top-level competition.
3. How did the summer games manage?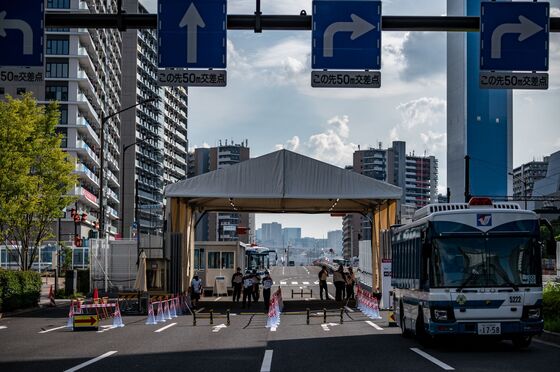 Tokyo, which was under a state of emergency during the summer games, dealt with the pandemic by creating an Olympic bubble, restricting access to the athlete village and venues. Organizers required a negative Covid test prior to arrival in Japan, and participants were subjected to a three-day quarantine after they landed. They also were required to get tested daily. As of Aug. 17, after the summer games but before the Paralympics, the committee had reported 576 affiliated cases, most of them residents in Japan and only a handful among athletes, who weren't required to be vaccinated to participate.
4. Will there be spectators?
Very unclear. The Summer Olympics barred fans from most venues as a Covid control measure, and Beijing officials are still deciding. Tickets have yet to go on sale. Even if Beijing allows spectators, international fans could be out of luck: China's borders have been closed to tourists since the beginning of the pandemic. From China's perspective, that's OK, as there's plenty of domestic enthusiasm. Whether anyone from outside Beijing will be able to sit in the stands will also depend on internal travel restrictions, which have been imposed periodically in response to covid outbreaks. International Olympic Committee officials have expressed their desire to allow fans, and its biggest media partner probably agrees. NBCUniversal, which broadcasts the Olympics in the U.S., reported Tokyo 2020 attracted the lowest viewership since it first aired the games in 1988. Chief Executive Officer Jeff Shell cited the lack of spectators as one of several factors affecting viewer interest.
Human rights groups have long called for a full-blown boycott of the events as a protest against China's alleged mistreatment of ethnic Uyghurs, Tibetans and other minority groups, its national security crackdown on Hong Kong and other issues. Some members of the U.S. Congress have also urged pulling out, a sign of growing bipartisan anger. House Speaker Nancy Pelosi in May called for a diplomatic boycott -- not sending an official delegation -- while still allowing athletes to go and compete. U.K. Foreign Secretary Dominic Raab has said he's unlikely to attend but didn't support withdrawing athletes. An August poll of 1,000 Canadians found 45% of respondents said they would support a boycott of the Beijing Games in response to China's detention of two Canadians, thought to be retaliation for Canada's arrest of a Huawei executive.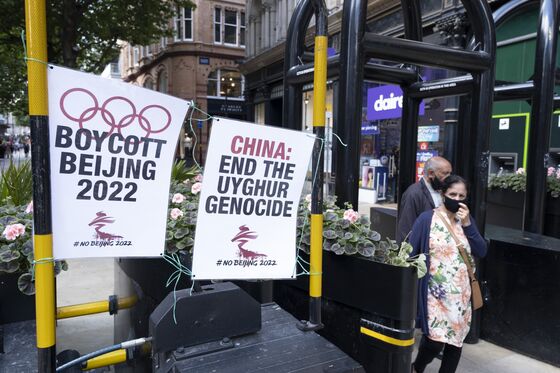 6. Are sponsors being pressured?
It's a tightrope. Olympic sponsors are eager to promote themselves in China, a market of 1.4 billion people. But strained geopolitical relations make it hard to court a nationalist Chinese market and the rest of the world. Chinese consumers have become more wary of foreign brands, and the price is high for companies seen as offending China's national pride. There's pressure from the U.S. too:
At a hearing in July, members of a U.S. congressional panel urged corporations including Coca-Cola Co. and Visa Inc. to pull their sponsorship unless the event is moved out of China. Company representatives said they were still assessing how to approach the games, and noted that their advertising would focus on the athletes, not the location.
Two U.S. lawmakers have proposed a bill that would ban companies that sponsor or do business with the Beijing Olympics from selling products or services to the U.S. government or in federal buildings or installations, including military bases.
7. Will there be protests like in Tokyo?
The 2020 games were the first held under newly relaxed rules that allow participants to engage in demonstrations at select times and sites as long as those actions do not constitute or signal "discrimination, hatred, hostility or the potential for violence." Athletes exercised their new freedom. Soccer players from Great Britain, Japan, Chile, the U.S. and Sweden knelt before their games to protest racism and show solidarity with the Black Lives Matter movement. Costa Rican gymnast Luciana Alvarado took a knee and gave the Black Power salute after her floor routine. Such demonstrations are rare in China. In an interview with Bloomberg TV, IOC Executive Director Christophe Dubi said participants will "no doubt" have the same freedoms in Beijing as in Tokyo. Still, it remains to be seen how much Beijing will tolerate. Designated "protest parks" were set up outside the venues ahead of the 2008 games, but all permit applications were either withdrawn or rejected.
8. Given the headwinds, what's in it for China?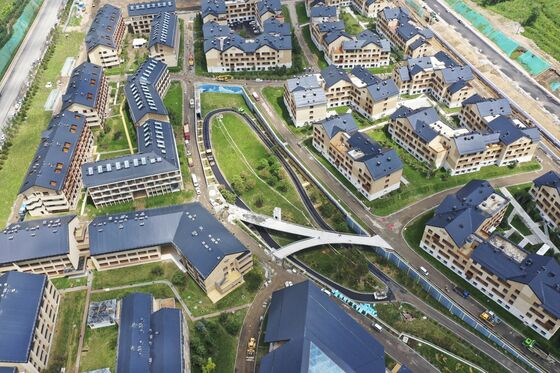 Xi has made restoring China's global prestige a hallmark of his nearly decade in power, and the winter games is another opportunity to show off on the world stage. He also sees sports as a driver of economic growth, one that's in line with the growing push for state-approved healthy and productive pursuits. In August the government pledged more spending on sports while criticizing online activities like private tutoring and gaming. With the new train from Beijing to the nearby ski areas and the momentum of the 2022 Winter Olympics, the nation aims to turn 300 million people into active winter sports enthusiasts by 2025 and grow the value of the industry to 1 trillion yuan ($155 billion).
More QuickTakes on the Tokyo Games and on U.S.-China flashpoints.
Bloomberg Opinion's Tim Culpan looks at politics in the Olympics, and Matthew Brooker explains why a boycott shouldn't worry China.
The Beijing 2022 IOC website.