Why Singapore and Malaysia Are Locking Horns Again
(Bloomberg) -- Malaysia and Singapore have endured their share of neighborly squabbles in the five decades since the Southeast Asian nations split, not least when Mahathir Mohamad was running Malaysia from 1981 to 2003. Relations improved markedly under Malaysian Prime Minister Najib Razak, but he suffered a shock election defeat in May that returned Mahathir to power. With the 93-year-old's political renaissance, there's been a return of cross-border tension over longstanding issues such as water supply, to newer topics like a proposed high-speed rail link.
1. How close are the two countries?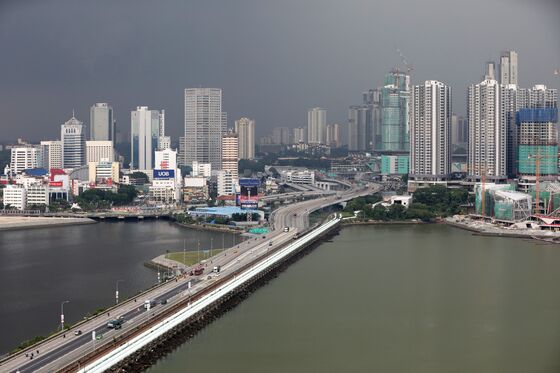 The tiny island state of Singapore sits at the southern tip of the Malaysian peninsula, separated by a 50-kilometer (31-mile) shipping lane called the Johor Strait. There's no tunnel between the countries but there are two bridges, including a 1-kilometer road link called the Causeway. The countries are each other's second-biggest two-way trading partners.
2. How close are they politically?

The acrimony predated Mahathir. After more than 140 years under British rule, Singapore joined the Federation of Malaysia in September 1963, but left less than two years later amid ideological differences. The split left Singapore's first leader, Lee Kuan Yew, in tears on national television. Under Mahathir and Lee, the countries bickered frequently, with disputes ranging from the price Singapore paid for Malaysia's water -- in 2003 Singapore took out full-page advertisements in regional newspapers highlighting its case -- to disputed territory in the form of tiny islands. Spats also arose over the use of Malaysian-owned railway land in Singapore and Mahathir's unsuccessful push for a new bridge between the countries.
3. Did things ever threaten to boil over?

It never got much more serious than mutual badmouthing. "In my 22 years as prime minister, we tried very hard to be a good friend to Singapore," Mahathir said in 2006. "But they are a selfish lot, it was impossible to be a good friend with them." Lee in 1997 angered Mahathir by saying the neighboring Malaysian state of Johor was "notorious for shootings, muggings and carjackings." He later apologized. Ties improved after Mahathir stepped down, particularly between Prime Minister Lee Hsien Loong -- Lee Kuan Yew's son -- and Najib. They held leaders' retreats and settled some long-running disputes. After the senior Lee died, Mahathir said they "crossed swords" many times but "there was no enmity, only differences in our views of what was good for the newborn nation."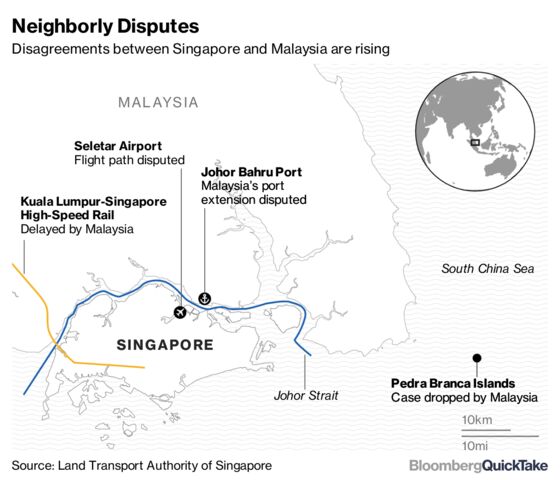 4. What are they arguing about now?

Here are some recent bones of contention:
Port limits -- Singapore protested over Malaysia's move to extend the limits of a port in Johor state, saying it encroaches into Singapore's territorial waters. Mahathir says Malaysia remains in its own waters. The two countries then accused each other of incursions into their respective territorial waters.
High-speed rail link -- Mahathir initially said he'd cancel a proposed multibillion-dollar high-speed railway link to Singapore to cut costs. Singapore responded by saying it would seek compensation. The neighbors agreed to delay kicking off work on the 350-kilometer (218 miles) route from Kuala Lumpur until 2020, while the first train isn't likely to operate before 2031, four years later than originally envisioned.
Airspace -- Malaysia wants to retake airspace in Johor from Singapore in stages beginning end-2019. Singapore responded by saying the countries had an agreement dating back to 1974 that gave it the right to provide air traffic services in the airspace above southern Johor. Malaysia also sent a protest note over Singapore's flight path from its Seletar airport.
Water -- After his reelection, Mahathir suggested renegotiating a 1962 deal to supply water to Singapore, saying it was too costly. However, Malaysian Finance Minister Lim Guan Eng later said that the country would stick with its agreement.
Disputed islands -- Not every dispute is getting pricklier. Under Najib, Malaysia brought two cases related to an International Court of Justice ruling over the sovereignty of the Pedra Branca islands and related island outcrops. Under Mahathir, Malaysia dropped the case.