Why Scotland's Independence Push Faces Barriers
(Bloomberg) -- Scottish independence is back on the agenda just seven years after a referendum that saw it defeated by 55% to 45%. The victory by First Minister Nicola Sturgeon's Scottish National Party on May 6 has given her what she claims is the required mandate for a new vote on secession and threatens to inflame an already tense relationship with U.K. Prime Minister Boris Johnson's government in London. The independence movement was revived by the U.K.'s vote to leave the European Union in 2016 and its acrimonious departure in 2020. While England favored pulling out, Scotland voted overwhelmingly to stay, and independence could open the door to readmission. Scotland has its own distinctive culture and a nationalist tradition that has flourished despite the 1707 Act of Union between the two countries. Now that three-centuries-old alliance is under threat.
1. What does the election result mean?
The SNP won 64 seats in the 129-seat parliament, up one from 2016 and falling just short of an outright majority. But with the Greens winning eight seats -- up two -- that gives pro-independence lawmakers a total of 72 seats. Sturgeon had described the vote as the most important in her country's history and the result could now have consequences that reach far beyond the nation of 5.5 million people. While some powers in areas such as education and health were devolved to Scotland when the Scottish Parliament was set up in 1999, that has not quelled demands for fuller autonomy. Polls showed Scotland's future as part of the union was the top priority among Scottish voters when deciding which party to vote for, and the election was set up as a de facto vote on independence. With a record turnout and tactical voting based on pro- and anti-independence allegiances, the constitutional future of Scotland trumped all other issues and set up a renewed confrontation with the U.K. government in Westminster.
2. How big a factor is Brexit?
Enormous. Scotland voted by 62% to 38% to remain in the EU in 2016. Only two years earlier, claims that Scotland would have to apply to rejoin the EU if it left the U.K. undermined nationalist momentum. Now Brexit has allowed Sturgeon to argue that there's been a fundamental change in circumstances. Johnson's delivery of a "hard Brexit" -- taking Britain out of the EU's single market –- has fueled grievances, hitting Scotland's fishing industry particularly hard, while the U.K.'s Internal Market Act, which allows the British government to override the Edinburgh parliament, has led to accusations of a power grab. Johnson's bumbling, upper-class personality has made him unpopular among Scots, who identify more readily with Sturgeon's directness. Leaked comments by Johnson, who called devolution "a disaster," have only reinforced those perceptions.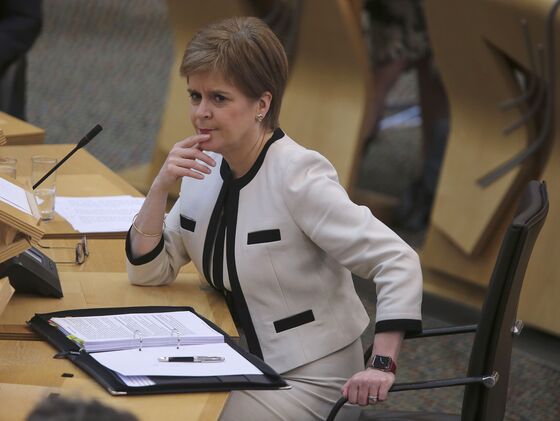 3. What would be the consequences of secession?
Huge. Negotiations would be necessary over what currency an independent Scotland would use, whether it would take a share of the British national debt, and what trade arrangements it would have with the remainder of the U.K. The SNP's ambition to bring Scotland back into the EU would create border and trade tensions, if the problem of ring-fencing Northern Ireland in Brexit is any example. Other issues could include oil and fishing rights and the current siting of the U.K.'s nuclear submarine fleet at Faslane near Glasgow.
4. Will there be another independence referendum soon?
It's unlikely any time soon. Johnson has so far refused to grant one. The 2014 vote was called by the Scottish Parliament under one-time powers granted to it by the U.K. Parliament. Following that precedent, Johnson would have to agree to another referendum, and he's been clear he opposes one. Whether he could sustain that position depends on how political pressure shifts in Scotland and how Sturgeon plays her hand. Sturgeon has said the election result is the mandate she needs for a referendum as soon as the coronavirus pandemic permits. Her ambition is to hold a new vote in the first half of the new parliamentary term, meaning before the end of 2023.
5. Could Scotland hold its own referendum?
The U.K. government says no and Sturgeon said she's committed to a legal one. The Scottish leader seems determined not to follow the route taken by Catalan separatists, who held an illegal vote on leaving Spain in 2017. That said, Sturgeon's SNP appears ready to force the issue if Johnson keeps saying no. Her government has published draft legislation outlining a path to another referendum, and some in her party are suggesting Scotland could hold an advisory vote and force the U.K. to challenge it in court.