Why Kazakhstan Protests Reverberate Beyond the Region
(Bloomberg) -- Anti-government protests that roiled Kazakhstan in January were sparked not just by fuel-price increases but also unrest over authoritarianism and corruption, drawing thousands of people onto the streets in the biggest threat in decades to the central Asian country's leadership. The nation of 19 million, a former Soviet republic neighboring Russia, is rich in oil and uranium and is the size of western Europe.
1. How did authorities respond?
A shoot-to-kill policy was imposed by President Kassym-Jomart Tokayev, while the lightning military deployment by a Russian-dominated security alliance in response to a request for help from Tokayev showed how determined Russian President Vladimir Putin was to defend what he sees as his own neighborhood. It came as Russia massed 100,000 troops near its border with Ukraine and continued to give political and financial backing to Belarus leader Alexander Lukashenko after his contested election in 2020.
2. What's the root of the problem?
Former President Nursultan Nazarbayev, 81, imposed authoritarian rule on Kazakhstan for almost three decades following the collapse of the Soviet Union in 1991. When he stepped down in 2019, installing Tokayev as his successor, he retained key powers for himself as Kazakhstan's so-called "leader of the nation." Many Kazakhs blamed him for letting corruption flourish and for denying them political freedoms. They also pointed the finger at members of Nazarbayev's family who had grown rich through stakes in businesses in the country.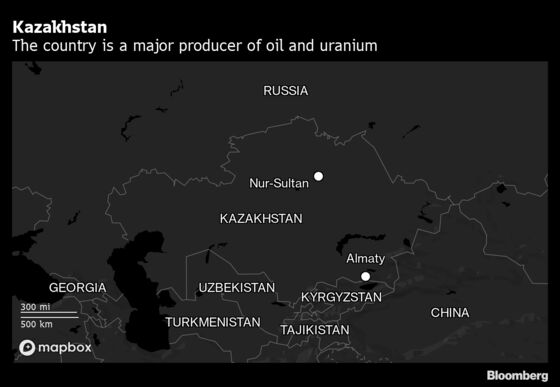 3. Does Nazarbayev still play a role?
Nazarbayev retained considerable influence until the protests erupted, and his family still controls large parts of the economy. Following the unrest, Tokayev started to reduce Nazarbayev's authority, replacing him as chairman of the powerful security council. Karim Massimov, head of the security service and a key Nazarbayev ally, was also arrested for treason. In a speech Jan. 11, Tokayev targeted Nazarbayev, saying he'd allowed the rise of oligarchs whose influence on the economy had choked off competition. A government shake-up that placed Alikhan Smailov, a former finance minister, at its head, was limited, however, with most ministers keeping their posts. The country's largest banks, with connections to Nazarbayev himself or his family, were untouched.
4. How did the protests affect Nazarbayev's family? 
Tokayev dismissed Nazarbayev's nephew Samat Abish Satybaldyuly as first deputy head of the National Security Committee, while Timur Kulibayev, who is married to Nazarbayev's middle daughter, resigned as head of the Atameken business association, which unites most of Kazakhstan's industrial groups. That followed the resignations of Kairat Sharipbayev as chief executive officer of QazaqGaz and Dimash Dossanov as head of KazTransOil. Dossanov is married to Nazarbayev's youngest daughter and Sharipbayev is a partner of his oldest daughter, according to the Interfax news service. 
5. What's Nazarbayev's legacy?
Following the collapse of the Soviet Union, when Kazakhstan gained its independence, Nazarbayev worked to build good relations with China and the U.S. as well as Russia. The country, the richest nation in central Asia, remained mostly unscathed by regional or internal conflicts. Nazarbayev also helped turn oil into a major driver of the economy in Kazakhstan, inviting international giants including Exxon Mobil Corp., Chevron Corp. and Royal Dutch Shell Plc to invest billions of dollars. At the same time, under his rule one of his daughters and other close associates became billionaires. The government also spent at least $18 billion bailing out banks, which were mostly owned by Nazarbayev's inner circle.
6. What sparked the protests?
They started in response to a twofold increase in the price of liquefied petroleum gas, used widely for cars in Kazakhstan as well as for cooking and heating. This followed a government attempt to move to market prices. But they quickly ignited wider discontent over soaring inflation and the political system in the country, where many people struggle to get by and have complained for years of widespread corruption. Airports, including in Almaty, the largest city, were taken over, and Almaty city hall was set on fire. Tokayev appealed to Russia and other Collective Security Treaty Organization states to send troops to help quell the disturbances. Authorities said 225 people died, including 19 law-enforcement officers, in the January unrest, while about 10,000 people were detained. Internet and phone connections were cut for several days, and transport was disrupted.  
Russia's Defense Ministry said it flew 75 aircraft carrying its forces to Kazakhstan after Tokayev appealed for aid from the CSTO, which also includes Armenia, Belarus, Kazakhstan, Kyrgyzstan and Tajikistan. Russia placed a general who had led military operations in Syria and Ukraine in charge of the deployment, and Putin spoke numerous times by phone with Tokayev. A descent into chaos could have had a ripple effect across the region, where leaders are already concerned about the potential risk from Islamist militants in nearby Afghanistan following the Taliban's takeover. 
It's a military alliance that Moscow sees as its version of NATO. It dates back to 1992 and has its headquarters in Moscow. The operation in Kazakhstan was the first of its kind by the Russian-led military bloc. More typically, it's not that quick to deploy forces, and Armenia publicly criticized the organization as it stayed away from its conflict with Azerbaijan over the Nagorno-Karabakh region, even as Armenia appealed for help.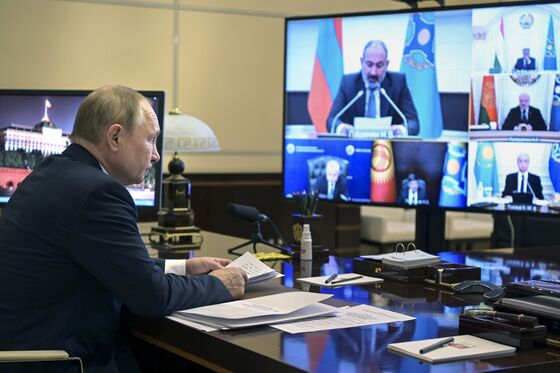 9. How important are oil and uranium? 
Kazakhstan accounts for about 2% of global crude production and is a member of the OPEC+ alliance led by Russia and Saudi Arabia. The country is also the world's biggest uranium miner, producing more than 40% of the metal used for nuclear purposes. The protests didn't cause significant disruption to either industry.
10. What's China's agenda? 
China has invested billions of dollars in Kazakhstan's energy sector and involved the country in its Belt and Road Initiative, the centerpiece of President Xi Jinping's foreign policy. China backed Tokayev's crackdown on protests, saying it hoped "strong measures" would bring calm. It was in China's interest to keep the status quo in Kazakhstan. Had Tokayev, who speaks Mandarin among other languages, been defeated by the protesters, there was a risk new leaders could have taken a more nationalistic or radical Islamist stance.
11. Why might the capital be renamed? 
Nur-Sultan, Kazakhstan's capital, was renamed in honor of Nazarbayev in 2019, having previously been called Astana. It's a move often criticized by the Kazakh population, and one which undermined the authority of Tokayev, who proposed it. Calls to change the name back intensified after the protests.