Why Inflation Is Scaring Latin America If Not the Fed
(Bloomberg) -- The U.S. Federal Reserve, like many other central banks, sees inflation from the reopening of economies disrupted by the pandemic to be "transitory," and it's not expected to raise interest rates until at least next year. Latin America's policy makers, by contrast, are rushing to reverse ultra-low borrowing costs. Since late June, central banks in Mexico, Peru, Chile, Uruguay and even Paraguay followed the early move by Brazil and increased rates, while many expect Colombia to follow soon. Latin America was perhaps hit harder than any other region by Covid-19 and is experiencing a quick economic rebound that puts pressure on prices. Other reasons for the difference, though, may have to do with the continent's high levels of inequality, informality and political instability -- together with a history of inflationary bouts deeply etched into the collective economic memory.
1. What's been driving inflation?
Around the world, prices have been rising faster than usual as the end of many pandemic-related restrictions released pent-up consumer demand that disrupted supply chains have struggled to meet. Some factors have affected Latin America in particular. For instance, the global rally of food and energy prices has had a disproportionately large impact on the world's most unequal region: food prices make up a greater share of inflation indexes in Latin America than in advanced economies like the U.S. That means that soaring food prices -- beef is up 43% in Brazil -- have played a larger role in overall inflation. 
2. Are there other factors specific to Latin America?
Yes. Many countries in the region are also net energy importers, and have seen surging gas prices as rising demand has led to tighter global oil markets. Recent social unrest has triggered volatility in some currencies too. There's a strong tie between prices and currencies in Latin America, and devaluations almost immediately show up in inflation. Meanwhile, governments face continued pressure to sustain increased social spending adopted to combat the jump in poverty caused by the pandemic. The prospect of larger deficits has both soured investors on the currency outlook and increased their inflation expectations, which often causes local businesses to raise prices more and workers to demand higher pay increases in the near-term to hedge against future inflation. All this comes on top of being a region with a history of high inflation: It averaged over 100% annually in the late 1980s and early '90s, according to the International Monetary Fund.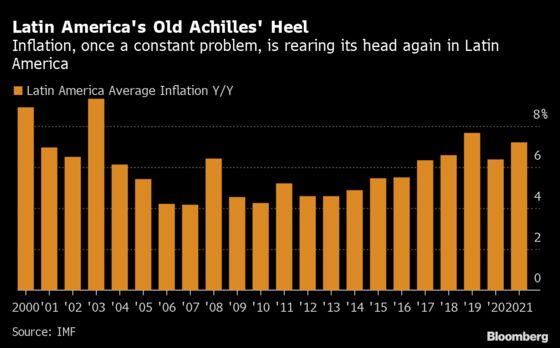 3. How bad is inflation and what have central banks done?
Here's how inflation is currently affecting monetary policy in Latin America
July consumer prices in:

Brazil: 9% y/y (highest since 2016)

Central bank: Four rate hikes since March totaling 325 basis points to 5.25%

Mexico: 5.8% (near highest since late 2017)

Central bank: two quarter-point hikes to 4.5%

Chile: 4.5% (highest since 2016)

Central bank: Two hikes, including the largest in two decades, totaling 100 basis points to 1.50%

Peru: 5% (highest since 2009)

Central bank: first hike in five years to 0.5%

Uruguay: 7.3% (from 10% a year ago)

Central bank: 50 basis point hike to 5%

Paraguay: 5.6% (highest since 2014)

Central bank: Quarter point hike to 1%, the first increase in more than five years

Colombia: 4% (highest since late 2017)

Central bank signaled it may soon raise rates
4. Why are the region's central banks acting now? 
They're trying to head off the kind of deterioration in exchange rates that commonly occur in emerging economies when inflation expectations rise. Latin America is already home to four of the six worst performing currencies in emerging markets this year. They're also reacting to a stronger-than-expected economic recovery -- the region is set to grow this year at the fastest pace since 2009. Then there's an unsettled political backdrop, with violent protests in Colombia, a new leftist government in Peru and fears that Brazilian President Jair Bolsonaro is working to undermine elections next year. 
5. What's the benefit of these hikes?
In some countries, inflation is running above the central bank's target range, so cooling prices is also tied to the policy credibility in a region with fragile institutions. Some analysts say raising interest rates will preserve the recovery by anchoring inflation expectations, shoring up credibility and offsetting what some investors perceive as excessive stimulus. And Wall Street sentiment is critical for Latin America, where sovereign bonds and currencies can plunge overnight at the first whiff of political turmoil or pendulum-swings in economic policy. In countries with political risk, accelerating inflation and economies doing well, "it's about time that we start to take the foot off the accelerator," Alberto Ramos, head of Latin America research at Goldman Sachs Group Inc., said.
6. What are the risks to raising rates in the region?
Higher interest rates create greater debt burdens and larger fiscal deficits, which in turn can pose a threat to a long-term recovery. Rate hikes are making domestic debt more expensive at a time when the region's debt load has spiked to the highest levels in 30 years and countries try to reel in Covid spending. That risk plays out in the decisions by central bankers: policy makers have been divided in Mexico, Colombia and Uruguay on whether to raise rates. A third wave of Covid cases from the delta variant, now circulating in the region, could derail a recovery. "There is some reluctance in the region to have a very strict tightening of monetary policy," says Alejandro Cuadrado, head of Latin America currency strategy at BBVA in New York. "The transmission channel of monetary policy is weak in most cases."
7. Why don't rate increases have an immediate impact in Latin America?
Latin America's economies are notable for high levels of informal jobs -- all-cash, low-wage gigs at companies that typically don't qualify for loans. This portion of the labor force -- and employers -- is expected to grow even more in the recovery from the pandemic, putting more of the economy out of the formal financial system. And over half the region's adult population didn't have a bank account before the pandemic. With so much activity off the books, rate hikes don't have the immediate impact in Latin America that they often do in the U.S. or Europe.  
8. What are banks signaling about the next steps?
That more rate increases are on the horizon. Brazil's central bank already forecasts another 100 basis-point rate hike in September with Colombia following soon after. BBVA's Cuadrado sees most Latin American central banks continuing to raise rates this year. The notable exception is Argentina, which doesn't follow an inflation targeting system, and isn't planning to boost rates any time soon despite 52% inflation. Policy makers in Buenos Aires worry a rate hike could actually accelerate inflation because higher interest payments would increase the amount of money in circulation.
A story about growing informality in Latin America's jobs market
A presentation by Brazil's central bank president Roberto Campos Neto during an event organized by AS/COA
Statement by Mexico's central bank justifying its second rate increase this year on Aug. 12