How the U.K.'s Hold on Gibraltar Is Challenged by Brexit
(Bloomberg) -- The aftershocks of the U.K.'s exit from the European Union are still being felt in Gibraltar, the rocky outcrop at Spain's southern tip that's been British for three centuries. Its 2.35 billion-pound ($3.2 billion) services-based economy is dependent on the untrammeled flow of frontier workers and other visitors coming in from Spain -- the type of free movement that Brexit was meant to limit. Rules guiding border protocols are still in flux, even after the EU and the U.K. sealed their divorce.
1. How does Brexit apply to Gibraltar?
The 6.8-square-kilometer enclave is a self-governing British overseas territory, like Bermuda or the Falklands Islands. As such, most of its 34,000 residents are British citizens, who voted almost unanimously in a 2002 referendum to remain under sole British sovereignty. At the same time, Gibraltar is physically part of Europe's mainland, with deep ties to neighboring Spain -- which questions the legal basis of the U.K.'s claims to the territory ceded to Britain under the 1713 Treaty of Utrecht. In the 2016 Brexit referendum narrowly won by anti-EU forces, 96% of Gibraltarians voted in favor of remaining in the EU.
2. What has Brexit changed so far?
When the U.K. and EU enacted their separation, Gibraltar's border with Spain -- like that between the Republic of Ireland and Northern Ireland -- became a divide between EU and non-EU. Until Brexit took effect, a pragmatic approach had governed the passage of people, which, in recent years at least, generally meant rapid or no passport checks when moving between Spain and Gibraltar. In that spirit, the U.K. and Spain made a last-ditch preliminary deal at the end of 2020 to avoid stricter controls on the movement of people and goods into the territory when Brexit came into force.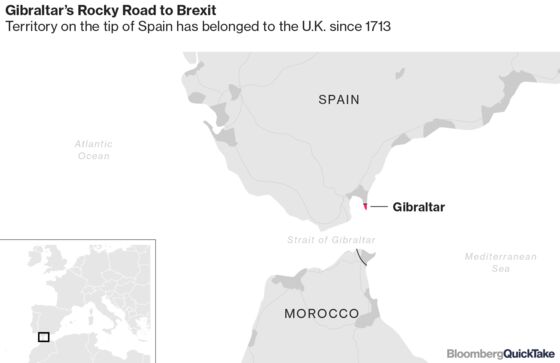 3. What are the details of the temporary U.K.-Spain deal?
Spain's then-Foreign Minister, Arancha Gonzalez Laya, said it was intended to lift the threat of border controls and usher in a new era of "shared prosperity." During a four-year implementation period, the territory is to operate under passport-free Schengen terms, with officials from the European border agency Frontex helping with controls at Gibraltar's port and airports. As ever, the bone of contention is the extent of Spain's role in policing the frontier amid Gibraltarian and British suspicions that Madrid will seek to use the new protocols to undermine sovereignty. Gonzalez Laya said Spanish officials would have to be present to ensure Schengen controls were being carried out properly and that Spain would have the last word in saying who could enter the territory. Fabian Picardo, Gibraltar's first minister, has said he'll never permit any Spanish state presence.
4. What does all this mean for life in Gibraltar?
Potentially a great deal -- if it can be finalized. Gibraltar's economy is based on services including banking, insurance and online gambling to the U.K. and other countries. Half of the territory's working population of 30,000 crosses the border daily, including about 10,000 Spanish commuters. Their salaries, plus the business of supplying Gibraltar, are a lifeline for Spanish towns close to the border, where the unemployment rate is much higher than the nation's average. High unemployment is already one reason why Linea de la Concepcion, the closest town to the border, is known as a gateway for illegal drugs entering the EU.
5. Could Spain end up with control of Gibraltar?
That's still highly unlikely. The U.K. has always said it would defend Gibraltarians against Spain's claims to sovereignty, a pledge strengthened by the result of the 2002 non-binding referendum. The U.K. and Spain have been able to hammer out a series of bilateral accords to provide a framework for cooperation on issues such as citizens' rights, the environment, police and customs matters, and taxation. Neither the U.K. or Spain has given an inch on their claims to sovereignty over Gibraltar. Even so, Spanish officials say Brexit was a paradigm-changer, because now Gibraltarians and Spaniards share the same pro-EU interests.
6. Why is Gibraltar important to the U.K.?
As one of the last relics of a lost empire, Gibraltar has an emotional significance for many Britons. Its location on the narrow strait separating Europe and Africa makes it strategically important, and the Royal Navy's Gibraltar Squadron patrols the territorial waters. Using Gibraltar as a stronghold, British forces were able to control naval traffic passing between the Atlantic Ocean and Mediterranean Sea during World War II; U.S. General Dwight D. Eisenhower planned the allied invasion of North Africa from headquarters inside the Rock of Gibraltar's labyrinth of tunnels, which was made to protect British forces from Germany's Luftwaffe. The tunnels, stretching a total of 34 miles (55 kilometers), are today a big tourist draw.
7. Have I seen that rock before?
The Rock of Gibraltar is familiar to Americans as the logo of the Newark, New Jersey-based insurance company Prudential Financial Inc., whose advertising promises customers they can "Get a Piece of the Rock." (As it happens, insurance is one of Gibraltar's leading industries.) Gibraltar was also the place chosen by John Lennon and Yoko Ono to celebrate their wedding away from the crowd of photographers and reporters in 1969, an adventure described in "The Ballad of John and Yoko."