Why Delhi Is the World's Smog Capital Year After Year
(Bloomberg) -- Millions of Indians are breathing the world's most toxic air. After a brief respite during the pandemic, smog returned this year to envelop the capital Delhi and numerous other cities across the dusty and densely populated North Indian plains. Air pollution in the capital that's home to 20 million people has proved especially stubborn, and potent: One measure of pollution frequently exceeds the World Health Organization's daily recommended limits by a factor of more than 20. An estimated 1.67 million people died in 2019 from India's dirty air -- an annual catastrophe that the authorities are struggling to contain. 
1. What causes the pollution?
Vehicles and emissions from factories and coal-fired power stations contribute year-round, as do road and construction dust and domestic fires lit by the poor. A grim extra wallop comes late in the year from the burning of crop stubble in the surrounding states of Punjab, Uttar Pradesh, Haryana and Rajasthan, even though the practice is banned. Farmers light fires to clear fields in preparation for the winter sowing season. Compounding the problem is the trough-like topography of north India, which means polluted air lingers in colder months.  
2. What's the point of stubble burning?
After rice, wheat or other grain is harvested, the stubble that remains must be removed before the next planting. It was once used as cattle feed, or to make cardboard, but modern mechanical harvesting leaves 80% of the residue that ends up being burnt. Disposal by means other than burning -- such as plowing it into a fine layer of field cover -- costs time and money, two things that farmers say they can't afford. Recent efforts to manage the problem by converting the crop waste into useful energy haven't yet produced noticeable results.   
3. How serious is the health risk?
The Lancet medical journal estimated that almost 18% of India's deaths in 2019 were caused by bad air. The most dire threat to humans is from PM 2.5, the fine, inhalable particles that lodge deep in the lungs where they can enter the bloodstream. WHO guidelines allow a daily average exposure to PM 2.5 of up to 15 micrograms per cubic meter. Delhi's reading around noon on Nov. 18 topped 500 in some places. The poor are often most exposed, as they use polluting solid fuels such as wood, dung, coal and charcoal for cooking. By World Bank calculations, diseases, medical conditions and premature deaths linked to pollution cost China and India about 7.5%-8% of their annual gross domestic product.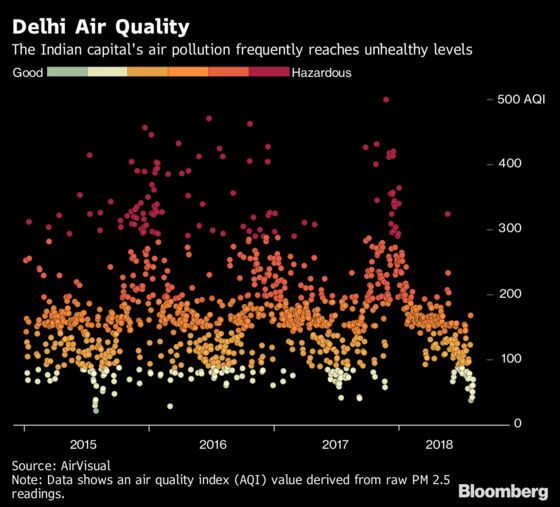 4. Is it getting better or worse? 
The pollution was less intense due to last year's virus restrictions, as fewer people traveled on the roads and demand for coal-fired power fell. But India was still home to nine of the top 10 most-polluted cities in the world, as measured by PM 2.5, in a study by IQAir AirVisual. Six of the top 10 -- Delhi, Ghaziabad, Bisrakh Jalalpur, Noida, Greater Noida and Bhiwadi -- are part of the National Capital Region. This month, as the pall of smog blanketed the capital once again, the government closed schools, temporarily shut some coal power plants and encouraged residents to stay indoors.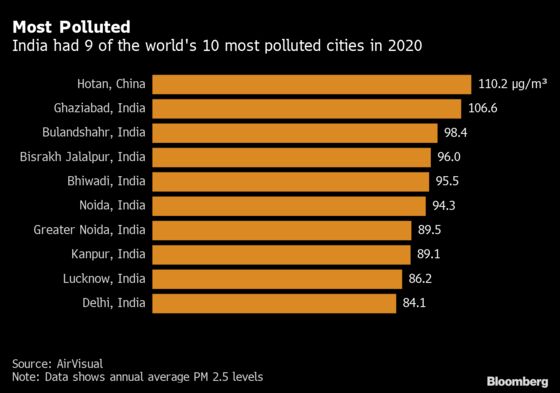 5. How are citizens reacting?
People often complain about the smog on social media, but that's about it. Some city dwellers even add to the problem by setting off fireworks, ignoring curbs on their sale and use. Yet there are signs that more people are worrying about the impact on their health. Sales of air purifiers and face masks -- driven partly by Covid-19, of course -- are growing, and indoor plants have become a popular addition to Delhi homes. Health groups educating society on the hazards of air pollution say attitudes are slowly changing as people see friends and relatives struck down with respiratory illnesses. Renowned lung specialist Arvind Kumar wrote on Twitter that a child born on a smoggy day in Delhi "would have smoked 40 to 50 cigarettes" on the first day of its life. "We can't live like this," said Indian billionaire businessman Sunil Mittal at the Bloomberg New Economy Forum in Singapore in November. 
6. Why hasn't this been fixed?
As an election issue, air pollution tends to take a back seat to unemployment, food and electricity prices, and national security. Candidates for public office are reluctant to tackle stubble burning because farmers are a strong electoral constituency. Unlike in China, where the one-party state has directed a concerted nationwide anti-pollution drive, India's various levels of government have struggled to make similar progress. Delhi has taken some action against polluting coal plants and vehicles, banned the use of dirtier fuels and curbed construction activity. Yet some of the biggest polluters are being let off, with the government twice extending a deadline for coal power plants to install pollution-control equipment.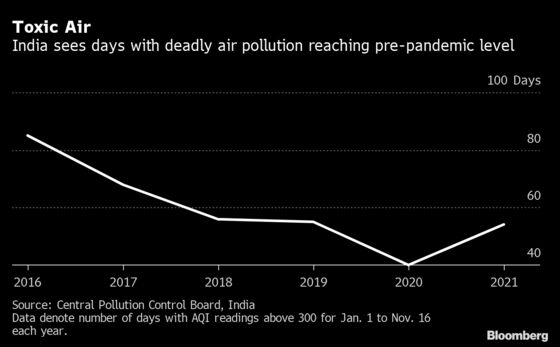 In 2021, New Delhi residents breathed less than a week of air deemed "good" under U.S. Environmental Protection Agency guidelines, according to U.S. embassy data through Nov. 5. Migrants continue to pour into India's big cities from the countryside, increasing urban pollution and the number of potential victims. While stubble burning appeared to be on the decline back in 2018, it continues today, and there is little sign that most farmers are willing to accept the ban. The federal administration says it's now following a national clean air strategy and has tried to overcome bureaucratic inertia by creating a panel with statutory powers to act on pollution. Critics say the strategy lacks hard targets and that more state resources are needed to force compliance with pollution rules, adopt cleaner fuels and shift to electric cars and mass transit systems.