Why China Keeps Sending Warplanes to Fly Near Taiwan
(Bloomberg) -- Chinese warplanes streaking through the skies around Taiwan, once a rare sight, are showing up much more frequently. The exercises signal China's displeasure with the island's democratically elected government and its efforts to deepen ties with the U.S. In response to the People's Liberation Army's moves, the Pentagon has stepped up surveillance flights in the region, raising the risk of a confrontation between two of the world's most powerful militaries.
China's warplanes made incursions into the southern part of Taiwan's air defense identification zone (ADIZ) on 87 days in 2020 -- more than in the previous five years combined -- and have surpassed that number already this year. Some of the PLA planes, including bombers, fighter jets and reconnaissance aircraft, fly east from China across the 130-kilometer (80-mile) Taiwan Strait and near the southern tip of Taiwan. Some break off and dart farther south toward tiny Pratas Island in the South China Sea before turning back. The PLA flew close to Pratas -- uninhabited except for a garrison of Taiwanese marines and coast guard officers -- roughly once a week on average between mid-September 2020 (when the Taiwanese Defense Ministry began releasing detailed data) and mid-June 2021.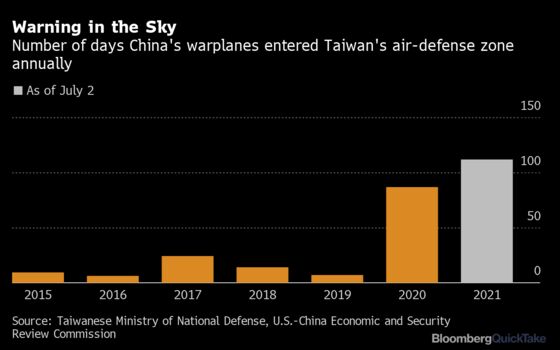 2. Is China breaching Taiwan's airspace?
No. Generally speaking sovereign airspace refers to the air over a territory and a "belt of sea adjacent to its coast" as far as 12 nautical miles (22.2 kilometers) from shore. Any incursion by Chinese warplanes into Taiwan's sovereign airspace would be a very serious and unprecedented provocation. That's why China strongly protested in June 2020 when a U.S. military aircraft flew over Taiwan. An ADIZ is an area beyond that in which aircraft are supposed to identify themselves to the jurisdiction that declared it, usually in the interest of national security. Many places have them, including China and the U.S. and Canada jointly.
3. What's China trying to accomplish?
The incursions allow Chinese President Xi Jinping to highlight Taiwan's vulnerability while probing its defenses and testing the limits of the American commitment to ensure Taiwan's self-defense. The focus on Pratas demonstrates that Beijing has options for striking a blow against Taiwan that fall well short of an invasion, which is becoming a more urgent concern for American military planners. Regular incursions also help establish China's long-term presence in territory it claims as its own. Meanwhile, the drumbeat of exercises adds to the domestic political concerns for Taiwanese President Tsai Ing-wen, who rejects Beijing's claims to sovereignty.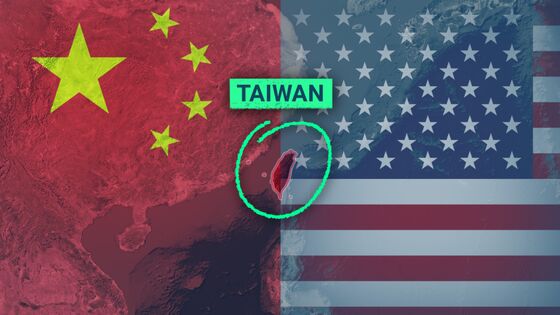 Pratas is closer to Hong Kong than Taiwan and hundreds of miles from the nearest American base in Japan. Taking it could give China a new launching ground for future military operations without provoking a full-scale conflict with the U.S. Despite the saber-rattling, China has many reasons to avoid a war, not least being that it could kill tens of thousands, devastate the economies on both sides and potentially lead to a nuclear confrontation. But other forces may prod China toward action: Xi's desire to cement his legacy by gaining "lost" territory, falling public support in Taiwan for any union with China and the rise of pro-independence forces, and the U.S.'s increasingly hostile relationship with China. The U.S. has renewed calls for China to open a hot line to help keep any military misunderstandings from escalating, so far with little success.
5. What's been the response?
While Beijing has blamed the exercises on Tsai's refusal to accept that both sides belong to "one China," the increase has tracked with U.S. efforts to step up arm sales and diplomatic exchanges with Taiwan. The island's aging air force announced in March that it expected to spend NT$2.1 billion ($76 million) more in 2021 countering PLA operations (it sends patrol aircraft, issues radio warnings and uses air-defense missile systems to monitor the activity). Taiwan has reinforced the garrison on Pratas with 200 marines, sent in anti-armor rockets and restarted a project to upgrade the airstrip. But it would be operating more than 400 kilometers from its coast and be facing the world's largest navy.