Why China and U.S. Are Clashing Over Stock Listings
(Bloomberg) -- Chinese companies seeking capital have long headed to the U.S. stock market to tap its deep-pocketed investors, raising more than $100 billion through first-time share sales over the past two decades. This money flow was immensely profitable for all involved: The founders, the bankers, early investors and new shareholders. Yet all this now looks set to change. China has pledged to write new rules for companies going public outside the mainland and to step up oversight of those already trading offshore. It's unclear whether Didi Global Inc.'s contentious initial public offering in June was the catalyst; the U.S. has been taking steps to force some Chinese firms to open their books or face delisting. Either way it's a major shakeup for Chinese companies -- which account for about 4% of America's $50 trillion equity market -- as well as their private equity backers and Wall Street.
The Cyberspace Administration of China, the country's internet regulator, has proposed stringent new rules on overseas listings. Companies with data on at least 1 million people will be required to undergo a cybersecurity review before they can conduct an IPO abroad. The review will also look into potential national security risks from such IPOs. The regulator is seeking feedback before the rules are implemented. Regulators are also said to be considering requiring firms that have already gone public using the variable interest entity structure to seek approval for additional share offerings overseas. (A VIE creates a foreign shell company incorporated in places like Cayman Islands or the British Virgin Islands -- ostensibly outside the purview of Chinese regulators.) This would impact firms such as Alibaba Group Holding Ltd.
2. Is this about limiting foreign ownership?
Not so much. China already has strict rules on foreign investment in certain industries such as internet companies, banks, miners and private education firms. VIEs were a legally shaky workaround that enabled Chinese firms to tap capital in foreign markets without giving away control. Some Chinese tech firms do have foreign backers, dating back to when they were scrappy upstarts. Softbank Group Corp. and Uber Inc. for instance hold sizable stakes in Didi, while Naspers Ltd. has a 29% stake in Tencent Holdings Ltd., making it the single biggest shareholder. The latest move by China's Communist Party is aimed at ensuring sensitive data controlled by companies can't be accessed by foreign regulators. More broadly, it's part of campaign to impose stricter controls over the nation's technology firms, many of which have near-monopolies in their fields and vast pools of user data -- the new oil of the digital economy.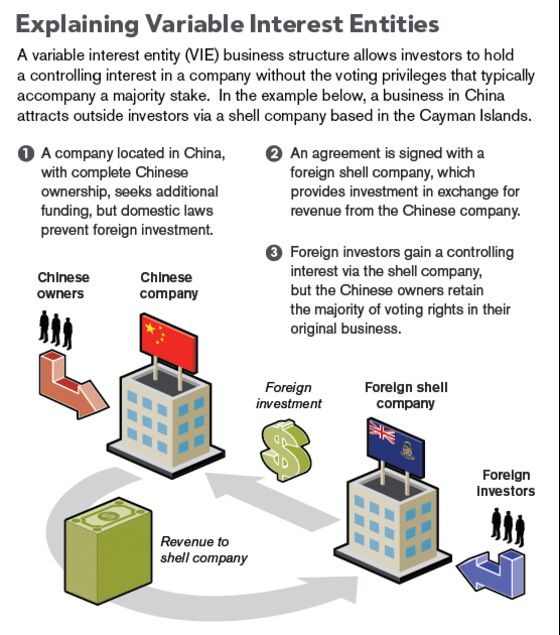 3. Why is China doing this now?
Years of a light touch approach to technology companies enabled them and their billionaire founders to grow rich, influential and powerful. Too powerful, it seems. Since last year, President Xi Jinping's government has acted to rein in these corporations -- from derailing Ant Group's blockbuster IPO to new rules curbing monopolistic practices across the internet landscape. In March, Xi warned that Beijing would target so-called "platform" companies that had amassed data and market dominance. This term covers a range of firms that offer services to hundreds of millions, from Didi to food delivery giant Meituan and e-commerce leaders like JD.com Inc. Didi's decision to proceed with its U.S. IPO despite reported reservations from China's regulators was likely seen in Beijing as another example of how some technology companies viewed themselves as beyond the reach of the Communist Party. The new rules would effectively prevent such an incident from happening again.
4. What is the U.S. doing?
Under a law passed under the Trump administration in December, Chinese companies may face delisting if they refuse to hand over financial information to American regulators. The U.S. Securities and Exchange Commission in March began implementing the new rules, which require U.S. inspection of accounting work done for Chinese companies. China has long refused to let the U.S. Public Company Accounting Oversight Board examine audits of its firms, citing national security. U.S. lawmakers counter that such resistance exposes investors to risks such as frauds, and that it makes little sense that Chinese companies have been permitted to raise money in the U.S. without complying with American securities rules. Concern over audit materials, which could contain data such as user information and communications between the company and government departments, were one of the reasons Chinese officials wanted Didi to delay its IPO, the Wall Street Journal reported.
5. What's the impact been so far?
Chinese shares traded in New York and Hong Kong plunged in July as shareholders price in increased scrutiny from Beijing. Some companies have shelved or delayed their U.S. IPO plans, according to reports, including health-care firm LinkDoc Technology Ltd. and Ximalaya Inc., an audio sharing platform. Valuations are likely dropping in private markets, with speculation focusing on ByteDance Ltd. Fidelity Investments for instance halved its estimate for Ant Group after its Hong Kong and Shanghai listings unraveled in late 2020. For Didi, the penalty for going against the wishes of Beijing was severe. The stock lost more than 30% in four days, falling below its IPO price. Shareholders sued the company, as well as its directors and underwriters, claiming Didi failed to disclose talks it was having with Chinese authorities about its compliance with cybersecurity laws.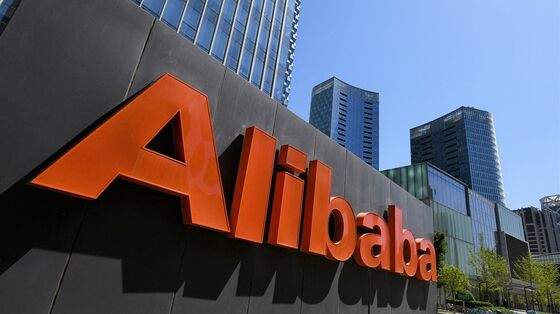 More QuickTakes on VIEs, the tool Chinese firms have used for U.S. stock offerings; what's behind Beijing's crackdown on its big tech firms, and the U.S. threat to delist foreign firms.
A digest of Bloomberg Opinion's writing on the Didi debacle.
Bloomberg Intelligence examines the new threat to Didi's domestic monopoly.
A Wall Street Journal column assesses what's next for U.S. investors.