Why Chile's Presidential Vote Comes at a Crazy Time
(Bloomberg) -- Chileans go to the polls this weekend in what may be the most divisive election since the transition to democracy three decades ago. Should presidential candidates from the hard right and the far left advance to a second-round election in December, as polls suggest, that would confirm the eclipse of the old parties that have dominated Chile's politics since the dictatorship of Augusto Pinochet. Adding to the overall sense of instability, the current president (who is barred from seeking a second consecutive term by Chile's term limits) just survived impeachment, the fate of the country's iconic pension system may be at stake and the country's constitution is in the process of being rewritten.
1. Who are the presidential candidates?
Polls show the top contenders to be Gabriel Boric, a 35-year-old leftist former student leader, and Jose Antonio Kast, a 55-year-old conservative former lawmaker. Boric, who is allied with Chile's Communist Party, wants to do away with the nation's market-based neoliberal model. He proposes to raise the minimum wage, as well as corporate and wealth taxes, to cut the maximum work week to 40 hours from 45, introduce workers' participation in companies' boards, and to create a new national development bank. Meanwhile, Kast's plan is broadly based on increasing investment incentives. He pledges cutting corporate and wealth taxes, reducing public spending, and suggested he would sell a stake in state-owned copper miner Codelco. Boric aims to make abortion free and widely available and supports a program of LGBTQ rights to end discrimination. In contrast, Kast opposes same-sex marriages and abortion, and promises to crack down on illegal immigration. Trailing in polls are candidates from the political parties that have dominated the scene for the last 30 years: Yasna Provoste, a senator from the Christian Democrat party, is running for a coalition from the center-left, made up of parties that helped unseat Pinochet. Sebastian Sichel represents the parties that back the incumbent president, Sebastian Pinera.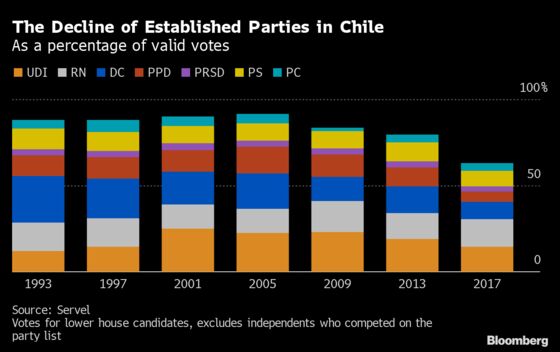 2. How will the elections work?
If no candidate gets more than 50% of the votes, the two candidates with the highest totals will proceed to a second-round vote on Dec. 19. Voters will also choose the whole lower house -- 155 seats --, 27 senators and regional governing councils. Voters choose from dozens of lists and electoral pacts through what is known as the D'Hondt method. Electoral officials will then tally the number of votes each list receives and then divide the seats proportionally. The final makeup of congress is hard to predict, but the D'Hondt method favors a fragmented legislature.
3. What's happening with the current president?
Pinera, a Harvard University-educated conservative who became a billionaire through his work in credit cards and airlines, has been under fire since publication of the so-called Pandora Papers -- leaked documents showing hidden ownership interests of wealthy people around the world. The document alleged that Pinera's family, in 2010, sold its stake in a $2.5 billion iron-ore project called Dominga to a childhood friend of the president, and that part of the payment was allegedly conditioned on the government not declaring the area a nature reserve. He has denied wrongdoing, saying that his finances were placed in a blind trust at the start of that term, and that he wasn't informed of the details of the sale. Chile's lower house voted to impeach him by a vote of 78 to 67 with 3 abstentions. On Nov. 15, Chile's Senate cleared him after opponents fell short of the two-thirds majority needed to impeach a head of state.
4. Why is the pension system up in the air? 
Chile's system of private, obligatory pension funds -- established in 1981 during Pinochet's dictatorship to boost savings -- forms the bedrock of the country's financial markets, since fund managers are the country's biggest institutional investors. But many Chileans are dissatisfied with the level of retirement payouts. During the pandemic, congress approved a series of early withdrawals from pension funds to support households. So far, Chileans have withdrawn $49 billion, with a fourth withdrawal under consideration that could free as much as $20 billion more. With Chile's congress divided on the question of a fourth round of withdrawals, a bicameral committee is working on a compromise plan. Boric proposes scrapping the current system in favor of a state-run manager.
5. What's happening with the constitution?
Following violent protests in 2019 triggered by an increase in the subway fare, Pinera's government agreed to hold a vote on whether to write a new constitution, long a demand of social activists. (The current constitution, though amended several times since Chile returned to democracy, traces back to 1980, during Pinochet's repressive rule.) The constituent assembly elected to write the new constitution has to submit a draft for a plebiscite during the first half of 2022. The assembly, largely dominated by leftist groups, could suggest enlarging social and economic rights, as well as changing how the country manages natural resources.
6. What's behind all the discontent?
Long before the 2019 riots, political scientists had warned of a crisis of legitimacy in Chilean politics. The political system "has drifted away from civil society," Juan Pablo Luna, an academic at the Catholic University of Chile in Santiago, wrote in 2016. Established parties failed to respond to or channel discontent with rapid economic change characterized by growing wealth and deepening inequality, as well as insufficient provision of pensions, health care and education, often by the private sector.