Why Buying Shares in Nestle Could Become a Headache
(Bloomberg) -- If you're based in the European Union and want to trade shares in Swiss companies such as Novartis AG, Nestle SA and UBS Group AG next year, you could be facing a problem. Switzerland, home to some of the world's biggest companies, is in a long-running spat with the 28-member EU that spilled over into the nation's stock market. While it's unclear how it will play out, the standoff may end up banning European traders from buying and selling Swiss stocks outside of Switzerland. It's a cautionary tale for the U.K. after Brexit.
1. What's the fight about?

Switzerland shares borders with France, Germany and Italy, and roughly a quarter of its inhabitants are foreigners, but the Swiss decided long ago that they didn't want to be part of the EU. So its relations with the bloc are governed by more of 120 bilateral treaties that cover everything from agriculture to civil aviation and the free movement of people. In 2017, the EU granted Switzerland's stock exchange so-called equivalence status, meaning the EU recognized Swiss securities regulations were as tough as its own. But that status was only for 2018, and when it expires at year's end, cross-border trading in Swiss equities between Switzerland and the EU may become more difficult.
2. Can't there be an extension?
The European Commission, which handles such matters for the EU, said in late November that there's not enough progress to extend Switzerland's stock-market agreement into 2019 because broader political negotiations with the Alpine country have stalled. The government in Bern is now moving ahead with a last-resort measure to avoid getting its stock exchanges cut off. Other nations, including the U.S., were granted indefinite equivalence at the start of 2018.
3. What explains Switzerland's predicament?

Bern and Brussels have had testy relations for years. Almost 12 years after opening borders to EU expatriates, Swiss citizens in 2014 backed a popular initiative to impose limits on immigration. The measure affects mainly high-qualified workers from the EU, which is the top destination for Swiss exports. A clause in Switzerland's package of agreements with the EU means that the one on free movement of people cannot be canceled without rendering the others null and void as well. Bern and Brussels have been trying to move on from the dispute by negotiating a broader political agreement.
Those talks have stalled, with the Swiss government facing domestic opposition to wider EU ties and EU leaders busy negotiating the terms of the U.K.'s Brexit, which also has them being extra-careful about making concessions to nations outside the bloc. This spells trouble for Swiss stock market equivalence, as the EU has made further progress on the overall talks a prerequisite for any extension.
5. What will the Swiss do now?
The government in Bern has decided to enact a contingency plan to protect the stock exchange infrastructure. Under the plan, EU-based traders will be prohibited from trading Swiss shares within the EU, and trading volumes are to be re-routed to Switzerland. This will likely mean lower volumes of dealing in Swiss shares at other venues and higher volumes at the SIX Swiss Exchange. The Swiss government has said that without these emergency measures, and without EU equivalence, the Swiss stock exchange would suffer a 70 percent to 80 percent drop in trading volume. The measures won't have any effect if the European Commission extends equivalence before year-end.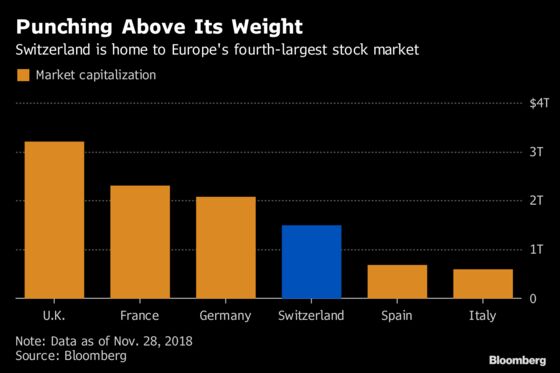 6. How soon might all this happen?
Changes for the dealing of Swiss equities by EU-based market participants is likely to take place Jan. 1. Most traders are still hoping for an amicable outcome between Switzerland and the EU that could lead to the equivalence being extended into 2019.
The SIX Swiss stock exchange is the fourth-biggest in Europe. It has about 1.35 trillion Swiss francs ($1.35 trillion) of trading volume that comes from the EU, including the U.K. In 2017, three-quarters of the exchange's overall trading turnover was attributable to Swiss equities. According to SIX estimates, around two-thirds of this is at risk if stock market equivalence is taken away. This means that unless Bern's contingency measures kick in, Swiss issuers could have to consider relocating listings to preserve the liquidity in their shares.
8. What does this tell us about Brexit?
We don't know yet, but the difficulties encountered by Switzerland in its negotiations with Brussels over the past years are a signal of how complex and time-consuming the new U.K.-EU relationship might be. For stock markets, equivalence arrangements have significant shortcomings, the most important of which is that they are granted unilaterally by the EU and can be withdrawn at any time.
A QuickTake on how "equivalence" stands to shape post-Brexit banking.
Swiss government statement on contingency measures to protect the Swiss stock exchange
Swiss Bankers Association insights on the stock market equivalence process