Why Auditors Are Suddenly Bailing on Clients in India
(Bloomberg) -- Auditors for Indian companies have been quitting at an accelerated pace. Audit firms entrusted with ensuring the accuracy of financial reports of at least 30 listed companies abruptly resigned in the first five months of the year, almost double the 16 for all of 2017. These departures come as India's regulators are cracking down on governance lapses and outright corporate fraud, part of Prime Minister Narendra Modi's efforts to recast the image of Asia's No. 3 economy as a corruption-free place to do business.
1. Why are auditors quitting?
In January, the Securities and Exchange Board of India (Sebi) slapped a two-year ban on the local unit of PricewaterhouseCoopers LLP for failing, a decade ago, to report fudged invoices worth more than $1 billion at IT services firm Satyam Computer Services Ltd. (Price Waterhouse has challenged the ban in court, saying there was no "intentional wrongdoing." A spokesperson for the company said it had no further comment.) The punishment was a first for a company of PwC's stature, said Pranav Haldea, managing director at Prime Database, a capital market research provider, and will make auditors more careful about whom they associate with. Then, in May, the Ministry of Corporate Affairs enacted a change to the Companies Act so that an entire audit firm can be held accountable for the misdeeds of a single partner -- a departure from past practice where liability devolved only on the people involved. Within weeks, 15 auditors dropped companies they were evaluating.
2. So auditors are running scared?
That's not how they describe it. Among auditors who have quit certain assignments, some cited "preoccupation in other assignments," while others pointed to inadequate disclosures by firms.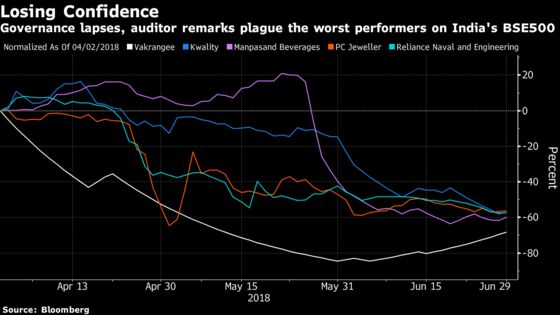 3. What happens to companies that lose an auditor?
The share prices of companies whose auditors left mid-term fell an average of 4 percent on the trading day following the announcement, according to data compiled by Bloomberg. Some cases have been extreme. After Deloitte Haskins & Sells quit as auditor to Manpasand Beverages Ltd., its shares slumped 20 percent the next day and have slid 62 percent since. India's corporate affairs ministry and market regulator are examining whether possible governance lapses might have triggered some of the resignations.
4. What's the state of corporate governance in India?
It went from voluntary in the 1990s to required under Sebi's listing agreement in the early 2000s, then was incorporated into law with an amendment to the Companies Act in 2013. As its next step, Sebi will further tighten governance norms including enhancing the role of the audit committee and mandating the separation of CEO and chairman posts. The need for strong rules stems partly from the fact that Indian businesses are dominated by powerful families, which often have conflicts with minority investors. India is now among "the most advanced" nations in corporate law and securities regulation, said senior communications officer Indira Chand of the World Bank, which ranks India in 4th place (as of October 2017, ahead of the U.S. and U.K.) on small investor protections based on its regulatory framework. Sebi is reportedly looking into several cases involving governance issues, including a whistle-blower complaint on the alleged conduct of Chanda Kochhar, the chief executive of ICICI Bank, India's second-largest private lender.
5. What's been the impact on India's economy?
Governance missteps by companies have contributed to troubles at Indian lenders, which have one of the world's highest bad-loan ratios, with about $210 billion in stressed assets. Current and former top bankers from at least four state-run lenders are under investigation for alleged impropriety over lending decisions, and the nation's federal investigative agency has started a preliminary inquiry into an alleged nexus between Videocon Group Chairman Venugopal Dhoot and the spouse of ICICI's Kochhar, after ICICI extended credit to the conglomerate. Some 400 Indian companies have been classified as willful defaulters, meaning they refuse to repay loans despite having the means to do so. India now has the right rules in place but needs better enforcement, said Amit Tandon, managing director at Institutional Investor Advisory Services, a governance and proxy advisory firm.
6. How are shareholders and boards responding?
Investor activism is growing in response to governance lapses. Co-founder-turned-activist NR Narayana Murthy's protests against management compensation (among other issues) at the country's second-largest software services firm, Infosys Ltd., led its CEO Vishal Sikka to resign in August 2017. Shareholders of hospital chain Fortis Healthcare Ltd., which is seeking to recover billions of rupees in loans connected with its founders, ousted a director and prompted three others to quit after some investors said they were not representing the interests of all the company's owners. At private lender ICICI Bank, CEO Kochhar went on leave after an independent probe into allegations against her was announced by the board.