What to Know About Biden's Plans for U.S. Child Care
(Bloomberg) -- The pandemic opened many eyes to the realities of child care in America when schools went virtual and many day-care centers closed. That forced millions of working parents, especially women, to leave the workforce to care for their children. Following up on a campaign pledge to "make high-quality child care affordable," President Joe Biden has asked Congress for hundreds of billions of dollars for early-childhood care and education.
1. What's wrong with U.S. child care?
It's a patchwork system of commercial facilities, home-based providers and nannies, plus the grandparents, neighbors and friends who fill in the gaps. Child-care assistance for working parents isn't guaranteed in the U.S., as it is in many rich nations, and more than half of Americans, especially in low-income and rural areas, live in child-care deserts, where demand far exceeds supply. Cost is another big issue. Infant care, the most expensive type, exceeds 20% of the median household income in 21 states. Caregivers -- who are mostly women and disproportionately women of color -- earn $12.12 an hour on average for watching children younger than 5, and about half of them rely on public assistance, according to the Center for the Study of Child Care Employment at the University of California, Berkeley. The low earnings lead to higher turnover, further destabilizing the quality of care.
Families handle the burden mostly on their own, save for a federal subsidy program that provides assistance to low-income parents and Head Start programs for families living at or below the poverty level. The median cost for infant care in a U.S. commercial child-care center is $10,759 per year, compared with a median income of $65,712.
3. What happened during the pandemic?
More than 4 million women dropped out of the U.S. labor force at the height of the pandemic, many to become caregivers, and 1.8 million remain on the sidelines today. One of every three child-care jobs disappeared, and little more than half of them have returned. The stimulus bill passed in 2021 appropriated $25 billion to help revenue-starved child-care providers cover operating expenses, cleaning and virus-related supplies. It also expanded per-child tax credits to help working parents. Proponents of the measures want to make some of them, such as the larger tax credits, permanent.
4. What does Biden want to do?
His proposed 10-year, $1.8 trillion American Families Plan would spend $225 billion to improve child care. As outlined by the White House, the funding would help providers improve the quality of programs; establish a $15 minimum wage and expand training for early childhood caregivers; and reduce the cost of care for low-income families. An additional $425 billion in Biden's plan would go toward establishing universal preschool for all three- and four-year-olds and guaranteeing up to 12 weeks of paid family and medical leave for all workers.
5. Will Congress go along?
While investment in infrastructure as traditionally defined -- roads, train tracks, airports -- has some bipartisan backing, spending on so-called soft infrastructure such as child care and education hasn't garnered support from Republicans in Congress. That matters most in the 100-seat Senate, where Democrats hold the slimmest-possible majority and where a a 60-vote supermajority is needed to pass most legislation. The fate of Biden's proposals in the Senate thus likely rests with the so-called budget reconciliation process, which Democrats may use to pass legislation using a simple majority vote.
6. What's the case against Biden's proposal?
That it's an example of government trying to intervene where it shouldn't. Republican Senator Josh Hawley of Missouri called it "lefty social engineering paid for by mortgaging the future of my children and my grandchildren." Senator Marsha Blackburn, Republican of Tennessee, tweeted, "You know who else liked universal day care" along with a link to a 1974 New York Times story about child care in the Soviet Union. Republican Senator John Barrasso of Wyoming said Biden is pressing for "a cradle-to-grave role" for government that would mean "almost creating an addiction to spending."
7. Would the U.S. ever nationalize child care?
Congress actually tried that in 1971, passing legislation to create a national network of federally funded child-care centers in response to the large number of mothers entering the workforce. President Richard Nixon vetoed the bill.
8. What impact does child care have on the U.S. economy?
Even before the pandemic, prime-age women -- those 25 to 54 years old -- participated in the U.S. workforce at a much lower rate than men. The gap widened after Covid-19 shut many day-care centers and schools. Fewer women working weighs on overall productivity. Even a modest increase in labor force participation by women could add $511 billion to gross domestic product over the next decade, according to an October 2020 study by S&P Global. The White House estimates that roughly 1 million parents, primarily mothers, would enter the labor force if child care is made more affordable and accessible.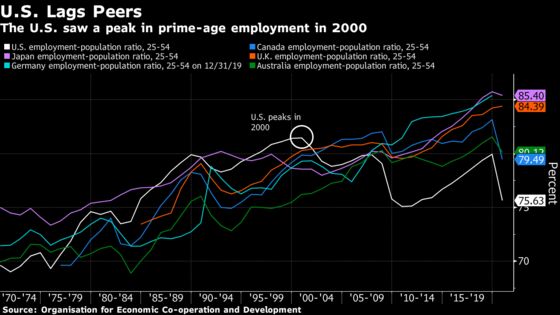 9. What do other countries do?
England makes 570 free hours available each year for all 3- and 4-year-olds. Child care in Sweden and Denmark is also heavily subsidized. Canada, Italy, Germany, Japan and South Korea were among countries that granted mothers at least six months' worth of paid maternity and parental leave as of 2016, with Estonia leading the pack at 85 weeks, according to a study by the United Nations Children's Fund, or UNICEF. Among the 38 countries in the Organization for Economic Cooperation and Development, the U.S. spends the second-least on family benefits -- just 0.6% of gross domestic product.