What Raw Materials Can Tell Us About Trade War's Bite
(Bloomberg) -- Raw materials have been central to global commerce ever since neighboring tribes traded salt off the backs of camels. So any disruption to trade between the world's biggest economic powers is sure to affect commodity prices. The burgeoning dispute between the U.S. and China is no exception, especially since the tit-for-tat tariffs have directly hit some commodities. When calculating the impact of the trade war, start with the price of raw materials.
1. What are the key commodities to watch?
From metals to crude oil to agricultural products, there are hundreds of raw materials that grease the wheels of world trade. These fungible products often come from inhospitable regions, like gas from the North Sea, or gold from Indonesian mountains, and are consumed wherever goods are bought and sold. Yet some may be harder hit this time around than others. Soybeans and steel have been directly targeted, sending supply lines and prices haywire. Demand for copper, used in everything from mobile phones to cars, will be particularly sensitive to changes in consumer behavior. Other materials will be less exposed, like platinum, used in diesel cars in Europe to reduce emissions.
2. What can commodity prices tell us about the trade war?
Tariffs on end products like bourbon and motorcycles make them more expensive, dampening consumer demand. That means less demand as well for the raw materials that produce them. In bourbon's case, that generally means corn, rye and barley; for motorcycles, the long list would include iron, rubber and aluminum. In this way, falling commodity prices can be an early indicator that the global economy is slowing down.
3. How has the trade war affected commodities so far?
The Bloomberg Commodity Index, which measures returns on 22 raw materials from aluminum to zinc, dropped more than 10 percent, peak to trough, from May through July for its sharpest decline over a comparable period in more than two years. In that time span, the U.S. enacted tariffs on $34 billion worth of Chinese goods and threatened a further $500 billion of imports, and China struck back at Trump's political base with tariffs targeting products such as those grown by farmers in the Midwest. Here's another measure: A basket of six industrial metals fell 11 percent in the first seven months of this year, according to data from the London Metal Exchange. The Bank of England says metal prices can be used to preview the growth in the world's gross domestic product.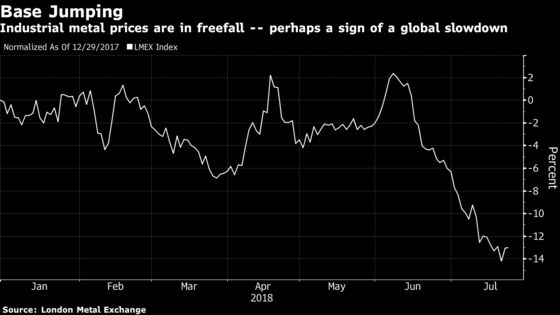 4. What should a rookie commodities-watcher look for?
The price of copper -- often seen as a bellwether for the world economy -- at ports in Shanghai may swiftly decline relative to those on international markets if the rising price of Chinese goods slows purchases by U.S. consumers. The so-called oil forward curve provides other clues. If global growth were to slow significantly, the urgent thirst for oil lessens.
5. How have commodities been targeted directly?
The opening shot in the trade war was Trump's announcement in March of tariffs on steel and aluminum imports, which was followed in April, by U.S. sanctions on Russian companies, including United Co. Rusal, the biggest aluminum supplier outside of China. Alcoa Corp. cited the tariffs as a key factor in lowering its profit projection for this year. China's response included a levy of an additional 25 percent on about $50 billion of U.S. imports, including a bevy of raw materials: corn, wheat, cotton, rice, sorghum, beef, pork, poultry, fish, dairy products, nuts, vegetables, and soy. Prices of soybeans in Chicago traded at the lowest levels in almost a decade in July.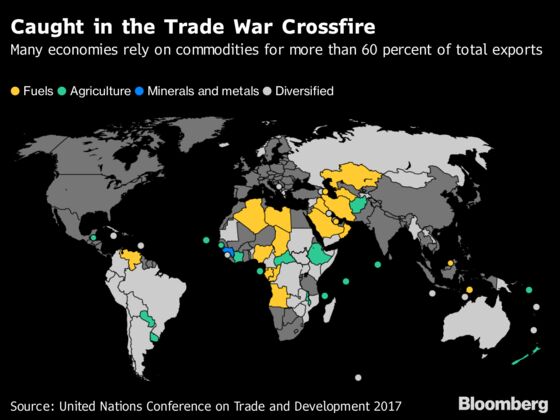 6. Are cheaper commodities a bad thing?
That depends. The way commodities interact with financial markets is complex. Cheaper raw materials lead to lower costs and lower input prices -- reducing the so-called cost-push element of inflation. That could result in lower interest rates, greasing the wheels of the economy. But when, say, mining companies get paid less for their output, they slow their investment spending and lay off workers. The workers have less money to spend and reduce their consumption, causing a drag on their economies.
7. Who gets hurt when commodities fall?
Beyond miners and their ilk, the first to feel the pain are emerging-market economies, many of which are dependent on exports of refined and semi-refined materials. Countries in this category might include Russia, South Africa, Indonesia, Peru, Argentina and Brazil. In a worst case scenario, reduced demand for exports can weaken their currencies, hit their equities and slow their gross domestic products, eventually making it harder to service debt.