What China's Tech Squeeze Is Doing to Singles' Day
(Bloomberg) -- Since Alibaba Group Holding Ltd. inaugurated Singles' Day more than a decade ago, the annual event has turned into the world's biggest shopping spree, one that draws in hundreds of millions of people across the globe. But in the wake of China's yearlong crackdown on the tech industry, the event this year is a more low-key affair, as the e-commerce giant seeks to turn the focus away from increasing sales and more toward sustainability and philanthropy -- key pillars of President Xi Jinping's drive to reshape China's economy.  
1. Why is it called Singles' Day?
When Nov. 11 is written numerically -- 11/11 -- the four digits evoke "bare branches," a Chinese expression for the unattached. On Chinese university campuses in the 1990s, 11/11 evolved into a celebration of being single in a culture where young people face heavy parental pressure to get married -- a counterpoint to Valentine's Day.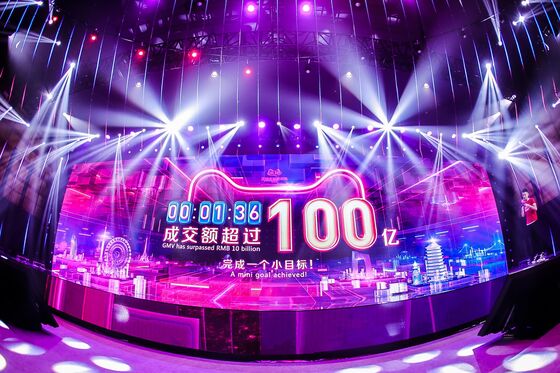 2. Why does it revolve around shopping?
As he began building Alibaba, co-founder Jack Ma latched on to the idea of centering a shopping promotion around a holiday, drawing inspiration from the tradition of U.S. retailers offering mega-discounts on the day after Thanksgiving (which became Black Friday). His Singles' Day promotion started in 2009. Early on, consumers were urged to treat themselves in celebration of being single. Soon all demographics were being targeted. The country's rising middle class turned it into phenomenon that now stretches over roughly three weeks, with pre-sales and other related promotions. 
3. What's different this year?
Nation before corporation. China kicked off a campaign to rein in its tech giants last year with curbs on fintech and an antitrust probe into Alibaba that culminated in a $2.8 billion fine. Since then, nearly all aspects of the internet sector have come under greater scrutiny. Regulators told the e-commerce giants to stamp out anti-competitive practices, like forcing merchants into exclusive deals, and to open up their platforms to services from rivals. More broadly, Xi's government has been pushing private enterprises to support his efforts to promote economic equality and narrow the wealth gap -– an initiative known as "common prosperity." 
4. What's the impact been?
Alibaba's June-quarter revenue missed estimates for the first time in more than two years, reflecting the toll the government's campaign is taking. Meanwhile, billionaires including Wang Xing, co-founder of food-delivery giant Meituan, and Lei Jun, co-founder of smartphone-maker Xiaomi Corp., have promised to donate vast sums from their personal fortunes to philanthropic efforts. Alibaba said it would give $15.5 billion over five years to foster social equality. The company also pledged to donate 1 yuan ($0.16) when Singles' Day shoppers buy certain items and post their purchases on social media. In a nod to another of Xi's signature goals -- to slash China's emissions of planet-warming carbon dioxide -- Alibaba's platforms are also showcasing energy-efficient products during the shopping festival and its logistics network will help to recycle packaging.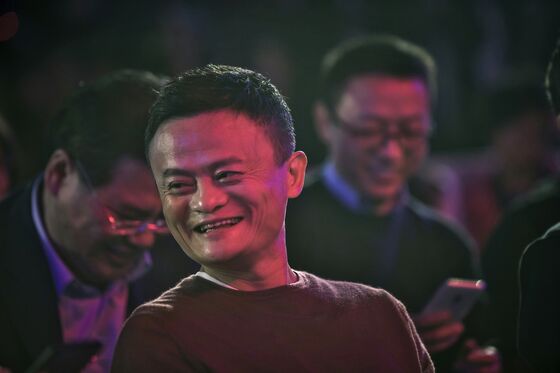 5. What about Ma's other big creation, Ant?
Alibaba's fintech affiliate Ant Group Co. had its initial public offering torpedoed just before last year's Singles' Day. In the months since, the company has been forced to overhaul its business and its ubiquitous super-app Alipay, a one-stop shop for the financial needs of a billion users, is on the brink of being sliced up. While Alipay continues to underpin the vast majority of transactions across Alibaba's platforms, that dominance may start to erode under the new regulatory pressure to open up walled-off ecosystems. Already Alibaba has started allowing users to use rival Tencent Holdings Ltd.'s WeChat Pay on some of its apps, though it's still not available on Taobao and Tmall -- where most of the spending during Singles' Day takes place.
Every year has exceeded the one before. Sales last year reached 498 billion yuan ($78 billion), easily surpassing 2019's $38 billion tally after Alibaba added several days and additional services to the count. For several years now, the tally from Singles' Day has exceeded the five-day U.S. buying spree that begins on Thanksgiving and ends on Cyber Monday, making the Chinese event the world's largest extended shopping spree. This year though, Alibaba executives have stressed a pivot toward "sustainable growth" from "pure gross merchandise value (GMV) growth."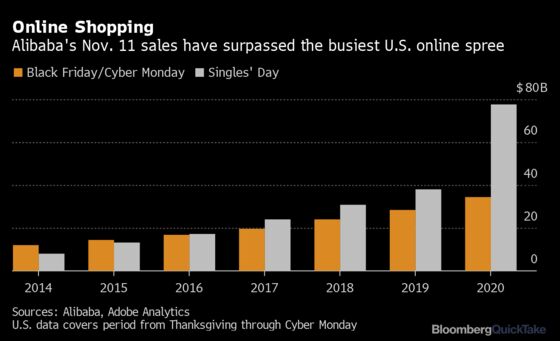 7. What about the competition?
Domestic rivals have also rolled out promotions to cash in; JD.com Inc. started pre-sales on Oct. 31 and said it sold 190 million products within the first four hours, from mobile phones to vacuum cleaners. Social-media giants are also getting in on the action, with ByteDance Ltd.'s Douyin and Kuaishou hiring influencers to hawk products through live-streamed shopping events that are part variety show, part infomercial -- a format pioneered in China. The competition hasn't taken the shine off Alibaba's own live-streaming stars though -- Li Jiaqi, widely known as "lipstick brother," pre-sold a record $1.9 billion in goods on the first day of this year's festivities.