What It Would Mean for Big Pharma If Vaccine IP Rights Are Waived
(Bloomberg) -- A proposal at the World Trade Organization to lift intellectual property protections for makers of Covid-19 vaccines got an unexpected boost when the U.S. announced May 5 that it supported the idea. It was a dramatic change of long-standing policy by the U.S., home to some of the world's largest pharmaceutical companies. Supporters of the waiver say it will speed production of vaccines and help poor nations left behind in the global vaccination effort catch up. Vaccine makers and other critics of the waiver say it undermines the incentives that led to the rapid development of the vaccines and won't have any practical effect.
1. What protections are under discussion?
The WTO agreement on Trade-Related Aspects of Intellectual Property Rights, or TRIPS, came into effect in 1995 and sets out the minimum standards that members of the organization must implement to protect intellectual property. Nations must make patents available for inventions in every field of technology, granting their owners the exclusive right to make, use and sell a product. And they must protect copyrights, trademarks and undisclosed information, including trade secrets and test data.
Yes. The 35 of 159 WTO members that are classified as least-developed nations were given a transition period to apply the TRIPS provisions. The period ends July 1 but has already been extended several times. In any case, these members are allowed "maximum flexibility" in their approach to patents and clinical trial data on pharmaceutical products until at least 2033. Also, under what's known as a compulsory license, all governments have the right to use any patented invention and can allow someone to use a patented process without the permission of the patent owner, with the patent owner paid some form of compensation. In most cases, those licenses are only for products made for the domestic market. A 2001 amendment made clear that, in public health emergencies like the AIDS crisis or a pandemic, pharmaceuticals made under a compulsory license can be produced in one country and sold to another. At least 10 countries, including Mozambique, Zambia, Indonesia, Thailand and Brazil have issued compulsory licenses for AIDS/HIV drugs, citing health emergencies. More controversially, Egypt in 2002 issued compulsory licenses to allow for generic manufacture of the impotence drug Viagra.
3. Are there downsides to using compulsory licenses?
In some cases, yes. Egypt's move, for instance, prompted Viagra manufacturer Pfizer Inc. to scuttle plans for a $300 million production facility in the country. And the U.S. government at times has used trade sanctions to retaliate for compulsory licenses issued for products made by American companies.
4. What would lifting TRIPS protections mean for Covid vaccines?
The main consequence would be that countries wouldn't have to fear such sanctions or being dragged before the WTO on allegations of trade violations. While the proposal is often short-handed to a "patent waiver," the real impact would be on the protections normally afforded to the technical know-how related to the vaccines -- things like the specific cell lines and biologics used, and the recipe for making them. Covid-19 vaccines were developed so quickly, most have not been patented, although the platform technology used to make them may have been. Also, countries can simply decline to issue a patent.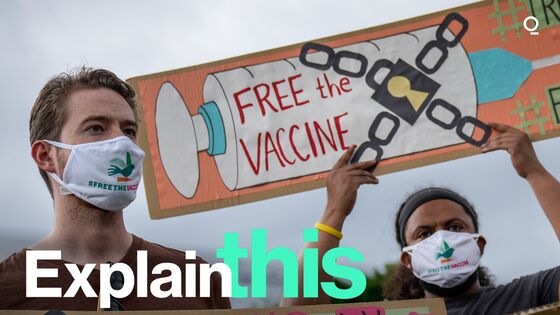 5. How might governments acquire the know-how?
They could acquire information that their national health regulators received in confidence to assess the safety of vaccines. That data includes things like vaccine ingredients, manufacturing details and clinical trial information that can be useful in replicating a vaccine. If a vaccine maker has a facility in the country or a manufacturing partner, authorities could pressure those entities to turn over trade secrets that weren't given to regulators. Governments could also ask other countries to obtain that information. Companies that refuse to turn over information could face various consequences. A big question is whether the U.S. and Germany, where many of the Covid-19 vaccine developers are located, would be willing to force home-grown companies to reveal their secret sauce. The U.S. has been silent on that issue, while Germany has come out against the waiver altogether. Even if governments get the information needed to replicate vaccines, it's unclear what would happen next. Factories would have to be built or modified, and there's already a shortage of the raw materials needed for Covid vaccines. There's also the difficult matter of ensuring any new manufacturers produce vaccines that are as safe as the originals.
On a country level, yes. Nations sometimes waive patent rights in cases of emergency, such as in times of war. The U.S. has a century-old law that gives the government the right to use any patented invention as long as the patent owner is compensated. In 2001, when five people were killed after letters laced with anthrax began appearing in the U.S. mail, the government threatened to break Bayer AG's patent on the anthrax treatment Cipro; Bayer instead ramped up production and lowered costs.
7. How will the WTO decide on the measure?
The WTO is a consensus-driven organization, so all members need to be in agreement for the waiver to be implemented. Finding common ground on such a complex subject is expected to be difficult, and negotiations to take months. The original proposal by South Africa and India called for a waiver for all intellectual property enforcement related to "diagnostic kits, vaccines, medicines, personal protective equipment and ventilators," but the U.S. announcement only mentioned vaccines.
8. Are there other ways to expand the vaccine supply?
The vaccine makers say they are already working to expand manufacturing, both within their own facilities and through voluntary licensing of third parties. Those voluntary licenses would mean the drug makers have some control over who gets access to their secret information.
9. Is U.S. support for the waiver sincere?
Some commentators argue that President Joe Biden's support for the waiver is more about politics than expanding vaccine supply. Biden has stressed that he wants the U.S. to be a better collaborator with other countries after the unapologetic "America First" policies of his predecessor Donald Trump. Biden's administration has made clear that its support for the waiver is a one-time thing prompted by the pandemic, and shouldn't be seen as part of a push to weaken intellectual property rights in other areas.