Voting Rights
(Bloomberg) -- Some court rulings end fights. Others rev them up. In 2013, the U.S. Supreme Court took on a political question freighted with history: Had the country overcome racial discrimination enough to justify relaxing laws against it? The court's answer was yes. After it voted to throw out a core element of the 1965 Voting Rights Act, many of the states that until then had faced restrictions on election-law changes pushed forward with measures to tighten eligibility requirements for casting a ballot. The states that took action, all with Republican governors at the time, said they were cracking down on voter fraud. Opponents said their real purpose was to make it harder for blacks and Hispanics to vote. Five years later, legislatures, courts and candidates are still grappling with the decision's fallout.
The skirmishes continued leading up to the 2018 midterm elections, with two lawsuits in Georgia alleging that election officials were improperly rejecting ballots and mail-in ballot applications for technical reasons. A ballot amendment would restore voting rights to felons in Florida, one of three states to automatically bar them permanently from voting. And President Donald Trump, who complained before the 2016 vote about a "rigged" election, warned that all levels of government and law enforcement are watching for voter fraud. After the presidential election, Trump said he would have won the popular vote if not for "millions" of illegal votes he said were cast in California and elsewhere. He provided no evidence for the claim, which both election experts and state officials from both parties denied. In 2017, the president convened an election integrity commission, which he dissolved in January 2018 on the grounds that states had refused to cooperate. Democrats said it was an attempt to suppress the vote.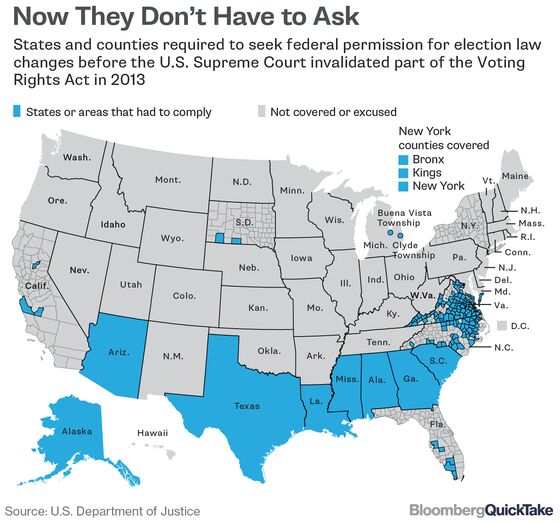 The 1965 Voting Rights Act enfranchised millions of black people in the South who had been barred from voting by poll taxes, literacy tests and other such laws. One of its key provisions, Section 5, required that changes in district lines or other matters related to voting be pre-approved by the Justice Department in areas determined by a formula that looked at voter registration rates, turnout and ballot-box rules in the 1960s and early 1970s. The pre-clearance provisions were applied to most of the South along with Alaska and Arizona and small pockets of states including California, Michigan and New York. Over the years, Congress used Section 5 to block thousands of proposed changes. The act was renewed in 2006 by large bipartisan majorities and signed into law by President George W. Bush, a Republican. In June 2013, writing in a 5-4 decision, Chief Justice John Roberts ruled that Congress had erred in leaving the list of covered areas unchanged for decades despite progress in reducing racial discrimination. The law still allows for challenges to voting rules on the basis of discrimination under another provision, Section 2 — but those challenges can only come after a law has been enacted, and plaintiffs carry the burden of proof. Since 2016, at least eight states have enacted new voting restrictions, according to the Brennan Center for Justice, part of a surge in legislation passed by state governments controlled by Republicans after the Supreme Court's decision. Federal judges pushed back against laws in states including North Carolina, Wisconsin and North Dakota, and they let stand challenged provisions in states such as Ohio.
Supporters of the Supreme Court ruling say the Voting Rights Act has served its purpose and that if any state is sanctioned with federal oversight, all states should be. Republicans say the new election laws are meant to ensure election integrity by imposing reasonable requirements, similar to those for boarding an airplane or cashing a check. Democrats respond by pointing to studies showing that voter fraud is extremely rare. Evidence in a Texas case suggested that only two instances of in-person voter fraud had been found among the 62 million ballots cast in the state in the previous 14 years and the judge in the Wisconsin case called it a "mostly phantom" problem. In his final press conference before leaving office, President Barack Obama described the U.S. as "the only country in the advanced world that makes it harder to vote rather than easier." He said the phenomenon "traces directly back to Jim Crow and the legacy of slavery" — a very different interpretation than the Supreme Court took in its 2013 decision.