Understanding IL&FS and India's Move to Seize Control
(Bloomberg) -- For more than 30 years, Infrastructure Leasing & Financial Services Ltd. has arranged the financing for some of India's major infrastructure projects. In the process, the financier turned its hand to project development and began amassing huge debts -- $12.6 billion to be precise. When interest rates on its short-term borrowings spiked this year, IL&FS ran out of cash. As the group began missing repayments, investors grew concerned that the fallout would infect similar companies and even the wider economy. But before fear had time to turn to panic, the Indian government stepped in.
1. What did the government do?
It unexpectedly seized control of IL&FS, saying the group would otherwise have collapsed. Officials promised to end a string of defaults by IL&FS and ordered an inquiry by the Serious Fraud Investigation Office. Out went the old leadership and in came a new six-member board that included India's richest banker, the chairman of its fourth-largest listed bank and the ex-head of its securities market regulator.
2. How big a deal is this in India?
India has taken control of a company just once before, in 2009, following revelations that Satyam Computer Services Ltd. had falsified accounts to the tune of more than $1 billion. IL&FS is no fly-by-night operator; its top shareholders include India's biggest insurer, biggest mortgage lender and biggest bank. Before its financing blew up, IL&FS had been declared "systemically important" by the central bank. The fear is that if the group failed, its unpaid debts could wreak havoc in the wider economy and other financing companies would struggle to get loans or would face higher interest rates that could imperil their balance sheets.
3. What is the fraud office investigating?
India's finance ministry said there had been "serious complaints" about some IL&FS group companies but did not give details. Its statement offered a taster, with phrases such as "a highly exaggerated depiction of non-current assets" and debt stress that was "camouflaged by misrepresentation of facts."
4. What's the plan?
The government says IL&FS needs asset sales and fresh funding by investors and lenders. The group can raise 600 billion rupees by selling assets, according to its biggest shareholder, Life Insurance Corp. of India. Just before the authorities intervened, shareholders signed off on a non-convertible debt sale, a higher borrowing limit and a rights offering. Whether the government will ultimately bail out IL&FS remains to be seen. As Bloomberg Opinion's Andy Mukherjee put it, India's mini-Lehman moment has been averted, but that might be the easy part given the challenge of tackling the group's finances.
IL&FS helped develop and finance projects worth 1.8 trillion rupees ($25 billion), including the Chenani-Nashri road tunnel (India's longest at 9 kilometers, or 5.6 miles). The company describes itself as the pioneer of public-private partnerships, with a portfolio of about 13,100 kilometers of roads. Its major shareholders include Abu Dhabi's sovereign wealth fund and Japan's Orix Corp. "We implement solutions that create value beyond the books," IL&FS says on its website.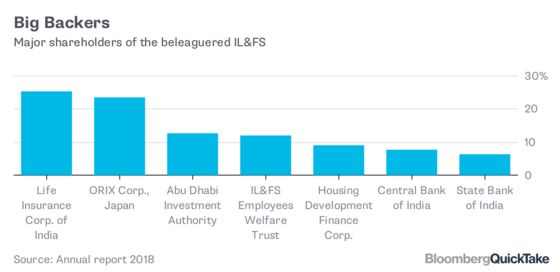 As well as a drying-up of new infrastructure projects in India, IL&FS felt the pain from short-term interest rates reaching multi-year highs. On top of that, some of IL&FS's own construction projects, including roads and ports, have faced cost overruns amid delays in land acquisition and approvals. Disputes over contracts have locked about 90 billion rupees of payments due from the government. Ravi Parthasarathy, at the helm of the IL&FS empire at its inception, stepped down for health reasons in July. The Reserve Bank of India initiated a special audit in September.
7. How did the credit-rating companies miss this?
Some argue that IL&FS's sprawling setup, spread across 348 entities, made it too complex for any watchdog or credit-rating firm to master. However, critics say that assessors --including the local partners of Moody's Investors Service and Fitch Ratings -- failed to spot warning signs like a 44 percent surge in the group's debt burden since 2015.
8. Were individual investors affected?
Yes. Some of the missed debt payments, beginning late August, were on commercial paper, or short-term unsecured debt. That's a key component of money-market mutual funds, which have surged in popularity among regular investors as a result of low bank deposit rates and persistent inflation. Money managers have marked down holdings of IL&FS debt. The group was also in default on short-term borrowings known as inter-corporate deposits.