Trade as National Security Issue? Here's What the U.S. Law Says
(Bloomberg) -- U.S. President Donald Trump turned to a Cold War-era law to stem the flow of steel imports, part of a campaign pledge to save American industrial jobs. He may do the same on autos. At issue is a little-used part of 1962 trade legislation sometimes called the "nuclear option" or the "big sledgehammer," which invokes national security to counter cheap imports. Such heavy tools can prompt a furious response from other countries, triggering complaints to the World Trade Organization.
Section 232 of the Trade Expansion Act of 1962 allows the president to adjust imports without a vote by Congress should the Department of Commerce find evidence of a national-security threat from foreign shipments. After Commerce Secretary Wilbur Ross, a former steel tycoon, declared that such a threat exists in the metals industry, Trump levied tariffs of 25 percent on imported steel and 10 percent on imported aluminum. On May 23, the U.S. said it's investigating national-security implications of importing automobiles.
2. What's the case for trade as a national-security concern?
The U.S. law doesn't define "national security," so the president has wide latitude to determine a threat. Advocates of the Section 232 action on steel, for instance, said a weakened U.S. steel industry would be less ready to build tanks and other weaponry should a military crisis arise. U.S. Secretary of Defense James Mattis, in a memo to Ross, concurred that imports of steel and aluminum "based on unfair trading practices" do "impair the national security." But he added that the military's requirements for steel and aluminum "each only represent about 3 percent of U.S. production," so those trading practices don't have an effect on meeting "national defense requirements."
3. Does the same rationale apply to autos?
That might be a harder case to make. Where steel and aluminum are crucial ingredients in the makeup of military equipment such as naval destroyers and fighter jets, cars are mostly a consumer good. A "tenuous link between security and American-made cars" could be argued, based on the idea that U.S. supply chains have to be ready to produce military vehicles in wartime, according to a note by Panjiva, part of S&P Global Market Intelligence.
4. Has the U.S. tied national security to trade before?
Since 1962, industrial groups and government officials have occasionally cited Section 232 to question whether imports of oil or uranium -- or watches or screws -- represent a threat to national security. In all but a few instances, the reports came back saying that imports of the material had no adverse effect on national security. When they did constitute a threat, little action was taken. In the most recent case before this one, in 2001, the Commerce Department investigated iron ore and semi‐finished steel and determined that imports didn't threaten national security.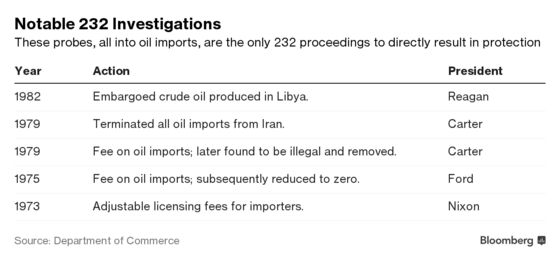 5. What's the problem with importing steel and autos?
Steel and automotive jobs are particularly important in states that helped Trump win the presidency. China is exporting record amounts of steel, and its trade partners have been pushing Beijing to tackle domestic-market distortions rooted in state intervention. The European Union and U.S. are the world's largest steel importers and have been vocal campaigners for China to do more to re-balance the overall market. One of Trump's core complaints about the North American Free Trade Agreement has been that it's helped Mexico emerge as an auto-making powerhouse.
6. How might other countries respond to use of Section 232?
The U.S. isn't the only country that can cite national security as a pretext for tariffs. Each member of the WTO, the international arbiter of trade disputes, is allowed to take "any action which it considers necessary for the protection of its essential security interests." But nations have generally eschewed the use of this provision. The WTO has never ruled on a dispute involving trade restrictions justified on national-security grounds. The U.S. metal tariffs have already provoked Canada, China, the European Union, Mexico and Turkey to retaliate with tariffs against at least $23.4 billion worth of U.S. goods. India, Japan and Russia are also contemplating retaliatory tariffs against the U.S.
7. How might the WTO get involved?
It could be called upon to issue a landmark ruling that determines the legality of Trump's metal tariffs. Seven WTO members -- Canada, China, the European Union, India, Mexico, Norway and Russia -- have filed disputes alleging that Trump's use of Section 232 violated core WTO rules. In response, the Trump administration said the WTO can't mediate dispute complaints regarding national security matters because Article 21 of the General Agreement on Tariffs and Trade permits the U.S. to take "any action which it considers necessary for the protection of its essential security interests." The WTO's dispute-settlement process is slow; it can take a year or more to issue a preliminary ruling. Delays and a shortage of experts in the WTO's dispute system could mean that WTO members may not have recourse to seek dispute retaliation for another three years or more.