A Guide to the Key Players in Pakistan's Election
(Bloomberg) -- Two of the three main contenders to lead Pakistan next aren't even scheduled to appear on the ballot in the July 25 national elections. Anti-graft crusader Imran Khan is the candidate of the Movement for Justice. His rival, ex-Prime Minister Nawaz Sharif, is in jail -- disqualified from running on the grounds of corruption -- but a force nonetheless, represented in the campaign by his brother, Shehbaz. On no ballot is the military, which, critics say, is working to bring a weak government to power to maintain its dominance over Pakistan. Here's a closer look at them and the other main actors in the election.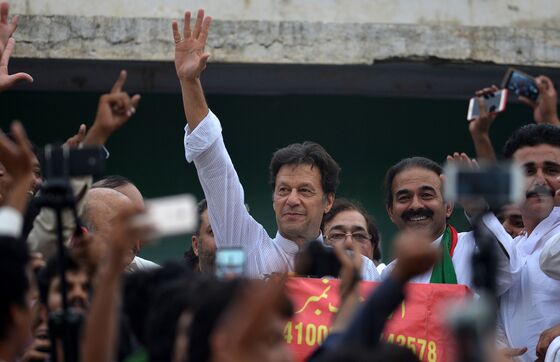 Khan, 65, led Pakistan's national cricket team to World Cup victory in 1992 and entered politics four years later. His center-right Movement for Justice, also known as Pakistan Tehreek-e-Insaf, or PTI, has slowly made inroads into the national assembly, becoming the third-largest political group in 2013. Khan led the anti-corruption campaign against Sharif, and this election is the best shot he's had at power. He holds particular appeal among young voters disenchanted by Pakistan's dynastic politics. But he's been accused by analysts and politicians of being a tool for the military's aim to get a pliant leader into power, an assertion he's denied. He's also courted controversy by appealing to the religious right and cultivating an image of piety. Educated at the University of Oxford and married three times, Khan has long had a reputation as a playboy. His second wife, TV journalist Rehman Khan this month published a tell-all autobiography that included lurid claims about his private life. In February, Khan wed spiritual leader Bushra Maneka. He will face a tough battle in the Sharif family vote bank of Punjab, which represents more than half of parliament's seats and is essential to forming a government.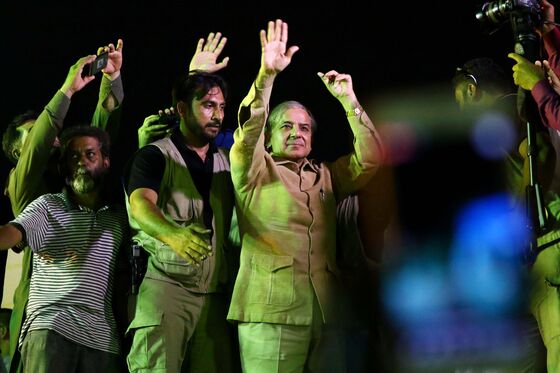 The head of a wealthy industrialist family from Lahore, Nawaz Sharif, 68, held the prime minister's office twice in the 1990s. He was removed first under a cloud of corruption allegations, then again in a military putsch. He regained the post in 2013 only to resign last year after the Supreme Court ruled that graft charges related to the 2016 Panama Papers disqualified him from office. Following their convictions by an anti-corruption court, he and his daughter and political heir Maryam were arrested when they returned to Lahore from the U.K. this month. Nawaz is appealing. His younger brother Shehbaz is expected to become prime minister if the family's party, the generally conservative Pakistan Muslim League-Nawaz, prevails in the election. Known as a tough administrator in his previous role as chief minister of Punjab province, Shehbaz is campaigning on the party's record of reducing power outages and ushering in infrastructure projects with the help of Chinese financing. He also has better relations with the military than his brother.
3. Bilawal Bhutto Zardari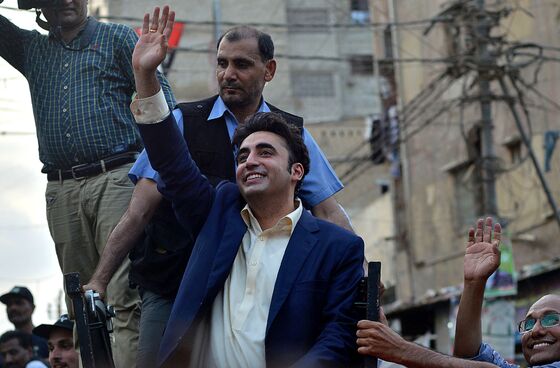 The son of assassinated former Prime Minister Benazir Bhutto, 29-year-old Bilawal has struggled with having the party leadership thrust on him before he'd finished his studies at Oxford. Contesting elections for the first time, Bilawal is attempting to rejuvenate the Pakistan Peoples Party, which was diminished under the stewardship of his father Asif Ali Zardari, who served as president from 2008 to 2013. Widely unpopular because of his reputation for corruption, Zardari has repeatedly protested his innocence. He was convicted of money laundering in 2003 in Switzerland but granted amnesty in Pakistan so he could return from exile without being arrested. He spent 11 years in prison on graft charges brought by a previous Sharif administration and during the rule of General Pervez Musharraf, who came to power in a 1999 coup. While not considered to have a serious chance of winning the elections, Bilawal has been channeling his mother in an attempt to build up his party beyond its stronghold in southern Sindh province. His mother's father, Prime Minister Zulfikar Ali Bhutto, was executed in 1977 after a coup d'etat led by General Zia ul-Haq, under whose tutelage Nawaz Sharif began his political career.
4. The military
It's been a decade since Musharraf stepped down as Pakistan's last military ruler. However, the armed forces continue to operate what is essentially a parallel government, holding a forceful sway over security and foreign policy and much of the economy. Many politicians plainly fear irking the forces. Yet the PML-N and PPP have accused the army of interference ahead of the elections through intimidation of their candidates and stifling the press from covering their campaigns. Critics say the military is attempting to bring a government to power that won't challenge its dominance over the country. The army has denied all allegations of manipulation and press censorship and says it wants free and fair elections. It will be only the second time that a civilian administration has passed on power in a country that has been directly ruled by the armed forces for almost half of its 71 years.
5. The possible kingmakers

Chaudhry Nisar Ali Khan -- The 63-year-old (no relation to Imran) hails from a military family and entered politics in 1985. Khan was a key member of Sharif's party before breaking with it after the former premier's removal from power last year. Khan is contesting the election as an independent and is known to have good contacts with the armed forces. Analysts have speculated that Khan may play a kingmaker role by forming a sizable coalition of independent candidates.
Maulana Fazl-ur-Rehman -- The grey-bearded cleric first became a member of parliament in 1988 and is known for his close relations with the Afghan Taliban's late chief Mullah Omar. Rehman, 65, has a strong following in the provinces of northwestern Khyber Pakhtunkwa and southwestern Balochistan. He recently reunited like-minded religious parties under the banner of Muttahida Majlis-e-Amal and may be a key power broker in a coalition government. His party has been part of two previous civilian administrations.
Mustafa Kamal -- The 46-year-old is attempting to break the previously tight grip of the Muttahida Qaumi Movement on the financial capital of Pakistan. A former mayor of Karachi, Kamal two years ago broke away from the MQM, which represents the city's Urdu-speaking majority. Following an army-led clampdown against the party after decades of political and ethnic warfare across the megacity of 15 million, Kamal formed the Pak Sarzameen Party and is seen to have the military's support. Kamal is hoping to unite the city under a wide ethnic banner and clinch increased funding for badly needed development work across the water-scarce city. As with the MQM in the past, the PSP could become a ruling-party partner in the event of a hung parliament.