Congress Must Move Fast If It Wants to Undo Trump's Regulations
(Bloomberg) -- Like presidents before him, Donald Trump raced to finalize new rules before he left office in January. Now the U.S. Congress is dusting off a little-known law that gives the legislative branch a final say.
The Congressional Review Act, enacted in 1996, empowers Congress to overturn rules issued by a federal agency if lawmakers decide those rules veer from the congressional legislation that spawned them. The act applies to regulations expected to have an annual effect on the economy of $100 million or more. Congress has up to 60 working days to call a vote to invalidate a new rule, and like all congressional bills, Congressional Review Act measures can be vetoed by the president. For those reasons, the act generally draws attention only in the immediate months after a change of party in the White House -- which happened in January, when Democrat Joe Biden replaced Trump, a Republican.
2. How will Congress use the act?
To start, Democrats are targeting a Trump-era rule that eased limits on methane emissions from oil and gas drilling. Senate Democrats, with the support of three Republicans, voted to repeal the rule on April 28. The House has yet to consider the measure. Democrats have introduced five other resolutions to repeal Trump rules, though it's unclear whether they can win passage. One would ax a Securities and Exchange Commission rule that makes it difficult for small groups of corporate shareholders to introduce resolutions on sustainability and other issues. Another targets a rule by the Office of the Comptroller of the Currency that critics say allows predatory lending.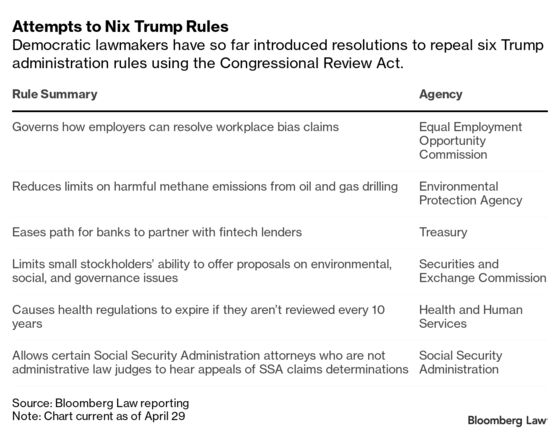 Until Trump came to office in 2017, the act had been used successfully just once -- in 2001, when a Republican-controlled Congress passed, and Republican President George W. Bush signed, a measure overturning a Labor Department ergonomics rule issued under Bush's Democratic predecessor, Bill Clinton. In 2017, congressional Republicans and Trump used the act to repeal 14 rules passed under Barack Obama. Trump and that Congress "normalized" use of the Congressional Review Act, says James Goodwin, a senior policy analyst at the Center for Progressive Reform, a Washington-based non-profit.
4. How long does Congress have to act?
According to Amit Narang, a regulatory policy advocate with watchdog group Public Citizen, the Democratic push to repeal Trump rules has until May 21 before the 60-day window closes.
The Congressional Research Service delves into the history and mechanic of the Congressional Review Act.
This examination of how Trump used the act appeared in the Georgetown Journal of Law & Public Policy.
Bloomberg's coverage of Trump's methane rule change that Democrats now

hope

to override.