The U.S. Postal Service Was in Bad Shape. Then the Virus Came
(Bloomberg) -- The U.S. Postal Service handles almost half of the world's mail volume -- 142.6 billion pieces in fiscal 2019 alone. It's one of the largest employers in the U.S., with more than 630,000 career and contract workers. And it could run out of cash by Sept. 30 without a taxpayer bailout. One of America's oldest institutions, the Postal Service had suffered years of financial decline even before mail volume collapsed due to the coronavirus pandemic. Complicating matters is President Donald Trump's longstanding contention that Amazon.com Inc. drains the postal service of money it can't afford to lose.
1. Who funds the Postal Service?
It's supposed to fund itself. Though its roots go back to 1775, when Benjamin Franklin was appointed the first postmaster general, the modern Postal Service was established in 1971 as an independent agency, with a mandate to provide universal mail delivery services at a fair price. The Postal Service boasts that it would rank 44th in the Fortune 500 if it were a private company, with revenue of more than $71 billion in fiscal 2019. Most of that revenue comes from "market-dominant" products, including first-class mail and periodicals. A smaller but growing share comes from competitive products, such as priority mail and packages, pitting the Postal Service against FedEx Corp. and United Parcel Service Inc. The Postal Service has limited authority to boost its revenue by introducing new products or increasing postal rates, which must be approved by the Postal Regulatory Commission.
2. How dire are its finances?
Expenses have outpaced revenue for 13 years straight, with net losses totaling $77.8 billion through fiscal 2019. The Postal Service hasn't been able to make required payments for employee health care and pension benefits, including a congressional mandate from 2006 that required it, unlike other federal agencies, to fully pre-fund health benefits for future retirees over a period of 10 years. Unfunded health care and pension liabilities neared $120 billion as of Sept. 30, 2019. The Government Accountability Office wrote in a May 7 report that the Postal Service's "mission and financial solvency are increasingly in peril" if Congress doesn't give it a lifeline or overhaul its business model.
3. Why does it lose so much money?
The Postal Service has to reach more addresses each year, but overall mail volume started to decline during the 2007-2009 recession and continued to drop as consumers and businesses turned to email, online payments and digital advertising. That meant a steep reduction in profitable first-class mail. But employee compensation and benefits keep rising, accounting for almost 80% of operating expenses in fiscal 2019. Wage increases are guaranteed in collective bargaining agreements with postal workers.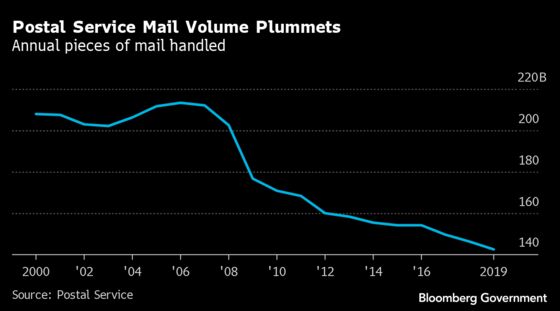 4. How has the coronavirus changed its financial outlook?
Things have gone from bad to worse. In March, the Postal Service projected as much as a 50% decline in mail volume through Sept. 30, the end of the fiscal year. On April 10, Postmaster General Megan Brennan warned that the pandemic would add to net operating losses by more than $22 billion over 18 months, and by $54 billion over the long term. (Brennan, who had announced her plan to retire in October, will be succeeded on June 15 by Louis DeJoy, a North Carolina businessman and major donor to the Republican Party.)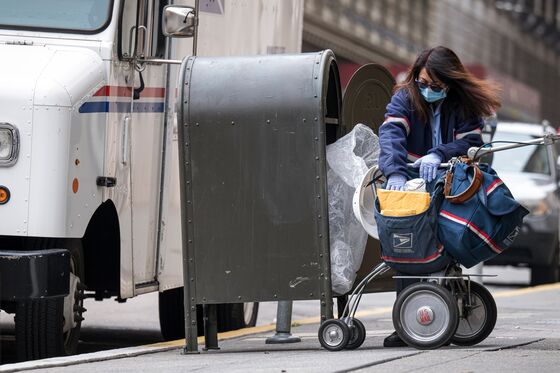 5. Isn't the virus hurting postal services elsewhere too?
Yes, but many are fully privatized and can take actions the U.S. Postal Service can't. In the United Kingdom, for instance, Royal Mail Plc announced it was temporarily ending Saturday delivery, with many workers absent due to Covid-19. That option is off-limits in the U.S., where Congress has required the Postal Service to maintain six-day delivery. Some foreign postal services also have funding mechanisms that the U.S. Postal Service lacks. In Japan, for instance, mail delivery from Japan Post Holdings Co. is partially underwritten by revenue from the company's other business lines, such as banking and life insurance.
6. What does the U.S. Postal Service want?
It asked Congress for $25 billion in emergency funding to offset virus-related losses, plus a $25 billion grant for "shovel-ready" modernization projects, and an additional $25 billion in unrestricted borrowing authority from the Treasury Department.
7. What is Congress doing about it?
House Democrats pushed to provide the Postal Service with $25 billion in emergency funds as part of a coronavirus relief package, but the White House opposed doling out cash with no strings attached. Instead, the $2.2 trillion stimulus package signed into law March 27 included a $10 billion line of credit with the Treasury Department. Democrats and some Republicans renewed the call for emergency funding in the next tranche of virus aid. Separately, the House passed a bill in February that would repeal the mandate for the Postal Service to make prefunding payments for retiree health benefits. In years past, lawmakers have proposed sweeping changes -- shifting some health care costs to Medicare, authorizing a one-time increase in postal rates, reducing door-to-door delivery, permitting more sales of nonpostal products -- but those didn't advance.
8. Where does Trump stand?
He said he will "never let our Post Office fail" but threatened to withhold aid unless the Postal Service raises its package delivery prices, which he says are too low and benefit Amazon -- whose chief executive officer, Jeff Bezos, also owns the Washington Post, a favorite whipping boy for Trump. His budget request called for more flexible pricing on "nonessential" mail and packages, as well as lower employee pay, less frequent mail delivery and increased use of private sector partners for mail sorting. The Trump administration could demand those changes or directly take control of key Postal Service operations in exchange for a loan.
9. What business does the Postal Service do with Amazon?
Amazon employs the Postal Service to complete what's called the "last mile" of delivery, with letter carriers dropping off packages at some 160 million residences and businesses daily. Since signing a landmark five-year contract in 2013 to deliver packages on Sundays, both sides have declared their business relationship a success. Trump, in 2018, repeated a claim that the Postal Service loses "$1.50 on average for each package it delivers for Amazon." The genesis of that idea is evidently an April 2017 Citigroup research note, which estimated that every delivery by the Postal Service's parcel business -- not just of products from Amazon -- should cost $1.46 more to reflect "true economic cost." The contract with Amazon is confidential but the Postal Service says it makes money on the deal. Plus, it's legally prohibited from charging shippers less than its delivery costs.