How Steel Could Become Green, and What It Would Take
(Bloomberg) -- The steel industry is one of the most vital to economies around the world but also one of the dirtiest. Demand for the alloy is increasing as populations grow and people travel more, build taller skyscrapers and put up more wind turbines. How to clean up a sector that has relied largely on the same production techniques for more than a century is becoming an urgent topic globally and a key one for the COP26 climate summit.
There's no real difference in the product compared with conventional steel. Rather, it's the way it's manufactured that defines how green, or clean, steel is. Traditionally, steel is made by heating iron ore with coking coal in a blast furnace at high temperatures, but there are several other methods at various stages of development and no defining standard or criteria for companies to use the moniker. 
The cleanest process that exists today, although still at the pilot stage, uses green hydrogen, produced from renewable electricity, instead of burning coal. Biomass also has been used as an alternative fuel. Makers are working on recycling, as well, but the amount of scrap steel available will set the ceiling for the impact it will have. All these methods will be needed for the industry to effectively decarbonize.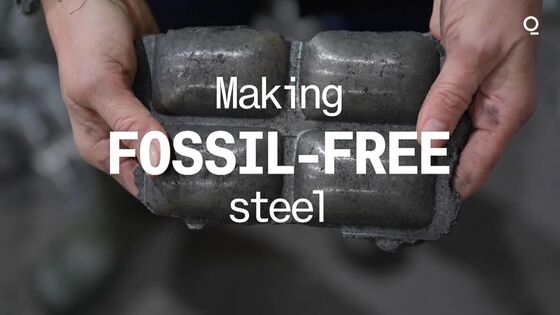 The steel industry today accounts for about 7% of the world's carbon emissions. Global demand is poised to soar 47% by 2050 from 2019 levels, according to BloombergNEF. With ever-tighter pollution rules, and carbon taxes and markets spreading around the world, going green is as much about survival for the industry itself as contributing to curbing global warming.  
Many of the largest steelmakers have started taking steps to green their output or set targets several decades out to be free from fossil fuels. 
Sweden's SSAB AB produced what they called the first fossil-free steel this summer, using green hydrogen. Volvo Group bought the first delivery and turned it into a dump truck unveiled in October.
ArcelorMittal SA plans to build an iron ore processing unit in Spain by 2025 that will use green hydrogen.
Rio Tinto Group, the world's top iron ore producer, has begun a pilot project that uses plant matter, or biomass, as a replacement for coking coal to produce low-emission steel. The process, developed with the University of Nottingham in the U.K., blends the biomass with iron ore, which is heated by a combination of gas released by the biomass and renewable-powered microwaves to convert the ore into metallic iron.
The world's largest steelmaker, China Baowu Steel Group Corp., has committed to carbon neutrality by 2050, a decade earlier than the government's national target.
5. Will it be really expensive? 
Green steel will be more costly than conventional steel because it uses more expensive production methods. The premium could be as much as 30%, SSAB said in a 2018 study, although since then, soaring carbon prices and fuel costs may have reduced that figure. While that may be significant for manufacturers buying large quantities of the metal, there won't be much difference for the end consumer. In Europe, the average person spends 200 euros ($231) a year on steel, consultancy McKinsey & Co. said. Using low-carbon methods would add 60 euros.
A BloombergNEF report on decarbonizing steel.
A Bloomberg photo essay on the green steel process from the mine to end product.
Bloomberg stories on pollution by Chinese companies and Rio Tinto's biomass pilot project.