How Germany's Greens Moved From Fringe to Contenders
(Bloomberg) -- Germany's Greens party has come a long way from the radical fringe group of the 1980s, moving into the mainstream and appealing to a wider swath of voters backing policies for tackling climate change. It has helped shape Germany's exit from nuclear power and pushed for Europe's industrial powerhouse to become a world leader in hydrogen technology. Now, it heads into the Sept. 26 election in a strong position to be part of the next coalition government, and perhaps even to lead it.
1. Could the Greens run Germany?
It's not impossible, especially since Chancellor Angela Merkel, 66, is stepping down after 16 years and her conservative bloc has slipped in polls. Germany's tradition of coalition governments makes it easier for smaller parties to win power. In national elections four years ago, Merkel's Christian Democratic Union and its smaller Bavarian ally, the Christian Social Union, took a third of the vote. In late May, polls showed the bloc with around a quarter, not far ahead of the Greens, who won 9% last time. The center-left Social Democrats, Merkel's coalition partners, had about 16% support.
2. What's the party's allure?
Their 40-year-old candidate for chancellor, Annalena Baerbock, offers a generational change, and with voters increasingly concerned about climate, this could be her moment. The Greens have been adept at forming coalitions with the center-right, center-left and liberals in regional governments and catering to business interests. They took part in national governments led by Chancellor Gerhard Schroeder's Social Democrats from 1998 to 2005, and for the past decade have run the southwestern state of Baden-Wuerttemberg, home to carmaker Daimler AG and software developer SAP SE.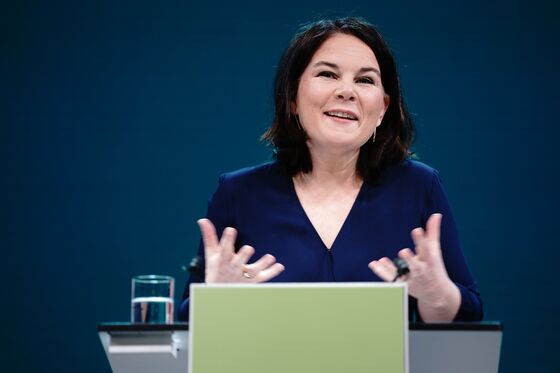 She's been a member of Germany's lower house, the Bundestag, since 2013 representing Brandenburg in the former communist East. She's jointly run the party with Robert Habeck since 2018 but lacks government experience. Brought up near Hanover, she studied international law at the London School of Economics and political science at Hamburg University. She was briefly a journalist and gained political experience working for a European Parliament member. Her considerable popularity suffered somewhat in late May and early June after she said she had forgotten to report to parliament bonus payments from her party worth slightly more than 25,000 euros ($30,260). Other main contenders to become chancellor are the conservative bloc's Armin Laschet, 60, the premier of North Rhine-Westphalia, Germany's most populous state, and Social Democrat Olaf Scholz, the finance minister and vice chancellor.
4. What do the Greens want?
The party is touting a 10-year, 500 billion-euro program to invest in, among other things, high-speed Internet, biotechnology and climate-neutral infrastructure, including solar panels on every new roof. It advocates loosening restrictions on state borrowing, controversial in Germany with its record of fiscal discipline. Other plans include raising taxes for the wealthy and increasing levies on capital gains. On defense, the Greens support NATO but oppose Merkel's plans to get Germany closer to the alliance's guideline of spending at least 2% of gross domestic product on the military. They seek to rid the world of nuclear weapons and oppose selling arms to authoritarian regimes and warring parties.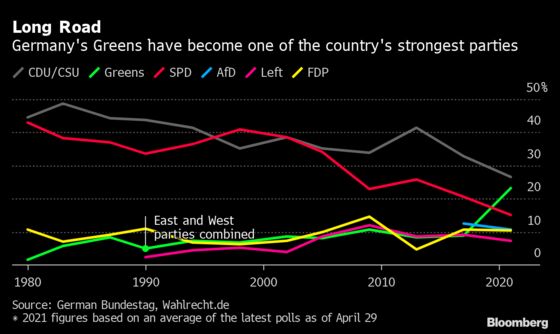 5. What about Russia and China?
Unlike Merkel, who charted a diplomatic course with the two countries, the Greens are likely to push back strongly on human-rights issues, such as the jailing of Russian opposition leader Alexey Navalny and China's treatment of Muslim Uyghurs. The party opposes the Nord Stream 2 pipeline designed to transport Russian gas to Germany. The project was delayed by U.S. sanctions but was approaching completion in June.
6. How do they compare with Greens elsewhere?
In France, the Greens are being upstaged as all parties are talking about climate now, even Marine Le Pen's nationalists. In the U.K., the Green Party won just 2.7% of the vote in the 2019 election while in the U.S. it remains marginal. In Austria, Greens partnered in government with the conservative People's Party from January 2020 and in New Zealand Greens have supported Prime Minister Jacinda Ardern since she won office in 2017.
7. What's their record in Germany?
The Greens' early attempts at governing on a local level — in the mid-1980s in the state of Hesse and the late 1990s in the city-state of Hamburg — weren't especially successful, partly because of conflicts within the party. But under their leadership, the Baden-Wuerttemberg economy has grown by almost a quarter. And as junior partner in two national governments led by the Social Democrats, they pushed through a deal to shutter Germany's nuclear plants, a policy later taken forward by Merkel in the wake of the disaster at Japan's Fukushima facility in 2011.
Bloomberg articles on the March regional votes, the Greens announcing Baerbock as their candidate for chancellor and the rise of the party to mainstream political power.
A Bloomberg profile of the German Greens.
A New York Times story on the U.S. Green Party and Republicans.
A BloombergTV interview with Green Party lawmaker Danyal Bayaz.
The Green Party's manifesto of principles.
Opinion polls on German voting intentions.