How Brewing Scandal Exposed Pressures on Polish Banks
(Bloomberg) -- A scandal involving a Polish banking tycoon and the country's financial supervisor has shaken the home, at least until now, of some of Europe's strongest banks. A published transcript appears to show Marek Chrzanowski, head of the Financial Supervisory Commission, soliciting a bribe from Leszek Czarnecki, who controls small lenders Getin Noble Bank SA and Idea Bank SA. The allegations sent bank stocks tumbling and might complicate the ruling party's pledged clean-up drive, which could include further re-nationalization of lenders.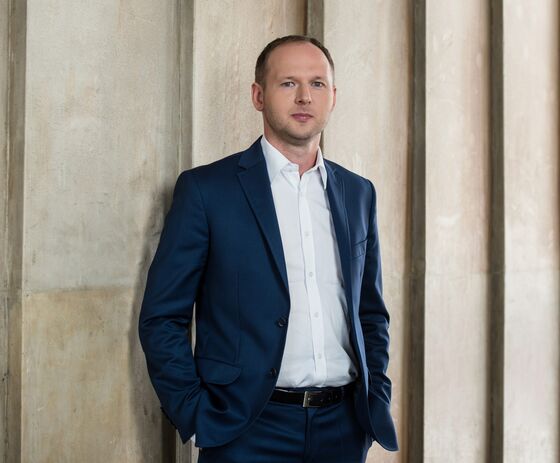 1. Did a crime take place?
That's unclear. The Polish anti-corruption bureau is investigating along with state prosecutors. The transcript of a secretly recorded conversation held in March appears to show Chrzanowski offering favorable treatment to banks controlled by Czarnecki in return for employing a recommended lawyer, who would be paid about $10 million, according to newspaper Gazeta Wyborcza. Czarnecki, who recorded the conversation, hasn't publicly detailed the allegations since Wyborcza released the transcript. But Chrzanowski, a protege of central bank Governor Adam Glapinski, resigned the day the newspaper report came out while rejecting the accusations. Glapinski then complained that Czarnecki, the banking tycoon, was playing "political games" to "destabilize the Polish banking system."
2. Why did that spark worry about the banks?
Czarnecki's financial empire has melted away in recent years after Getin's strategy of aggressive sales of Swiss franc-based mortgages backfired. Getin and Idea are among the least-capitalized lenders in Poland, and both lost money in the second quarter. When the scandal broke, there was immediate concern that the lenders may be in worse shape than expected, which quickly turned into risk that some customers may pull their deposits. Getin and Idea rely on funding from costly, short-term retail deposits, making them especially susceptible to client withdrawals. In fact, when the alleged bribe attempt took place in March, Czarnecki was talking with the watchdog about how to restructure Getin.
3. Is Poland's broader banking industry in peril?
In the days following the transcript's publication, contagion risk from Getin and Idea sent the bank-stock index and government floating-rate notes on their biggest slide in more than two years. The central bank took steps to calm the situation and pledged to keep the system stable. It's hard to say if the two lenders, whose joint assets total 80 billion zloty ($21 billion) and account for 4.3 percent in the Polish banking industry, are big enough to destabilize the sector. Foreign investors control six out of the top 10 biggest lenders, and cash-rich Polish banks PKO Bank Polski SA and Bank Pekao SA took two of the top three places in the latest EU-wide stress tests of banks.
4. Why does that matter?
In a collapse scenario, the government could pressure PKO or Pekao to take over troubled assets for the good of the industry. Both state-run banks issued unsolicited statements in past days that they're not interested in any such transaction, however.
5. How has the government been shaping the banking industry?
Since its triumph in 2015 parliamentary elections, the Law & Justice Party has set about reshaping domestic institutions in ways that have alarmed the European Union. After reclaiming some banks from foreign owners in recent years -- part of a broader process that's been called "re-Polonizing" key parts of the economy -- the government controls more than half of the country's banking assets. In the transcript of the conversation from March, Chrzanowski tells Czarnecki that Zdzisław Sokal, the head of Poland's Bank Guarantee Fund (and Chrzanowski's fellow market regulator), favors pushing Getin into insolvency so that it could be taken over by a larger rival favored by the government. New resolution tools that would speed up such a process are being pushed by the governing party in parliament. Opposition lawmakers say this suggests wide-scale corruption linked to the reported bribe attempt.
6. What's the political fallout?
The bribery scandal is dangerous because Law & Justice likens itself to the voice of regular Poles, who the party says have been disillusioned by self-serving and corrupt elites in past decades. An opinion survey carried out after the scandal broke showed support for the ruling party dropping 5 percentage points to 33 percent, still 7 points ahead of the biggest opposition group. The row may also change relations between Prime Minister Mateusz Morawiecki and Glapinski, the central bank governor, who have bickered about who should control banking supervision. A collapse, after all, would ruin both of their reputations as guardians of the country's $525 billion economy. In its three years in power, even while clashing with the EU over democratic values, the government has overseen an economy growing at a 5 percent clip. Elections are scheduled for next year.
Getin and Idea may comment on their current capital positions and funding options when they publish third-quarter results on Nov. 28-29. Investors are also looking at whether Czarnecki makes good on his promise to invest 1 billion zloty in Getin this and next year. He has already spent 390 million zloty since April. The central bank hasn't yet detailed how it plans to provide liquidity for lenders, while Getin and Idea face about 1.5 billion zloty in debt redemption and service costs by the end of 2020.