How Austria's Fallen Star Is Maneuvering to Keep a Grip on Power
(Bloomberg) -- Sebastian Kurz, Austria's 35-year-old conservative prodigy, faces his biggest challenge yet to revive a political career derailed by a probe into government corruption. He was forced to resign as chancellor on Oct. 9 after prosecutors raided the offices of some of his associates, investigating alleged bribery and misuse of public funds during his rise to power. Kurz, who has denied wrongdoing, became the country's youngest-ever chancellor in 2017 at the age of 31 and plans to stay in parliament to fight the allegations. Despite his tenacity, the hurdles will be difficult to overcome.
1. Did Kurz's resignation solve the government crisis?
His decision to step down helped avoid a collapse of the governing coalition, with the Green Party accepting former Foreign Minister Alexander Schallenberg as a replacement. While there are tensions, both ruling parties have an incentive to keep the government running at least until a key tax overhaul is ushered through parliament. If there are major shifts in opinion polls, however, cohesion within the government may weaken. Schallenberg, a staunch Kurz loyalist, also needs to show he is up to the role and can forge his own path.
2. Didn't something like this already happen? 
Yes. Kurz showed resilience, and a deft touch, when faced with previous corruption allegations. In 2019, two years into his first government, he called snap elections after the leader of his far-right coalition partner, the Freedom Party, was caught on a leaked video tape offering favors to a woman posing as a Russian oligarch's niece. Kurz was out of office for seven months but bounced back stronger than before with a carefully-choreographed campaign, bridging the ideological divide to form a coalition with the Greens. It was an early sign that the poster child of the anti-immigration populist movement in Europe was comfortable with changing tack to keep a hold on power.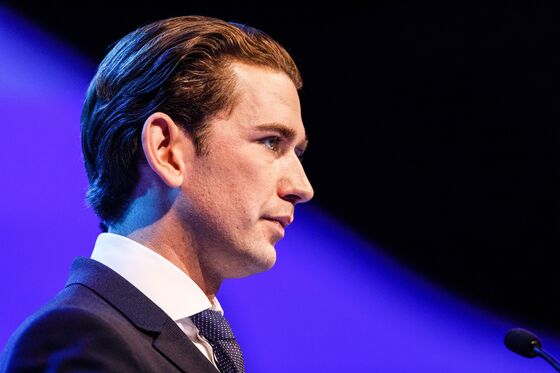 3. What might Kurz's future role be?
As a first step away from the chancellor's job, Kurz is leading his People's Party caucus in parliament. He'll also retain influence as party chairman, even if his position is less secure than it was. Schallenberg is a trusted confidant and his Green Vice Chancellor Werner Kogler has vowed to "work constructively" with Kurz. It's uncertain how much the former chancellor will want to involve himself in the details of party politics while there are legal proceedings against him, or how much influence he'll wield over the government.
4. What about the Greens?
The prospect of pushing through more ambitious climate policies, such as legislation on a carbon tax and cheap train tickets, gives a reason for the Greens to continue with the coalition agreement. Once those measures are passed, probably by the end of 2021, the incentives to stay may be weaker, even if the Greens have vowed to remain loyal to their allies until the end of the legislative term in 2024.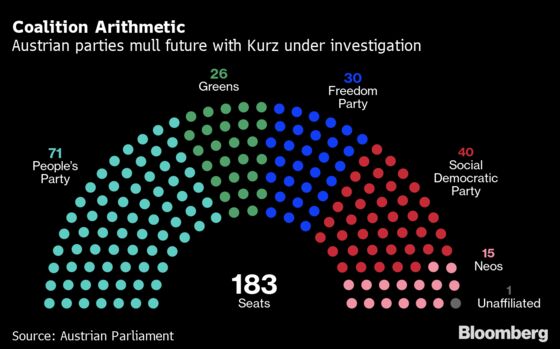 5. How damaging could the investigations be?
Kurz and nine others are suspected of funneling federal funds to a newspaper publisher to orchestrate his own meteoric rise. The funds allegedly financed polling that appeared favorable to Kurz, and wasn't identified as advertising. Kurz, who has vowed to fight the allegations, faces a possible prison term for bribery and misappropriation. He also could be charged with lying to parliament. With prosecutors still sifting through the hundreds of thousands of confiscated documents, more damaging content could still emerge.
6. How likely is it that Kurz will recover?
To be able to return as chancellor, Kurz would need to clear himself on two fronts. Legally, he needs to clear himself of the allegations. Politically, he'll need to cleanse his public image after leaked text messages showed a toxic culture of back-stabbing within his closest ranks. He'll also need to convince influential state leaders that he's fit to govern and show that he can reverse a slump in public support.
7. What are the prospects for early elections?
None of Austria's major parties have publicly called for snap elections, which would be the country's third in five years. Voter fatigue and strained party finances mean there is little appetite for another round on the campaign trail. Also the fallout from the probes and Kurz's resignation was still feeding through into opinion polls. In late October surveys were showing the socialists potentially within a whisker of a parliamentary majority with the Greens and the liberal NEOS party for the first time in decades.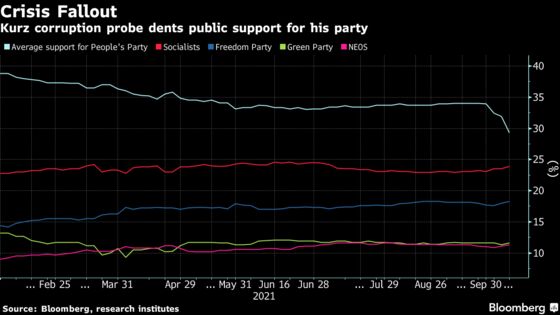 8. How does this affect wider European politics?
It's a further setback for the center-right European People's Party, the European Union's largest political group, which was already losing German Chancellor Angela Merkel from its ranks as she steps down after 16 years in power, and has now lost another strong leader. Kurz had a following among German conservative activists and the media, which faded as a result of the scandal. On the other hand, it does allow the European center-right to further distance itself from the more populist brand of politics. It effectively kicked out Hungary's Prime Minister Viktor Orban earlier in 2021, though Slovenia's Janez Jansa remained a member.