How Apple Lossless Audio Challenges Streaming Rivals
(Bloomberg) -- When every major music-streaming provider offers the same catalog of songs from almost all of recorded music's history, how can they compete? One way is on price, such as Spotify Technology SA's free, ad-supported tier; another is to bundle other products, like Amazon.com Inc.'s Prime. But a more technology-based approach is to make the music itself sound better, and Apple Inc. is venturing into this territory with its lossless, high-resolution, and spatial audio.
1. What is lossless audio?
To understand the concept of lossless, it's easiest to first grasp its counterpart, the MP3 file. When a song is copied from a CD to computer, it's usually encoded by default in MP3 or the comparable AAC. In doing so, the software performing the copy is analyzing the sound and determining which bits of it the human ear is unlikely to be able to hear — very high and low frequencies, for instance, or two similar sounds occurring simultaneously. Such audio files will discard what a person won't hear or won't notice missing. This creates files that take up less space on a hard drive and download or stream more quickly. Lossless technology doesn't throw any of that data away — whether you can hear it or not, the audio is sonically identical to its source, whether that's a CD or a studio master recording.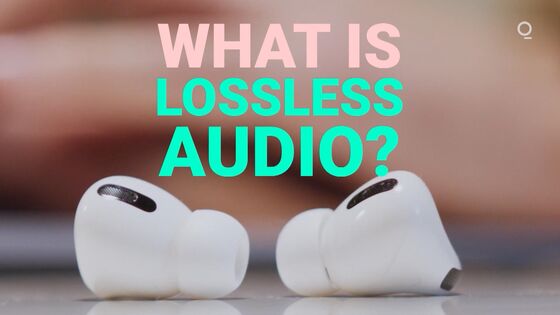 2. Can you hear the difference?
That's a topic of debate in audiophile communities. Academics and enthusiasts alike have shown that in terms of pure sonic information, lossless files contain more sound and thus are objectively superior to an MP3. But other factors include whether a person is young enough to have avoided hearing loss caused by the aging process, or avoided exposure to loud noises over a lifetime. Additionally, there's a reason most smartphones ship with a pair of free headphones, while companies like Sennheiser, Bose and AKG sell pairs of high-end alternatives that can cost as much as the phones themselves — they're better at reproducing the nuances of a good audio recording. As such, it's possible a person with great hearing but cheap earbuds won't notice the benefit of lossless, while an individual with time-worn ears but fabulous headphones may.
3. Is this a big deal for companies like Apple?
In marketing terms, it helps. Apple is enabling lossless audio for all of its music subscribers and for no additional cost. Amazon has offered the feature for some time, but at a premium. On the day Apple announced it was going lossless, Amazon said it was dropping its prices to compete. Spotify has said it'll provide lossless audio, but hadn't done so by early June. Faced with choosing Apple or Spotify, where the price and music catalog are ostensibly identical, it may prove preferable to opt for the one that'll deliver better-sounding versions of that music. It costs a negligible amount of money to deliver these larger audio files, too. It may hurt smaller players who have used their early adoption of lossless audio as leverage over competitors. Companies such as Tidal and Deezer are examples, and ones to watch for a response. Headphone-makers may benefit from any increased appetite for higher-quality streaming.
4. What about high-res and spatial audio?
High-resolution audio is also lossless, but the source of the sound includes a far wider range of sonic frequencies derived from the original studio masters. Enthusiasts routinely argue that while the "lossy versus lossless" debate isn't one worth engaging in, "CD quality versus high-res quality" very much is. Similarly, whereas almost all recorded music is presented in stereo — a left channel and a right channel — spatial audio is more like surround sound, where instruments can be placed in three-dimensional space.
5. What is the biggest hurdle going to be?
Lossless, high-res and spatial audio all come with physical limitations. Not all headphones support spatial audio, and that's in addition to most wireless headphones not supporting lossless, either, due to their reliance on Bluetooth. It may not be coincidence Apple sells its own brand of headphones — AirPods Pro and Beats — which support some of these features, although not all, nor that Amazon promotes its Echo products on the same page it outlines the benefits of its HD music streaming catalog.