Chinese Tech Companies Get a New Exchange in Shanghai
(Bloomberg) -- While China has some of the world's biggest technology companies, many are listed in the U.S. and Hong Kong. First, there was a push to lure companies back with so-called Chinese depositary receipts, which would allow domestic investors to hold overseas-listed Chinese shares. Now, President Xi Jinping is touting the launch of a new trading venue in Shanghai that will make it easier for high-tech companies to access funding. The board has generated some buzz, lifting shares of brokerages that stand to gain from the increased business. Shanghai Mayor Ying Yong, on a recent visit to the city's stock exchange, urged it to get the project up and running as soon as possible. To make it succeed, China would need to draw from some hit-and-miss experiences with other exchanges.
The as-yet-unnamed board is intended not just for tech firms to raise funding but also to streamline the process. The securities regulator currently uses an approval-based system for initial public offerings, which usually takes months or even a year or two. The proposed setup would be registration-based, meaning the vetting process would be simplified and companies would face less red tape, speeding things along. A first batch of 20 companies could list as early as the first quarter of 2019, state media has reported, adding that the publication of draft rules for the exchange is imminent.
Market observers have been interpreting this as a gift to Shanghai from Xi, who said he wanted to boost the city's status as a global center of finance. It's also seen as China's latest effort to stem the exodus of tech listings, especially as Hong Kong's bourse opens its doors to biotech firms with no record of profit or revenue as well as to tech-friendly dual-class listings. The move can also be interpreted as the government getting investors on board with Xi's goal of making China technologically independent.
3. What's been the response?
Investors weren't expecting Xi's announcement, so the initial reaction was somewhat muted. Traders are saying this could finally be the venue investors have craved, allowing them to get in early on future behemoths. That's something they missed out on with Alibaba Group Holding Ltd. and Baidu Inc., which are both listed in the U.S. Still, the securities regulator raised something of a red flag about the potential perils when it said smaller investors will be encouraged to participate via mutual funds. Some analysts see strong demand for a new board because China has a huge number of tech startups. The Haidian district of Beijing has 148,600 tech firms and will have revenue of more than 2 trillion yuan ($288 billion) by 2020, according to Minsheng Securities Co.
4. How are tech shares currently traded?
The main domestic trading venues for China's technology companies are the Nasdaq-style ChiNext Composite Index in Shenzhen and the Beijing-based National Equities Exchange and Quotations, or NEEQ. The former has 736 members, and most are small technology firms with a track record of profitability at the time of listing. A good example of a ChiNext stock is Contemporary Amperex Technology Co., a maker of batteries that is a major supplier to electric car manufacturers. The NEEQ sets the bar much lower for listing than the ChiNext does. There's no requirement for profitability, and retail investors with less than 5 million yuan of securities assets to invest are banned. China's biggest over-the-counter market has some 10,800 companies, but trading turnover is tiny.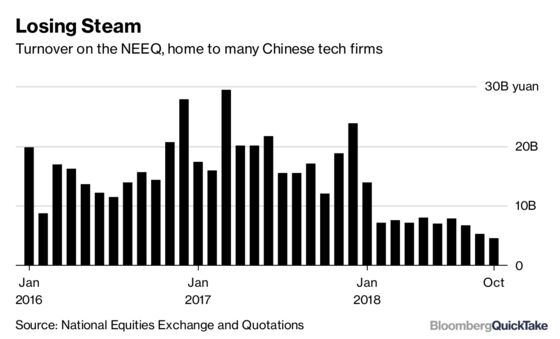 5. What's happening with CDRs?
Good question. Little has been said about the idea to allow overseas-listed companies to sell yuan-denominated securities in China since a trial program was announced in June. One view is that CDRs could be a way for stocks with large market caps to list on the mainland. CSC Financial Co. said in a recent note the new board may have two layers: one made up of CDRs and one comprising upstarts.
6. What will it take for the new board to succeed?
This is a key question considering how the NEEQ has lost its status as a star of China's efforts to develop its equity markets. Market observers say the new board's success will depend on the securities regulator learning from its mistakes and improving on the rules that govern bourses, from listing criteria to trading mechanisms. The hope is that if developed right, the new board would become a listing destination not just for startups but for companies with larger scale that would enjoy better trading turnover than on the NEEQ. Another issue analysts raise is how to balance the benefits of a less rigorous IPO system with the desire to rein in financial fraud. They also say regulators must control the pace of issuance to limit the disruption to broader markets. Finally, China stocks entered a bear market this year amid the trade dispute with the U.S., so finding a way to overcome this tricky timing is crucial. There is potential for the concept to succeed because private companies are increasingly eager to find ways to attract funding as the government cracks down on unregulated financing.
Xi's surprise announcement.
The early details from state media, plus the Shanghai exchange's views on the tech board.
Hong Kong is in a good position to help raise funds for biotech industry, according to HKEX CEO Charles Li.
A QuickTake on CDRs and another on dual-class listings.