Gentrification
(Bloomberg) -- Here come the hipsters, there goes the neighborhood. Sound familiar? What was once a no-go zone is now the dominion of shabby-chic boutiques, locally sourced gastro pubs and tank-like strollers, all in service of the rich transplants posing as bohemians in gussied-up row houses. The upgrade raised the value of real estate and sent rents climbing, pushing out lower-income residents and artists. Gentrification — the migration of affluent professionals into poorer city cores — has long been blamed for displacement and exploding house prices. Although its effects can be felt in Mexico City and Mumbai, among other places, the former ghettos and sex districts in London and New York hog the attention. An often-heated global debate about gentrification focuses on race and class warfare, but there's an argument that the good outweighs the bad. Could it be that the only thing worse than being gentrified is not being gentrified?
In Asia, home to the fastest-growing megacities, pockets of Hong Kong and other cities have gone from seedy to fashionable with the construction of luxury high-rises. Aging industrial U.S. cities from Pittsburgh to St. Louis have seen a revival of their downtowns and of old neighborhoods, especially ones near universities and major medical facilities. One byproduct of wealthy people flocking to fast-growing "magnet" cities including Washington and Seattle is the dislocation of at least some middle- and low-income families. A 2015 study by the Federal Reserve Bank of Philadelphia found that gentrification in that city was hardest on "the least advantaged and most economically vulnerable" citizens, some of whom had to relocate to "lower-income neighborhoods with more crime and worse schools." With these shifts come tensions. In San Francisco, company buses shuttling workers to Silicon Valley have been attacked or, in one case, blockaded with scooters by residents angry that the technology influx has pushed rents into the stratosphere. In Los Angeles, several art galleries abandoned a neighborhood called Boyle Heights after protests by anti-gentrification activists.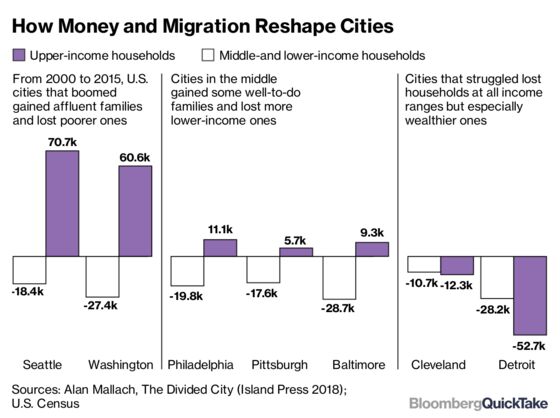 London after World War II was the scene of rapid social and economic change. The city was moving away from manufacturing and evolving into a services-based economy and capital of finance. In the early 1960s, Ruth Glass, a German-born British sociologist and lifelong Marxist, observed the middle-class invasion of Islington and Notting Hill, home to sizable Caribbean communities. She dubbed it gentrification and framed her theory around class struggle. The negative connotations were clear — the gentry were people of privilege. Glass predicted: "London may soon be faced with an embarrass de richesse in her central area." She wasn't wrong. Her term is now commonly used to disparage bohemian-yet-bourgeois Parisians crawling the Marais, to mock the bearded microbrewer in Brooklyn, and to bemoan the rise of Berlin cool after the wall came down. All this has happened against the backdrop of a gigantic urban migration. By 2050, two-thirds of the world's population will live in cities.
Critics of the G-word see it as an unstoppable menace to a city's character, replacing mom-and-pop shops with retail chains. Others focus on displacement: In New York, filmmaker Spike Lee compared white encroachment into black neighborhoods to the killing of American Indians. Supporters say the injection of money brings better schools, less crime and more jobs. Some academics say the focus on wealthy newcomers misses a broader challenge: rising urban poverty in the huge swaths of cities untouched by gentrification. Economists say measures to curb population changes, such as rent control, have made housing shortages worse. How to manage gentrification? One tool is the community land trust, which allows occupants to collectively own the land they live on. And in San Francisco, stricter zoning laws preserved the Tenderloin neighborhood as a home for the down-and-out around the corner from Twitter Inc.'s headquarters.