All About CFIUS, Trump's Watchdog on China Dealmaking: QuickTake
(Bloomberg) -- America's message to investors overseas has long been that the U.S. is open for business. Now a presidential administration that says "America First" is pushing back, and one of its tools is a formerly obscure committee that works behind closed doors. The Committee on Foreign Investment in the U.S., or CFIUS, has thwarted acquisitions of American companies, particularly by Chinese investors. At a time when the U.S. and China are in open economic conflict, the committee might be getting new powers to do even more.
1. Who's on the committee?
CFIUS -- pronounced SIFF-ee-yus -- is a panel of government officials that reviews acquisitions of American businesses by foreign buyers to determine if the deals pose risks to national security. It's led by the Treasury secretary, with other members from the State, Defense, Justice, Commerce, Energy and Homeland Security departments.
2. Why has it been in the news?
It's stopped a string of acquisitions under President Donald Trump, many involving Chinese buyers of American technology firms. Trump's order blocking Broadcom Ltd.'s $117 billion takeover of Qualcomm Inc. -- what would have been the biggest deal in the history of technology -- was based on recommendations from CFIUS. (It found that the deal could curtail U.S. investments in chip and wireless technologies, handing leadership to a relatively opaque Chinese company, Huawei Technologies Co., that's developing next-generation wireless systems.) Congress is working to finalize legislation that would broaden CFIUS's oversight to include minority investments by foreigners in "critical technology" or "critical infrastructure" and in joint ventures where technology companies contribute intellectual property.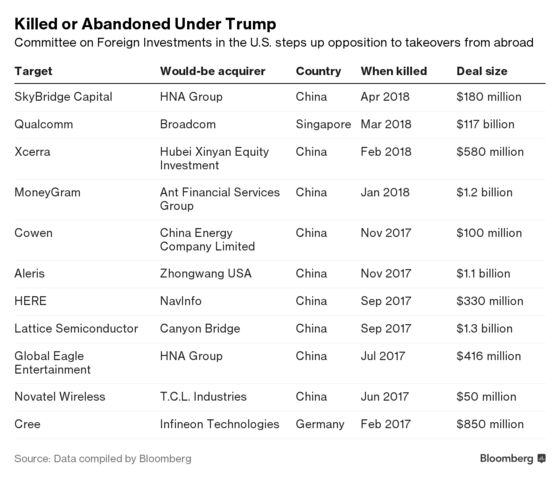 President Gerald Ford created the committee in 1975, at a time when U.S. policy makers were fretting over investments in U.S. Treasuries, stocks and bonds by members of the Organization of the Petroleum Exporting Countries, or OPEC. It gained new power in 1988, when Congress, responding to worries about Japanese investment in the U.S., gave the president the power to stop a foreign deal that "threatens to impair the national security." Since 2007, CFIUS has operated under an added level of scrutiny. That's because Congress demanded some oversight after CFIUS cleared a purchase that would have put a state-owned Dubai company, DP World, in charge of security at six major U.S. ports.  
The parties to a proposed transaction file a voluntary notice to CFIUS, which has 30 days for an initial review. If members of the committee see potential issues, they can call for a national security investigation to determine if there are any risks to the U.S. If so, CFIUS can negotiate with the parties to the proposed deal to mitigate problems. If its concerns aren't resolved, it can recommend that the president intervene to stop the deal. In 2016, the committee reviewed 172 transactions, compared with 111 in 2011, according to the U.S. Government Accountability Office.
5. Can it reject a deal by itself?

No. It can impose changes to deals, like walling off part of an American business from foreigners, but only the president has authority to stop a takeover. That has happened only five times since 1990. Barack Obama stopped two deals in eight years in office. Trump has blocked two in six months. Still, CFIUS concerns are often enough to undo a deal. That's because companies will walk away rather than go to the president and risk being branded a national security threat.
6. What new powers might CFIUS get?

Giving it a say on proposed joint ventures would be the most significant change. While lobbyists for IBM and other large U.S. technology companies have lobbied against such an expansion, U.S. Treasury Secretary Steven Mnuchin -- who by virtue of his post is the chairman of CFIUS -- sees it as the key piece of legislation working its way through Congress. If CFIUS had such authority in 2015, for instance, it could have blocked or altered a partnership between Teamsun, a Chinese cybersecurity company, and IBM. The agreement gave the Beijing firm access to key server technologies licensed by IBM, the New York Times reported. Tech firms fear that the law could cover a broad cross-section of their industry, from computer hardware sales and service to software licensing and trademarks.
7. How can I follow the committee's work?
Good luck. The panel's investigations are effectively a black box. It never comments on individual reviews and relies on classified information to decide whether to oppose or clear a deal.