A Guide to Indonesia's Long, Looming Election Season
(Bloomberg) -- As Indonesia's April 17 presidential election nears, incumbent Joko Widodo looks in a strong position to secure a second term. His challenger is once again Prabowo Subianto, a former general who lost in 2014 after a bitter campaign. Widodo, known as Jokowi, has built a strong parliamentary base and remains widely popular in the Southeast Asian nation of 262 million people. Subianto, popularly called Prabowo, is focusing on the country's recent economic woes, including a currency sell-off and stagnant growth.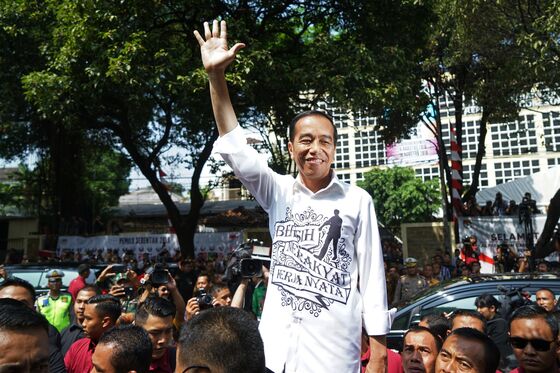 1. Where do things stand?
Jokowi is in the lead. A poll in September gave him 60.4 percent support, up from 57.2 percent in May, to 29.8 percent for Prabowo. Campaigning for both the presidential and parliamentary elections -- being held together for the first time -- officially began Sept. 21. Jokowi is endorsed by nine parties that currently control about 60 percent of parliamentary seats. Those include his own Indonesian Democratic Party of Struggle and Golkar, the former ruling party under Suharto, Indonesia's longtime authoritarian leader. Prabowo is supported by his Gerindra party and four others.
2. What's Jokowi's pitch?
The 57-year-old has worked hard at maintaining a "common man" image that helped catapult him to the top job -- the first president from outside the country's political and military elite. His government's focus on infrastructure, lining up more than $300 billion of projects to better connect the nation's almost 17,000 islands, is popular with credit-rating companies and the public alike. He has slashed prices for everything from gasoline to cement in far-flung regions such as Papua and Sulawesi and won admiration at home -- and weariness from international companies -- by asserting Indonesian ownership of key resources, for instance wresting majority control of the giant Grasberg copper and gold mine from U.S. company Freeport-McMoRan Inc.
3. What are his weaknesses?
The opposition will point to the high cost of the infrastructure agenda and an increasing dependence on foreign investment, particularly from China. Prabowo, 67, will also highlight a record public debt, a weak currency, growing concerns about inequality and low crop prices. In a country that is roughly 90 percent Muslim, Jokowi bolstered his religious credentials by picking Ma'ruf Amin, the country's senior-most Islamic cleric, as his running mate. Prabowo's party was supported by powerful Islamic groups in 2017's Jakarta governor election, which was marred by sectarian tensions.
4. What are the other important voter blocs?
Indonesia is a young country: about 40 percent of the more than 185 million voters are millennials. Jokowi's extensive use of social-media platforms such as Instagram, Facebook, Twitter and YouTube may give him an edge, as might his push to transform Indonesia into a manufacturing powerhouse and create job opportunities for millions of young graduates. Women are also likely to be a focus for presidential and parliamentary hopefuls. Jokowi has assembled a cabinet with one of the world's highest ratios of women ministers.
5. What are the candidates' economic agendas?
Jokowi has yet to spell out his plans, but his party is pitching a more modest growth target of 5 to 6 percent after undershooting the 7 percent goal in the first term. It's been a rocky year in the markets as foreign investors sold off the nation's currency, stocks and bonds during an emerging-market rout. The currency has rebounded in recent weeks as the government moves to narrow the current-account deficit. Prabowo has vowed to to pursue tax reform, to boost food output through import-substitution policies and to increase the use of renewable energy.
6. When will we have a winner?
TV channels may project unofficial results on election day, but the official count isn't due until May 22. Indonesia's seventh president will be inaugurated on Oct. 20, 2019.