India's Aspirations
(Bloomberg) -- India's democracy, the world's most populous, is a marvel of the modern age: 1.3 billion people who speak more than 700 languages uniting under one roof. Its immensity also slows the decision-making needed to keep up with its people's aspirations. Feeble public services, persistent inflation, crippling corruption and crumbling infrastructure are ever-present grievances of a population who on average earn about $5 per day. Indians yearn not just for faster economic development but for higher-quality jobs for their children and solutions to age-old problems — from a gummed-up legal system and discrimination based on the Hindu caste system to violence against women. Voters will decide in 2019 whether to renew the mandate of Prime Minister Narendra Modi, who promises to continue pro-market reforms to modernize the economy. Weighing against him are complaints that the Hindu nationalists in his Bharatiya Janata Party have stoked religious and social tensions.
Modi has had a mixed record since his party in 2014 secured the first majority in the lower house of parliament in 30 years. He's lauded for opening millions of bank accounts for the poor, bringing electricity to villages, rolling out a national sales tax and reforming archaic bankruptcy rules. On the world stage, Modi has traveled widely to sell India as an investment destination, with some success, while celebrating its flourishing diaspora from Dubai to Silicon Valley. But his decision in 2016 to recall most bank notes, a ploy to tackle corruption, caused chaos for many businesses and slowed economic growth. Efforts to boost manufacturing and create jobs for the 1 million youths joining the labor pool each month have sputtered. Proposals to ease restrictive land and labor rules have gone nowhere. Social tensions have also flared on his watch. Modi's responses to attacks on women and Muslims have been underwhelming, critics say, while his appointment of a Hindu nationalist as party chief served to empower extremists. Fringe groups have attacked Muslims across India while a Hindu priest that Modi appointed to lead the most populous state blamed Muslim youths for waging a "love jihad" to seduce Hindu women and convert them to Islam. Still, Modi has helped extend the BJP's grip on power in state elections, leaving the opposition Congress Party facing a formidable challenge to defeat a prime minister who remains the country's most popular politician.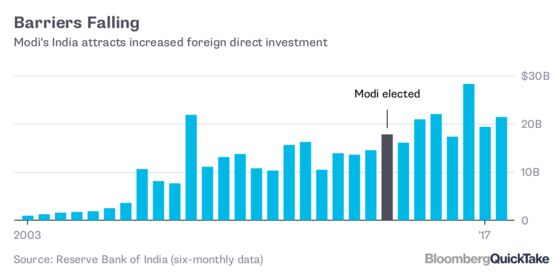 Jolted by a balance-of-payments crisis caused by four decades of Soviet-style economic planning, India launched reforms in 1991 that partly dismantled the so-called "License Raj," the Byzantine system of approvals required to run a business. That set the stage for an economic boom. The Congress-led government, under the dynastic rule of the Nehru-Gandhi family, redistributed that wealth, subsidizing food and guaranteeing work in rural areas, home to 70 percent of the population. A government led by the BJP from 1998 to 2004 pursued a partial privatization of state companies and built a network of national highways. The next decade of Congress rule spawned allegations of graft and ended with that party's worst-ever election performance. Modi's 2014 victory was divisive. Parts of the population will never forgive his handling of riots in 2002 that killed 1,000 people, mostly Muslims, when he was head of Gujarat state. Tensions between Hindus (80 percent of the population) and Muslims (13 percent) have played a defining role in politics since Britain divided the subcontinent into India and Pakistan in 1947. In terms of economic progress, India has cut the share of people living below its official poverty line in half over two decades, to 22 percent in 2012. Per-capita income rose to $1,940 in 2017 from about $300 in 1991. However, China's jumped to $8,600 from $358 in the same period.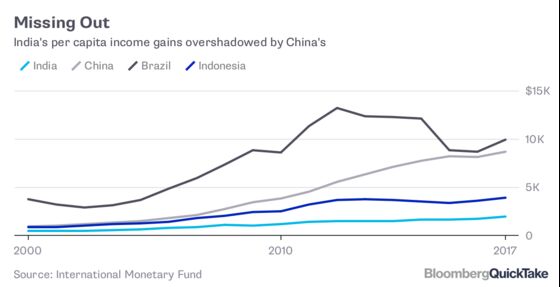 India's politics traditionally has been focused on how to divide spoils along the lines of religion and caste. As aspirations of an expanding urban population rise, the divisions increasingly are around ideas: How to power faster development and what's the right role and size of the state. Modi's supporters see him as a bold leader who can transform India by shifting toward a more market-based economy and empowering those at the bottom of the country's ancient caste system. His critics doubt that he'll take measures that increase competition for India's tycoons or move against religious factions of his party, which oppose much-needed labor reform and seek to erode the country's secular foundations. They also point to the lackluster impact of his economic program on jobs.
Daniel Ten Kate and Jeannete Rodrigues contributed to earlier versions of this article.