How Kim Jong Un May Have Kickstarted Nuclear Talks
(Bloomberg) -- At a landmark summit with South Korean President Moon Jae-in in Pyongyang in September, North Korean leader Kim Jong Un offered to shutter his Yongbyon nuclear site -- if the U.S. takes unspecified "corresponding measures." The gesture was designed to demonstrate Kim's commitment to denuclearization to U.S. President Donald Trump, and to jumpstart negotiations with the U.S. that have stalled since they met in Singapore in June. A statement by the two Korean leaders also said North Korea will dismantle its Tongchang-ri missile-engine test site "under the observation of experts from relevant countries."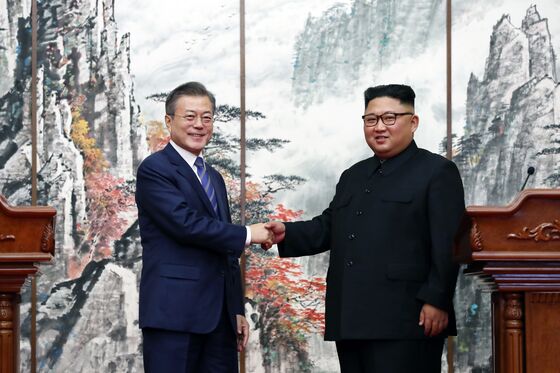 It's the site of North Korea's main nuclear facility about 60 miles (97 kilometers) north of the capital Pyongyang. Yongbyon hosts a nuclear reactor, a fuel fabrication plant, spent-fuel storage, and a fuel reprocessing facility that recovers uranium and plutonium from spent fuel. The site produced the material used in North Korea's six nuclear tests between 2006 and 2017.
2. Is Kim's offer to shutter Yongbyon significant?
It sends a message that North Korea is willing to offer concessions. Closing the reactor and reprocessing line would constrain its plutonium production, provided there are no covert facilities, according to tweets by Jeffrey Lewis, director of the East Asia Nonproliferation Program at the Middlebury Institute of International Studies in California. That said, the U.S. believes there are at least two other uranium-enrichment facilities, including one at Kangson, near Pyongyang. South Korea's Moon called on North Korea to shutter any other nuclear facilities, although his officials say they're unaware of such sites.
3. What is Kim looking for?
Kim didn't specify, but since he met Trump in June, North Korea has been trying to get the Americans to agree to the first two items in their Singapore Declaration: establishing formal U.S.-North Korea relations and signing a peace deal to formally end the Korean War.
4. Is a freeze of North Korea's nuclear production possible?
There's a precedent for gumming it up, if not totally freezing it. In 1994, North Korea signed up to detailed commitments to close plutonium-producing nuclear reactors and secure spent fuel rods so they couldn't be turned into weapons-grade fuel. Known as the Agreed Framework, it also committed North Korea to international inspections and, according to many analysts, slowed the country's nuclear progress by years. Now, however, the U.S. has less reliable information on the whereabouts of North Korea's nuclear facilities. Obtaining details has been a priority for the Trump administration.
5. How significant is the decision to close Tongchang-ri?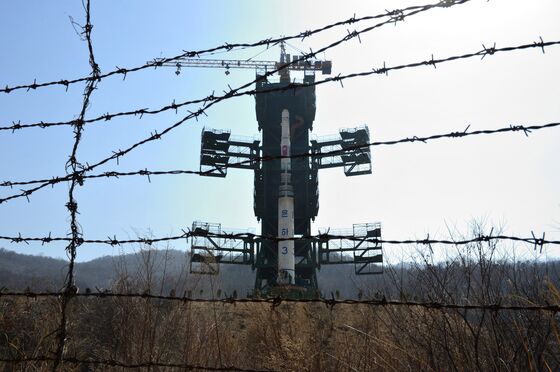 An engine-test and missile launchpad base, Tongchang-ri was referred to by Trump following June's summit as the one site Kim had agreed to close. However, shuttering it has mostly symbolic value given that North Korea claims it already has developed missiles capable of reaching the U.S. Kim's regime can produce intercontinental ballistic missiles elsewhere and would be able to resume testing of ICBMs using mobile launchers, according to Lewis.
6. What about the decision to allow observers to Tongchang-ri?
North Korea said this week it would invite observers from "relevant" countries (it did not specify whom) to watch the dismantling of the site. There was no mention of the International Atomic Energy Agency (the nuclear watchdog), although U.S. Secretary of State Michael Pompeo said U.S. and IAEA inspectors had been invited. Still, the move could open the door for other inspections, including at Punggye-ri, the site of all six of the regime's nuclear blasts. This site was dismantled in May before a crowd of journalists, not nuclear experts.
7. How did the U.S. react to Kim's offer?
Trump praised Kim's offer and Pompeo called for a new round of talks, even signaling that reciprocation may be forthcoming. "On the basis of these important commitments, the U.S. is prepared to engage immediately in negotiations to transform" relations between Washington and North Korea, he said.