How HNA May Sell Deutsche Bank and Why That Matters
(Bloomberg) -- Deutsche Bank AG's largest investor is on the way out. The stake owned by heavily-indebted Chinese conglomerate HNA Group Co. may dribble back into the market or, according to one recent report, be sold to another investor. How HNA executes its retreat will have big implications for Deutsche Bank. It will also be an object lesson in what happens when a favorite tactic of Chinese companies in expansion mode unravels.
1. Why is HNA selling its stake?
The Chinese company that spent more than $40 billion on acquisitions across six continents, is under pressure to sell assets to pay its debts. Worried by the foreign borrowings of some large conglomerates, the Chinese government has told it to unload everything outside its core airline business, people familiar with the matter have said.
2. How much does HNA still own of Deutsche Bank?
According to the most recent filings with Germany's regulator Bafin, HNA controls 7.64 percent of Deutsche Bank's shares. Most of that -- at least 6.6 percent -- it holds through derivative contracts with UBS Group AG known as put options, that allow it to hand back the shares to the Swiss bank at fixed levels, known as strike prices.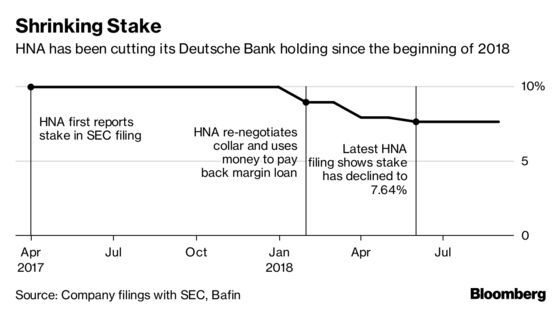 3. Why hold options rather than shares?
In a word, leverage. Options are much cheaper to buy than the underlying shares. The flip side is that they lose their value faster if the market goes against the holder. To hedge this risk, HNA also sold call options at higher strike prices, meaning it would have to sell Deutsche Bank shares if the price rose above certain levels. Running the two positions simultaneously is called a 'collar' strategy. Typically, collars limit the risk of losses and profit potential at the same time. In this case, it also gave HNA control of a large block of stock relatively cheaply.
4. Where have I heard this before?
Collars aren't new, but they have received more attention since Chinese buyers started using them to buy chunks of European companies. HNA used one to gain control of 21 percent of Swiss duty-free retailer Dufry AG, while Geely Group used a collar to amass nearly 10 percent in Mercedes-Benz parent Daimler AG, according to people with knowledge of the matter.
5. How does HNA intend to sell its remaining stake?
Recent reports suggested HNA could also either sell the options or the subsidiary that holds them, C-Quadrat, to third parties. But that may need the consent of UBS, according to a person familiar with the deal structure. The options automatically trigger between early 2019 and late 2020, if the shares trade below the strike price. By exercising some options as they matured, HNA has already cut its stake from a peak of 9.9 percent by handing shares back to UBS. By restructuring the options earlier in the year, it has given itself more time to offload the rest without disturbing the market too much.
6. What will this mean for the markets?
If HNA exits gradually, letting the options mature and settling physically with UBS, the impact may be limited. That's because UBS will, in effect, return the shares to the market from which it borrowed them in the first place, according to a person familiar with the deal structure. Divestment "may create some selling pressure," KBW analyst Thomas Hallet wrote in a note on Friday, but would "draw a line under a troubled relationship." Not entirely, though: Alexander Schuetz, chief executive C-Quadrat, still has a mandate to sit on the bank's supervisory board through 2023.
7. Why was the relationship troubled?
HNA never became the stable shareholder Deutsche Bank hoped for in late 2016, after the prospect of a heavy U.S. fine drove its shares to an all-time low. The use of a collar, which gives up most of the upside that a typical investor would typically hope to enjoy, raised doubts about its long-term commitment. Then-CEO John Cryan initially refused to meet HNA's representatives in 2017. By the time he was replaced by Christian Sewing in April, HNA was distracted by its own debt problems.
8. How long will it take for HNA to sell its stake?
The first batch of options triggers in the first quarter of 2019 if the share price is below 11.45 euros, according to a regulatory filing in the U.S. The last batch for which public information is available will mature in December 2020 at a strike price of 14.53 euros, according to another filing. It's possible the options will simply roll off: analysts tracked by Bloomberg expect Deutsche Bank's shares still to be trading below 10 euros in 12 months' time.
9. What's the role of UBS in all of this?
The Swiss bank, together with ICBC Standard Bank, lent HNA some 473 million euros to help build its stake. That was structured as a margin loan and secured against the shares that HNA bought outright. The loan was repaid earlier this year as HNA pared its outright holdings. Less clear is the fate of some 2.61 billion euros in financing, provided by UBS and also referenced in regulatory filings, that is tied to the options collars. A filing in February this year noted that this financing "was also used in acquiring shares." The filings don't mention any actions taken by UBS to hedge its exposure either to HNA or to possible declines in the value of Deutsche Bank's shares. UBS has declined to say how much its exposure to HNA is currently. HNA declined to comment.