Missing Bosses Add to Risks of Investing in China
(Bloomberg) -- When corporate executives disappear it can be a sign of anything from kidnapping to embezzlement by the missing individuals. In China, a spate of suddenly-absent bosses has come to signal something else, especially among some of the smaller companies listed in Hong Kong: a crackdown on financial chicanery and corruption by the authorities.
1. How many bosses have disappeared?
At least three this year from Hong Kong-listed Chinese firms. The latest was Yang Zhihui, the chairman of casino operator Landing International Development Ltd. The company said on Thursday it had been unable to reach Yang. Chinese financial publication Caixin reported the next day that Yang is a target of investigators looking into China Huarong Asset Management Co., a state-owned bad-debt manager whose former chairman is being probed for alleged corruption.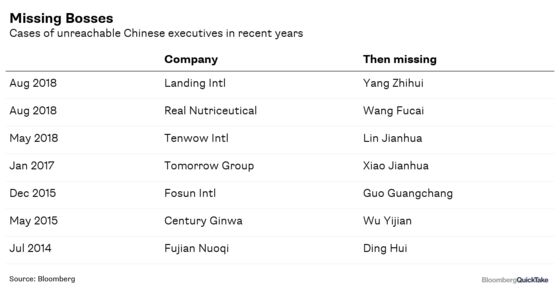 2. Where are the bosses disappearing to?
In many cases they "assist" graft probes or themselves become the subject of investigations into corruption or financial crimes in China. The companies sometimes lose contact altogether with their bosses in a country that has less transparent disciplinary or legal procedures. The management of Real Nutriceutical Group Ltd. said last week it was unable to contact chairman Wang Fucai, who was reportedly being probed in China for alleged "illegal absorption of public deposits." After making inquiries in China, the company received police confirmation of the probe and the allegation.
3. What does this mean for investors?
Disappearing boss syndrome certainly adds to risks in small-cap Chinese shares. Some of these investments have been subject to flash crashes that prompted a regulatory crackdown on share-price manipulation in recent years. Landing's shares slumped 42 percent this week. The company opened its only casino resort, Jeju Shinhwa World in Korea, earlier this year and Yang is the firm's largest shareholder with a 50.5 percent stake. Landing, his main holding, has fallen about 74 percent since he debuted on Bloomberg's Billionaires Index in April at $1.6 billion.
4. Does it impact bigger companies?
China's crackdown on financial risk and corruption has also seen some higher-profile bosses go missing. In 2015, Fosun Chairman Guo Guangchang briefly disappeared, to help with a government investigation. He later re-emerged, vowing to ensure the business was not reliant on any one individual. Financier Xiao Jianhua, who ran China's Tomorrow Holding Co. empire, was taken away from Hong Kong by Chinese authorities in January 2017, the South China Morning Post reported at the time. The newspaper subsequently cited mainland sources as saying that Xiao was helping with investigations into matters that included "bribery and stock market manipulation."
Since becoming China's president in 2013, Xi Jinping has led an anti-corruption campaign that has nabbed more than 1.5 million Communist Party cadres. More recently, the push has reached into corporate boardrooms as part of an effort to halt the debt-fueled expansion of China's biggest businesses. High-profile executives at state-owned enterprises and private sector billionaires are finding their wealth and connections are no longer enough to shield them from probes into corruption and financial crimes.
Another on the demise of Chinese insurer Anbang