How Politics Is Poisoning the 'Lucky Country'
(Bloomberg) -- Viewed from afar, Australia is the envy of the world with its abundant resources and an economy that's gone 27 years without a recession. But scratch beneath the surface and it's a different story. An era of stability and economic reform has been replaced by a revolving door of leadership and politics trumping policy. The nation is sliding in international rankings for innovation and education, leaving it struggling for economic momentum even as global growth picks up. Meantime, Malcolm Turnbull has become the latest prime minister to be axed by his own party.
1. What's gone wrong with Australian politics?
In short, a dearth of leadership. From 1983 to 2007, the nation had just three prime ministers and underwent a period of economic reform. Since then, no leader has served a full three-year term. The removal of a first-term prime minister in an internal coup, when Kevin Rudd was ousted by his own Labor lawmakers in 2010, marked a fundamental shift in the political landscape as a narrow focus on opinion polls, driven by a 24-hour news cycle, took hold. Voters have noticed. Since 2007, the major parties' share of the vote has fallen from about 80 percent to 70 percent. Into the breach has stepped a hodgepodge of single-issue independents and small parties, mopping up disaffected voters from the left and right fringes.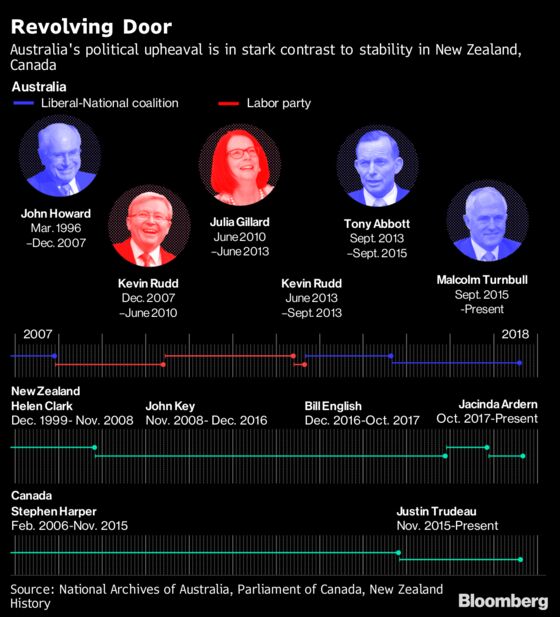 2. So is anything getting done?
Not enough, particularly when it comes to the reform required to generate new drivers of economic growth and ease Australia's reliance on demand for its commodities. While the government is steering the budget back to surplus and legislated tax cuts, its agenda was hobbled by a fractious upper house and divided lawmakers, resulting in another descent into infighting. That resulted in Turnbull's ousting on Aug. 24 following an insurgency by conservative former ministers. His successor, Treasurer Scott Morrison, is tasked with healing the wounds and ensuring business remains sufficiently confident to keep hiring and investing and maintain above-trend economic growth. He will become Australia's sixth prime minister in 11 years (seventh, if you count Rudd's two stints separately).
3. What about major reforms?
Academic Donald Horne's 1964 book that concluded "Australia is a lucky country run mainly by second-rate people" has arguably never been truer. In the 1980s and 1990s, Labor leaders Bob Hawke and Paul Keating floated the local dollar, deregulated banks, cut manufacturing tariffs and modernized the tax system. Liberal leader John Howard, in power from 1996 to 2007, enacted a 10 percent tax on goods and services. But Australia hasn't had a big reform since. Perhaps only an economic crisis will focus the minds of its lawmakers. As The Economist magazine summarized: "If you look at history, Australia is one of the best managers of adversity the world has seen -- and the worst manager of prosperity."
4. How hard is it to deal with parliament?
The rise of populism in Australia, as seen also in the U.S. and across Europe, has particularly been felt in the Senate. The upper house chamber has three times more independent or minor party lawmakers than it did a decade ago and they collectively hold the balance of power. That's forcing the government to horse-trade as it seeks to push through a policy agenda. While Turnbull's government had some legislative successes, dealing with the Senate has been difficult. Last year, Morrison was forced to abandon A$13 billion ($9.5 billion) of savings measures blocked by the upper house, weighing on a budget that the government desperately wants to be in the black by fiscal 2020 -- the first surplus since the global financial crisis. Days before he was ousted, Turnbull dropped key parts of his signature energy policy as well as a plan to cut corporate taxes for big businesses.
Rudd's removal changed the political dynamic, and parties now feel free to ditch their leaders without waiting for the public to have a say in an election. Julia Gillard replaced Rudd and then suffered the same fate: Labor reinstalled Rudd just before the 2013 election, which he lost. The victor, arch-conservative Tony Abbott, fared little better despite the Liberals vowing not to repeat such chaos. He was removed after just two years by Turnbull, but remained a constant public critic on policies from same-sex marriage to climate change. It was one of Abbott's allies, Home Affairs Minister Peter Dutton, who forced the Aug. 24 leadership vote to replace Turnbull -- an attempt to oust the leader days earlier only narrowly failed and gave Dutton confidence to try again. But Morrison put his name forward in the second vote, and won the day.
6. So where does that leave the country?
That's what many Australians are asking. Infighting has weakened every government since 2007, breeding ferocious oppositions and creating an acrimonious atmosphere in a hyper-partisan parliament. As a result, substantive policy debate has evaporated -- leaving the nation struggling to tackle a housing affordability crisis, find new growth drivers or craft a climate policy. Even with Morrison newly installed, it may not be too long before the revolving door of leadership spins again -- an election is due by May.
7. What are Morrison's next big challenges?
The most immediate one will be to unite a party that's been torn apart by resentment and revenge, as he prepares for the election. Dutton's most fervent supporters are unlikely to go quietly into the night, especially with Morrison seen pretty much as maintaining the policy status quo. And therein lies the next problem: Finding some actual policies to take to voters. Now that the flagship company tax cuts and energy policies are shelved, there's little left for politicians to talk about apart from themselves. And that, of course, is how we got here in the first place.