Can Electric Cars Make China This Century's Detroit?
(Bloomberg) -- Around the globe, automakers and governments are making big plans for electric vehicles, lining up billions of dollars for the investments needed to replace the world's carbon-burning cars and trucks. But there's one place that stands out for the number of EVs actually hitting the road: China, where the government has put its might behind establishing the country as a leader in this revolution. The result might not only be cleaner air, but a reshaped global auto industry.
1. What's happening in China?
Sales of new energy vehicles (NEVs), a broader category that includes plug-in hybrids, rose by about half in 2017, while electric-only sales roughly doubled. And for the first time, electric-only global car sales exceeded 1 million; China accounted for more than half and is targeting sales of 7 million by 2025. Local brands include Geely and BYD, which is backed by U.S. billionaire investor Warren Buffett. Startup NIO is positioning itself as a top-end challenger to technology entrepreneur Elon Musk's Tesla Inc.
It's a key part of China's plans to cut the air pollution that chokes many of its cities, and to meet the carbon reductions it pledged as part of the 2015 Paris accord to tackle climate change. One caveat: China's electricity grid still derives two-thirds of its power from coal, which itself pollutes and emits carbon. China's leaders also aim to reduce the country's heavy dependence on imported oil, which they view as a strategic vulnerability. A government plan released last year envisages NEVs making up all the future sales growth in China.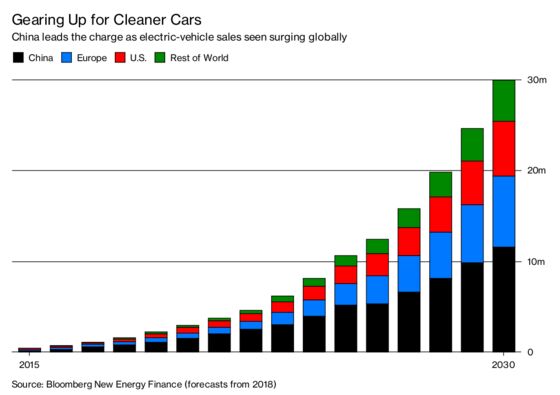 3. What's China doing to make this happen?
Using both sticks and carrots. For automakers, there are tougher vehicle emission rules and quotas for producing zero- or low-emission cars from 2019. For consumers, there's been a 10 percent tax rebate as well as subsidies from provincial governments. (Combined, they cut $11,000, or one third, off the price of a new BYD e5 sedan.) China spent about $1 billion on subsidies in 2017, but it's preparing to eliminate them by 2020.
4. What about automakers outside China?
They all have plans for non-gasoline cars. Volkswagen AG intends to spend 70 billion euros ($81 billion), most of which is the cost of batteries, to offer electric versions of all its models by 2030. General Motors Co. plans 20 all-electric models by 2023. Volvo Cars will begin phasing out automobiles that run just on fossil fuels in 2019. Tesla delivered the first of its mid-market Model 3 sedans in mid-2017, although it's struggled to meet production goals.
5. How much support are other governments giving EVs?
U.S. consumers get a $7,500 tax credit for buying an electric vehicle, though that gets phased out once a company has sold 200,000; Tesla has already hit that mark and Nissan Motor Co. and GM aren't far behind. Elsewhere, countries including Norway, France, the U.K., Germany and India have either set or are discussing deadlines for ending sales of new vehicles with internal-combustion engines, that is, the kind that burn fossil fuels.
6. How dependent are EV sales on subsidies?
The evidence suggests heavily. In the U.S., sales in Georgia were growing briskly until the state cut its $5,000 tax credit in June 2015. They crashed from as many as 1,400 a month to fewer than 100 the month after the incentive was axed. Even in green-minded Denmark, sales fell 60 percent in early 2017 after the government said it would phase out tax exemptions.
7. Is it all about price?
Not entirely. In terms of barriers to acceptance, the limited range of EVs may be the most important factor. However, the technology is improving. The extended range version of the Model 3 offers 310 miles (500 kilometers) between charges. That's not much less than many gas-powered cars, though charging a vehicle to go just over half that range takes about 30 minutes using Tesla's most powerful charger. As for expense, Bloomberg New Energy Finance estimates that EVs should rival their gas competitors on cost by 2025.
8. Can EVs make China a global motor hub?
Thanks to its sheer size and accumulating wealth, China looks certain to be the world's 21st century automotive hub. (Vehicle sales there outstripped the U.S. by 68 percent in 2017.) The question is whether its companies will dominate in the way that Detroit's Big 3 did for much of the last century. China may have more success than it did developing gasoline cars since the EV industry's youthfulness presents more of an even playing field. And South Korean manufacturers have shown how it's possible to shake up car markets with high-quality, well-priced products.