The AIIB
(Bloomberg) -- Since the end of World War II, the U.S., Western Europe and Japan have controlled much of the business of loaning money to poor countries to help them build public works and strengthen weak economies. These loans, made through the World Bank, International Monetary Fund and Asian Development Bank, often came with demands for strict economic, ethical and environmental behavior. Now there's a new player: China. In 2016 it  launched the Asian Infrastructure Investment Bank — the first major multilateral development bank in a generation. Initial fears that the bank would be lax about corporate governance have died down, replaced by fears that the real goal of the AIIB is to expand China's political clout throughout Asia. 
With $100 billion in pledged capital, through mid-2018 the Asian Infrastructure Investment Bank had lent more than $5 billion on 28 projects in 13 countries, ranging from a motorway in Pakistan to a gas storage facility in Turkey. Though the U.S. and Japan tried to discourage other nations from joining the AIIB, 87 other countries signed on, thanks to China's growing global importance and cash-strapped governments' hunger for financing. The ADB estimates that infrastructure needs in developing Asia and the Pacific will be $1.5 trillion a year through 2030. China has not been picky about the sorts of governments it worked with, causing some to express concerns that the AIIB would not pressure corrupt nations to reform. The bank has gone out of its way to reassure doubters. Jin Liqun, the AIIB's president, says the goal is to be " squeaky clean," with competitive bidding for projects and watchdogs to monitor for corruption. The AIIB has also attracted an international staff of experts and frequently funds projects proposed and co-financed with existing lenders, including the World Bank and Asian Development Bank. And while China has enough of the bank's voting rights to block decisions that require three-quarters approval, so far it hasn't used that power.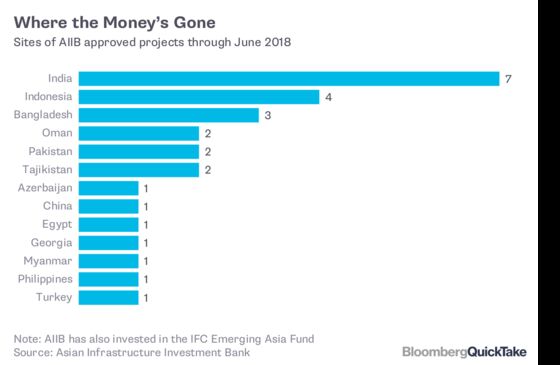 A summit at Bretton Woods, New Hampshire, in 1944 led to the creation of the IMF and International Bank for Reconstruction and Development, which later became the World Bank, as part of an effort to rebuild Europe after World War II. The World Bank lends to promote economic development; the IMF oversees monetary and exchange-rate policies and provides emergency loans to nations. Europeans have always picked IMF heads as part of an understanding that gives the U.S. control over the top World Bank post. Japan has held the presidency of the Asian Development Bank since it was founded in 1966. Unhappiness with the old order has been stewing for years. An IMF-led bailout during the 1997-1998 Asia financial crisis came with demands that countries raise interest rates and cut their budgets, a combination that led to riots and political upheaval. The U.S. Congress dragged its feet for five years before approving changes the IMF proposed in 2010 to give emerging powers more control over its governance. China, the world's second-largest economy, wanted more of a say in global financial institutions. It announced the AIIB in 2015, with 57 countries as founding members. Canada's decision to join the bank in 2017 left the U.S. and Japan as the only Group of Seven holdouts.
China's government hopes the AIIB will win it more influence among its neighbors. In addition, by backing environmentally friendly projects, the bank could help burnish China's aspirations to be seen as a defender of the global order and multilateral deals such as the Paris Climate Accord. The U.S. fears that AIIB cash could cause recipients to turn blind eyes to China's military moves in Asia. And skeptics say that the AIIB's backing of green projects won't mitigate China's own poor domestic record on pollution. Perhaps the biggest problem facing the AIIB is another Chinese initiative launched in 2013: the "Belt and Road Initiative." This effort to build a global network of ports, highways, railways and pipelines to increase China's trade is a pet project of President Xi Jinping. Since Belt and Road projects will often come with tough conditions — high interest rates, procurement guarantees for Chinese companies, imported workers — any goodwill the AIIB earns from trying to keep local governments happy and projects corruption-free could be overshadowed. And while AIIB officials have been careful to emphasize that their investments are independent, many of the bank's transportation and shipping projects complement the BRI's global network. This has led some to wonder whether the AIIB projects are really just a more politically palatable way for countries, like India, to accept Chinese money for infrastructure projects while still opposing the Belt and Road Initiative.  
The Asian Infrastructure Investment Bank's website.
In 2015, the Center for Global Development examined ways the World Bank might have been ready for change.
A Congressional Research Service report, "IMF Reforms: Issues for Congress."
Joseph E. Stiglitz wrote that U.S. opposition to the AIIB is hard to fathom.
A Bloomberg QuickTake on China's Belt and Road Initiative.
For Bloomberg Professional Service subscribers, Markets Magazine's interview with Jin Liqun, president of the AIIB.