EU Rules Want Light. Traders Like Dark, Periodically
(Bloomberg) -- Europe's push for more transparency in stock trading, which ushered in new limits on so-called dark pools, has led to a surge in what are known as periodic auctions. They're advertised as a more transparent way of trading stocks, but they share some of the characteristics of dark pools, like the anonymity prized by investors buying or selling big blocks of stock who worry that too much sunshine costs them too much.
1. What are periodic auctions?
Simply put, they are services that trade shares in batches. Normal stock trading happens continuously when a market is opening, with individual trades being executed whenever they are matched up. Periodic-auction services pause and restart trading throughout the day. Fund managers submit orders just as they do to a stock exchange, but their orders will not be matched until the end of an auction. But don't look for bidders holding up paddles or other things we associate with auctions. From start to "Going, going, gone!" can take 100 milliseconds.
The idea is that less leakage of trading information means better prices. Big trades don't usually happen all at once, but in chunks. Once the first bids or offers turn up in a public exchange, that information can be used by other investors, especially high-speed traders, to bid prices up or down as the rest of the order is executed. Big money managers hate that, which is why dark pools had become popular -- no one is supposed to see orders placed in a dark pool except the venue's operator until they are executed. Similarly, orders to a periodic auction venue are hidden until the auction begins.
3. What's going on with them now?
They've existed for a while but have boomed since the introduction of the new European Union financial regulations known as the revised Markets in Financial Instruments Directive, or MiFID I. The new rules set strict limits on how much business dark pools can accept. Cboe Global Markets Inc., the biggest European exchange for equity trading, started its service in October 2015 but has seen its average daily notional volume increase from 824 million euros in April to 1.1 billion euros in June. The U.K.'s Financial Conduct Authority estimated earlier this year that periodic auctions represented about 4 percent of the overall market.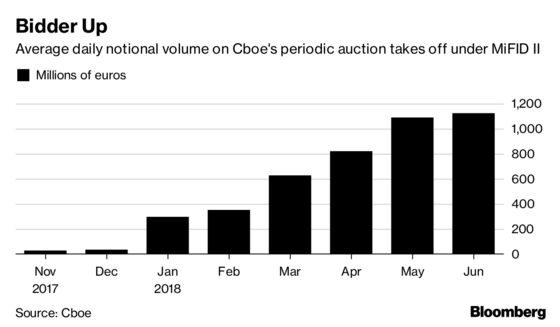 The London Stock Exchange Group Plc's Turquoise platform, Goldman Sachs Group Inc., UBS Group AG, Investment Technology Group Inc., Nasdaq Inc. and Aquis Exchange Plc all operate, or plan to start, the systems, in addition to Cboe.
5. Why are they controversial?
Because they seem to run counter to MiFID II's push for more transparency in stock-trading, which is meant to encourage more price competition for shares. As with dark pools, the argument goes, any trading in which bids and offers are hidden makes markets less efficient by reducing the amount of information broadly available.
In addition, critics have zeroed in on a couple of specific elements of the auctions. First, they may allow orders pegged to prices elsewhere in the market. Second, some periodic auctions have systems called broker-priority, which may allow a single broker to match client orders without competition from other traders. CBOE said 21 percent of activity in May on its periodic auction resulted from broker priority. Regulators and some lawmakers wonder if those practices reduce competition and transparent pricing information the way dark pools do.
7. What do regulators say?
Europe's top markets regulator, the European Securities and Markets Authority, has already started a review of the auction systems. Steven Maijoor, ESMA's chief, says the review could lead to new regulatory measures or recommendations. Meanwhile, the French markets regulator has said the auctions provide a "very limited" amount of transparency about prices and deserve a close look. The U.K. Financial Conduct Authority says it is still studying the development. Cboe says that its periodic auction meets MiFID's transparency requirements.
Bloomberg News articles on UBS's planned auction service and scrutiny from the EU's top markets regulator.
Cboe's page on its periodic auction service.